And no, this isn't a very belated Thanksgiving post. I know roasting a turkey is probably a totally normal thing for a lot of people and you're probably rolling your eyes at me thinking it's no big deal. But as I
mentioned
, I've never roasted a turkey before, and it really never even crossed my mind as something to do on a day other than Thanksgiving. Because as I also mentioned, turkey? Meh. Then my mom cooked a turkey breast for her Christmas tree-trimming party that blew my mind. It was probably the most moist and delicious oven roasted turkey I've ever had.
We're a chicken and ground beef house, with the occasional pork tenderloin. It's VERY rare for us to cook another type of meat. But when I saw frozen turkey breasts on sale at Target last weekend, I knew I wanted to try it out.
All I did was rub it with olive oil and put a generous amount of the Pampered Chef chipotle rub all over it. I put two cups of water underneath my roasting pan and covered it with foil. I cooked it covered with foil until the last 30 minutes when I pulled the foil off to brown it.
And...ta da!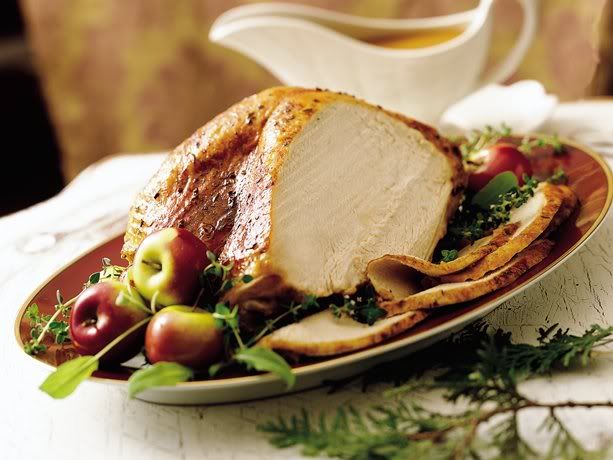 Isn't it gorgeous? Too bad it isn't mine (I forgot to take a pic).
Props go to Betty Crocker for this one.
And now, since I'm obviously an expert turkey cooker after all of that experience, I'm going to tell you the secret to moist turkey. It's an earth-shattering revelation. Ready? PUT THE FOIL BACK ON WHILE IT COOLS. Seriously. (And just humor me if this is a totally well-known fact.)
Honestly, I would have never thought of this, and apparently my mom didn't realize this was the key either, until out of necessity she had to cover her turkey back up so she could leave to run an errand. She said she ended up leaving it covered for about an hour and a half until she sliced it. It made sense that would help with the moistness, so I figured I would try it out to see if that's what made the difference. Sure enough, my turkey was amazingly moist. (If you're a
How I Met Your Mother
fan: moist moist moist moist moist moist moist.) I actually left it covered for a looong time before I sliced--like 4 hours while we went to my nephew's birthday party. It was actually still a little warm, and it was so good! It was an 8lb breast, so we've got a ton of leftovers. I've enjoyed a few turkey sandwiches and I made turkey salad with it tonight. I even froze a whole tupperware container for later.
I'll have to keep my eye out for whenever they go on sale. Adam suggested getting a flavor injector, and that Betty Crocker recipe above looks really yummy, too. I guess I'm a turkey convert now!