The Christmas stuff is coming down tomorrow, but before I put it all away I wanted to finally share this post on my DIY advent calendar.
I've really wanted an advent calendar for a few years now, so when I saw
this
PB inspired knock off last year, I drooled and mentally tucked it away then completely forgot about it until it started showing up on Pinterest a few months ago. I was totally inspired, so I created my own and I'm super happy with how it turned out!
The photo might not really do it justice--it was hard to get a good picture because it's sitting on the window sill in our living room--but hopefully you get the point.
I started with an old dry erase board I got for free from work (don't worry, I didn't steal it, it wasn't being used any more so they gave it to me) and stuck some 12x12 cork board tiles on it. Conveniently, the board is exactly 24x36, so the tiles fit perfectly (I just had to trim the corners a bit to round them).
I picked up a $10 drop cloth, cut it down to size and ironed it to use as my fabric. I considered some linen fabric, but the drop cloth was far cheaper considering I have plenty left over to use for other projects (one of which I've actually completed! Post to come soon!)
Then I just wrapped the board with the drop cloth. I used some tacky spray to stick the fabric to the cork. I worked in sections spraying directly on the board, and smoothed it out as I went. Once the fabric was stuck to the front, I flipped the board over and just used duct tape to wrap it like a present (which I suck at, btw).
Looks totally janky from the back (good thing it's sitting on our back window!), but it worked. One thing that didn't work was the ribbon I used to try to hang it. I knew I didn't want to do anything permanent on the wall to hang it, so I thought I'd try to run a ribbon through the metal channel on the back of the board so I could hang it on an existing hook. The thing is, the dry erase board is heavy! Ideally I would have loved to have a lighter board (an actual bulletin board would have been fabulous), but I didn't want to buy anything so I just worked with what I could get for free. So the ribbon worked for a week, but it somehow slipped out of the channel (maybe the board got bumped?) and became "unhangable." Onto the window sill it went, because that's the only other place I could have put it where the boys would be able to reach it to put the ornaments on it.
The tags are just blank 3x5 index cards I cut the corners off of. They're stuck to the board with straight pins (the short ones). The numbers are on card stock I spray painted silver because I couldn't find any paper I like at Michaels. I ran it through my printer but the ink wasn't dark enough so I used a pen to outline the numbers. It's much more subtle than what I had in mind, but it works. Eventually I may get some number stickers.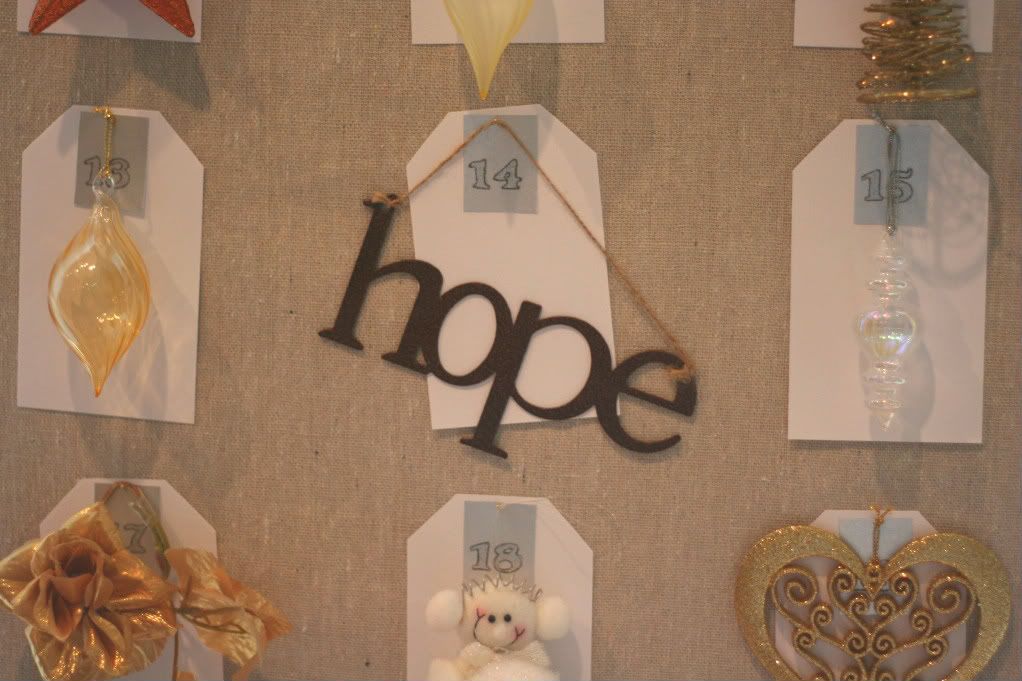 The boys loved picking an ornament to put on it each day. That's how we did it this year--I've got a bowl full of ornaments and they counted down by adding an ornament each day. Originally I wanted to load the board up with ornaments so we could move one to the tree each day and then replace that with a photo (so the board didn't end up empty/uninteresting), but I didn't have 24 ornaments when we first put the board up.
I may do it the other way next year, but I also like looking at all the pretty ornaments on the board. Plus, we have plenty of other ornaments on the tree already--don't want it to look too crowded.
Of all my Christmas decorations, I'll probably be the most sad to put this away. Only like 329 days until I get to put it out again!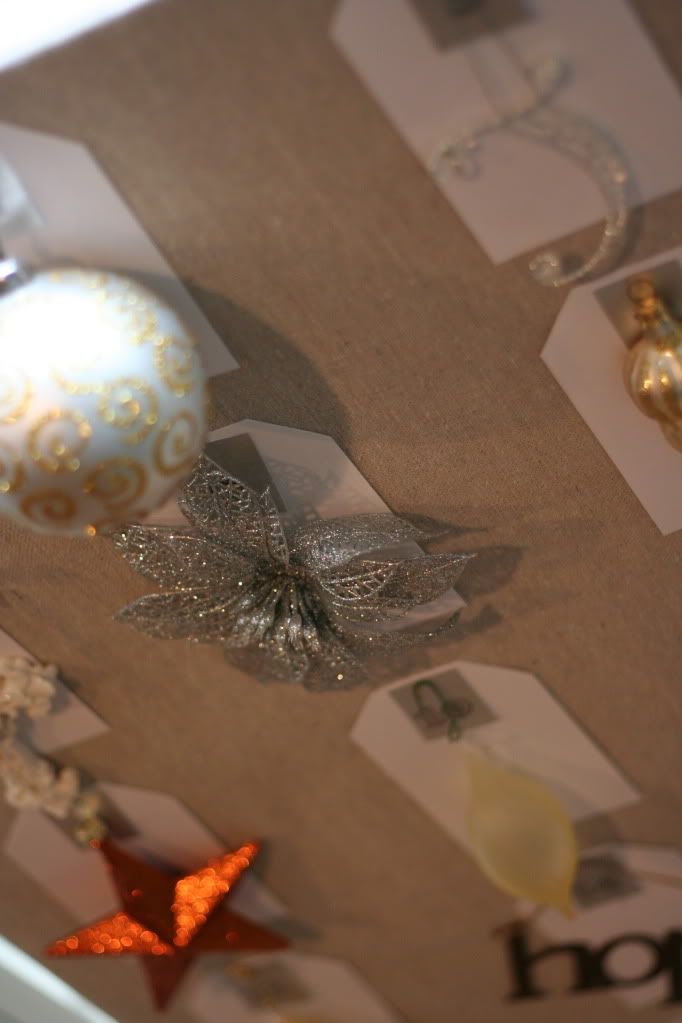 PS: No idea what's going on with photobucket, but some of my pictures aren't showing up for some reason :( Hopefully they'll show up soon...