"The funny thing about Thanksgiving, or any huge meal, is that you spend 12 hours shopping for it and then chopping and cooking and braising and blanching. Then it takes 20 minutes to eat it and everybody sort of sits around in a food coma, and then it takes four hours to clean it up." –Ted Allen
We hosted Thanksgiving dinner at our house this year (which I think we've only done one other time) so this quote really rang true to me because my mom and I spent more time washing dishes than we did eating! Although I was more than happy to host and very thankful for all the wonderful food and family, I wish the dishes could have done themselves. Maybe next year we can class it up with paper plates and disposable baking trays so I'm able to sit down with everyone and play some games or look at black Friday ads :)
My simple table setting: votives and leaves from the yard in mason jars, along with my mom's china and good silver on a table runner I made using a drop cloth and gold spray paint..
It was actually really nice and not too stressful since my amazing mom and awesome family all contributed food dishes. My mom even cooked the turkey (in my oven) so I didn't have to figure out how to do that. 31 Thanksgivings and I've yet to cook my own bird. Wonder how much longer I can keep getting out of it?
Gotta be honest. I don't go gaga over Thanksgiving food. Turkey? Meh. Gravy? No thanks. Mashed potatoes? Had 'em last week. Sweet potatoes? GAG! I do enjoy my mom's cranberry relish and sausage stuffing, and the pineapple casserole my sister-in-law brought, but other than that...it's all about the family time and dessert to me. Yep, dessert is right up there. Between dessert and family time, I'm not even sure which would win in a fight.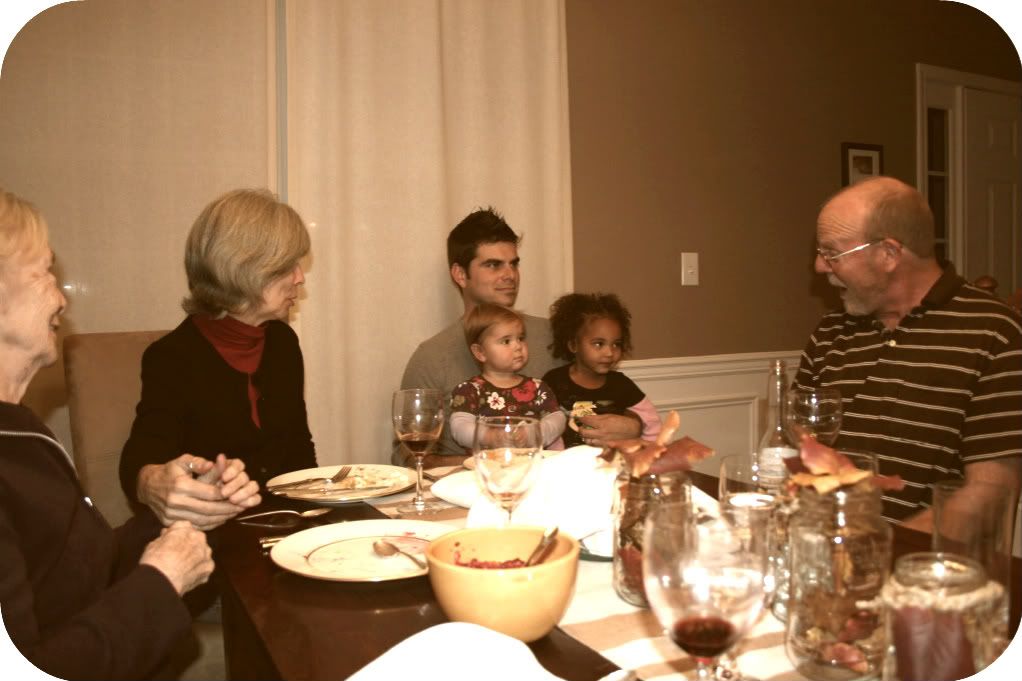 Adam's grandma, mom, step-dad, with Lorelai and our niece Raina
Speaking of dessert, I'm 0/2 for the past two Thanksgivings. Last year my chocolate chess pie was a disaster that never solidified for some reason. This year, my no-bake mocha cheesecake was a disaster. I pulled it out of the freezer because I didn't want it to be as hard as a rock, but it thawed too much and turned into pudding. Really yummy cheesecake pudding that was conveniently in individual cupcake liners, but I was so embarrassed. Even as much as I love desserts, I might have to give up. I'll stick to side dishes and appetizers (hard to mess up chips from a bag and hummus in a tub).
And a bonus quote because I couldn't pick just one:
"A thankful heart is not only the greatest virtue, but the parent of all the other virtues." –Cicero
I didn't get around to making an official "Thanks" jar like I wanted to (like
this
), and I totally dropped the ball on getting us and the boys to write down the little things we're thankful for every day in the weeks leading up to Thanksgiving, but we did write down a few things. I wanted them to not only appreciate the big things like family, but also the little things that they tend to overlook or take for granted. Some of the things we included in our jar are:
"I am thankful for my mommy reading us books" (Aidan)
"I am thankful for the pumpkin muffins mommy made" (Logan)
Adam wrote down that he's "thankful for the smiles and hugs my family gives me which make me feel loved" and I wrote down that I'm thankful for Lorelai's early morning snuggles, the pictures Logan draws for me, and how helpful Aidan is.
Obviously this is just to name a few. I'm thankful more than words can express—our family is just so lucky and blessed. I don't want the kids to ever take for granted how fortunate they are. To be so deeply loved by so many, to have so many opportunities and material things. I want them to understand this year-round, but I'm going to make a concerted effort between now and Christmas to really work on being thankful for what they have and what others do for them. You know, before they get totally spoiled with gifts thrown at them right and left :)
I want to do an angel tree type of thing this year and get the boys involved in the giving aspect of Christmas (we usually contribute through our daycare, hopefully they do something similar this year). Any other good ideas to make sure the boys are thankful, appreciative and focused on giving? I'm all ears. Last thing I want are spoiled brats who feel entitled and don't care about others. We're a long way from that, but I want to instill good habits and that thankful heart while they're young.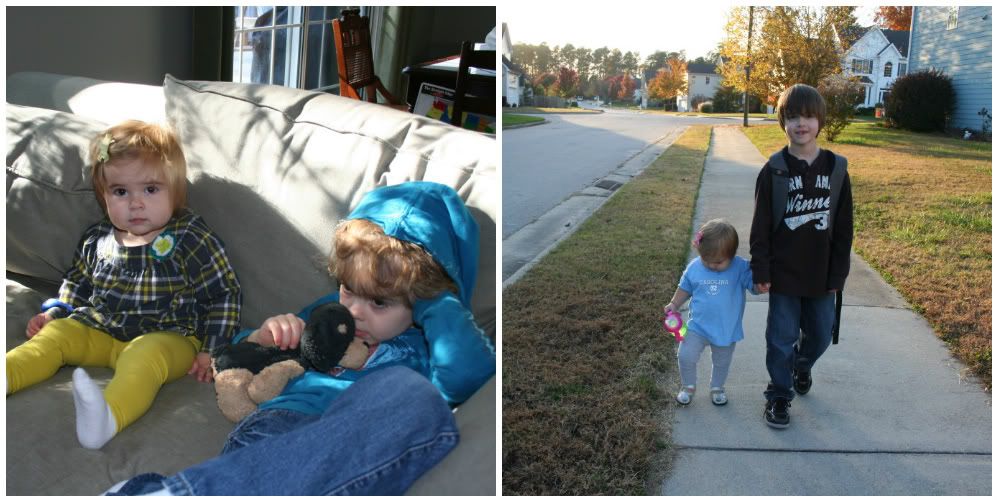 Why oh why did I not get a picture of all three kids on Thanksgiving???