On Saturday night after Aidan and Logan went to bed, some fool dumped out their stuffed animal baskets all over the floor in their room.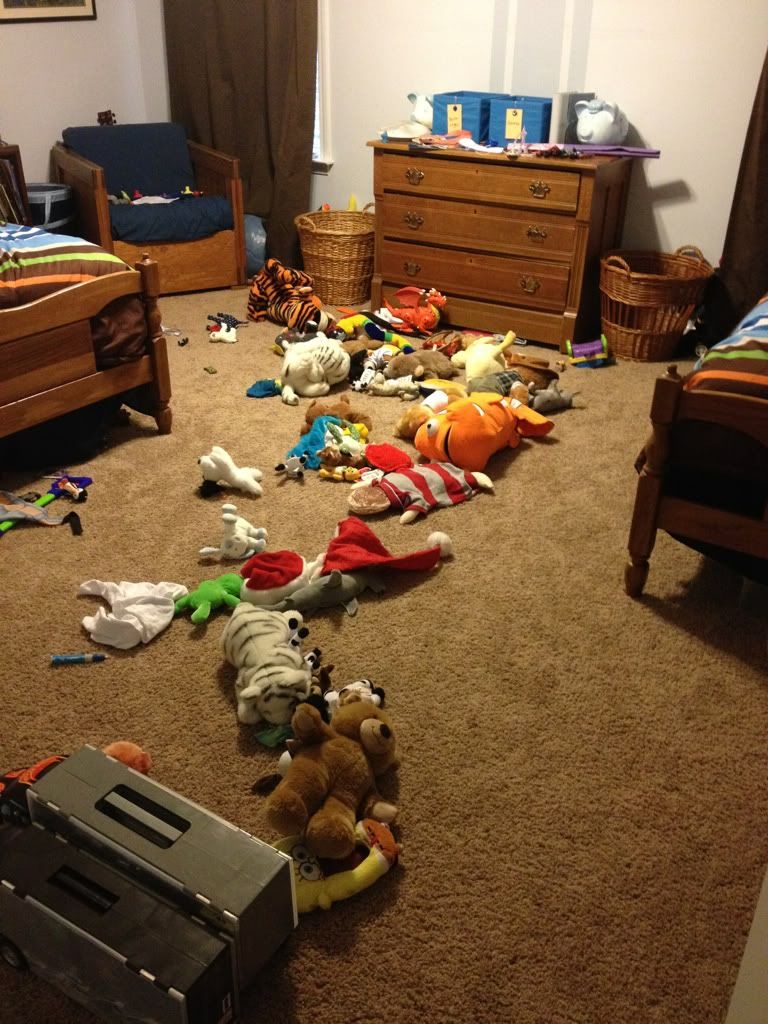 It looked like a much neater mess in the dark, like they were all trying to escape...
Who in the world would do such a thing? Well, ME, of course! After I
pranked
the boys on April Fools day last year with jello instead of juice in their cups, I had to follow up with something this year. Unfortunately, it was even more lame than last year. Fortunately, they got a kick out of it...after I clued them in on what was going on.
Yet again, they totally forgot that it was April Fools day, so they were absolutely confused when they woke up, especially since they had just cleaned up their room before bed (all part of my master plan). I heard them get up and come in our room, but since Adam and were still in bed trying to sleep, they tried to solve the mystery on their own. I heard them identify footprints near their door, and inspect the rest of the house for more mess.
When I got up, they were eager to let me know they had nothing to do with the mess in their room, and they told me all about the clues they found. Love that they weren't going to take the blame for that one! When I asked them if they remembered what day it was, it finally dawned on them that they got "April Fooled" by me again.
They laughed about it until they realized how unfair it would be for them to clean up a mess they didn't make. Ha! Don't worry, I cleaned it all up.
BTW, coming up with a relatively simple April Fools prank that didn't involve making a mess or scaring the crap out of my kids was really tough! I didn't want anything mean-spirited, too elaborate, or too messy (I'm not cleaning up water, shaving cream or food off the floors!), so my options were pretty limited. If anyone has any suggestions, I'd love to hear them :)