Lots of pictures this week. I guess that'll make up for not having any next week since I'll be completely unplugged (hopefully aside from some very quick factime with the kids using the crazy expensive wifi on the boat) while we're on our
cruise
. I'm going to be having some serious facebook and google reader withdrawal, for sure!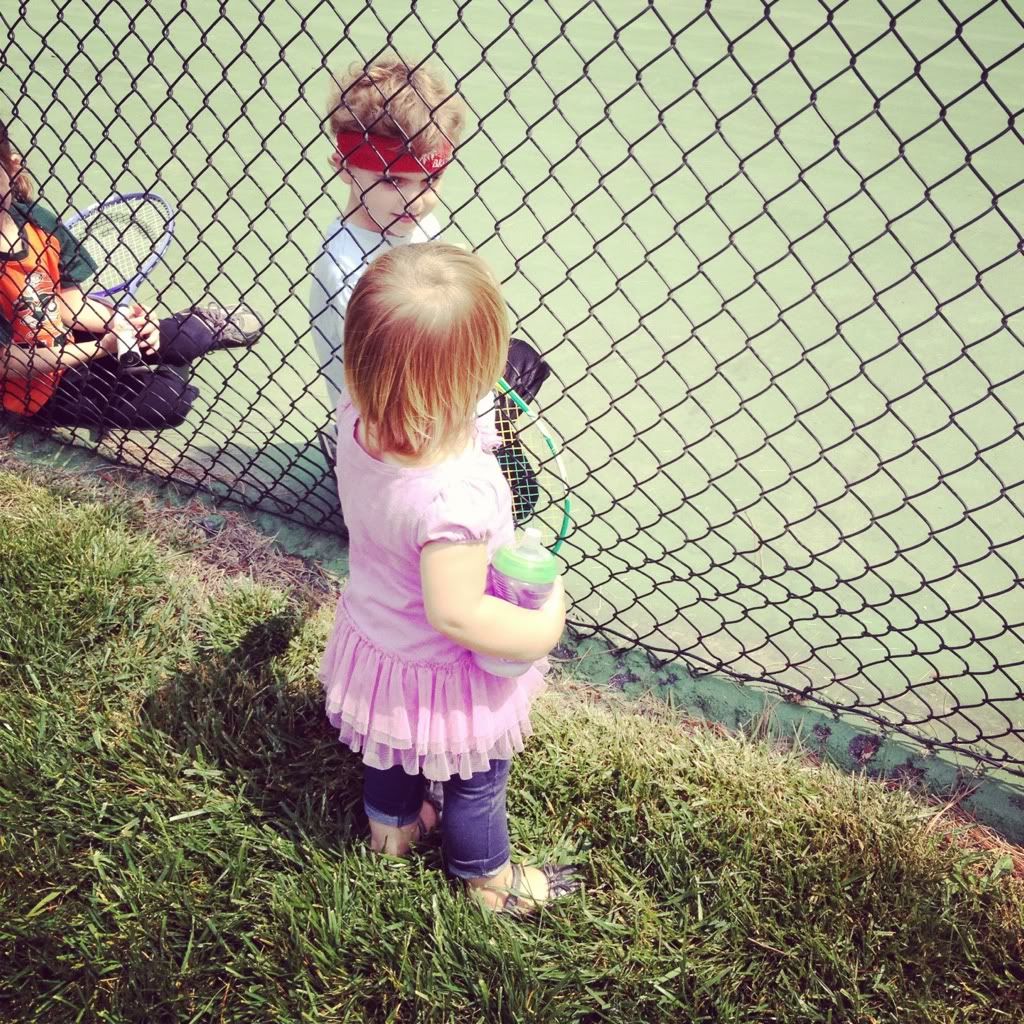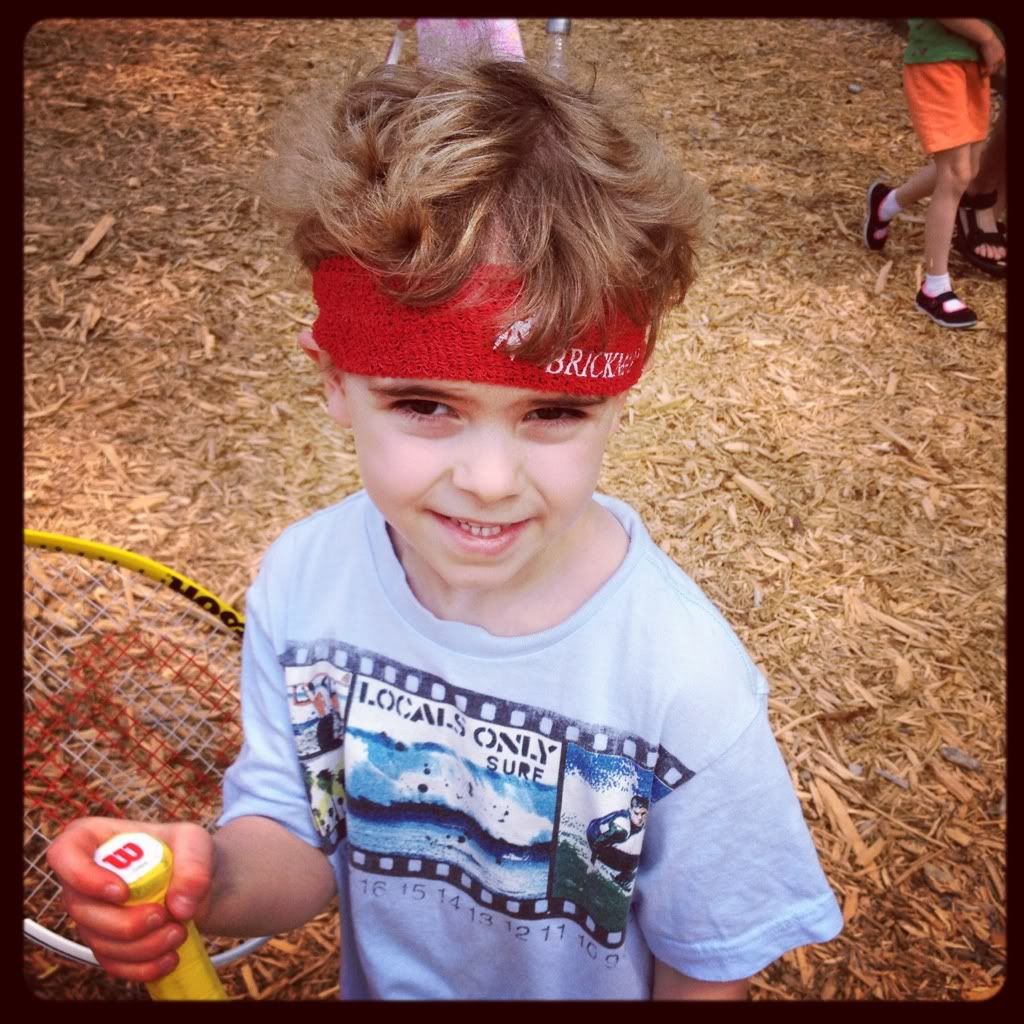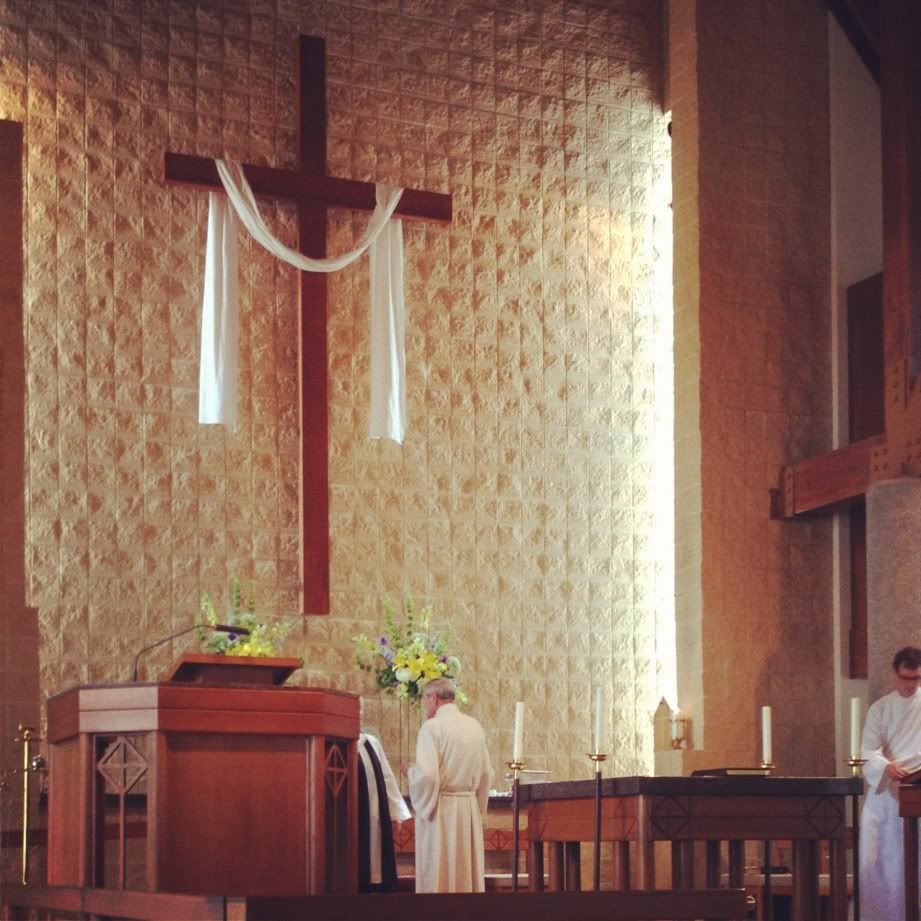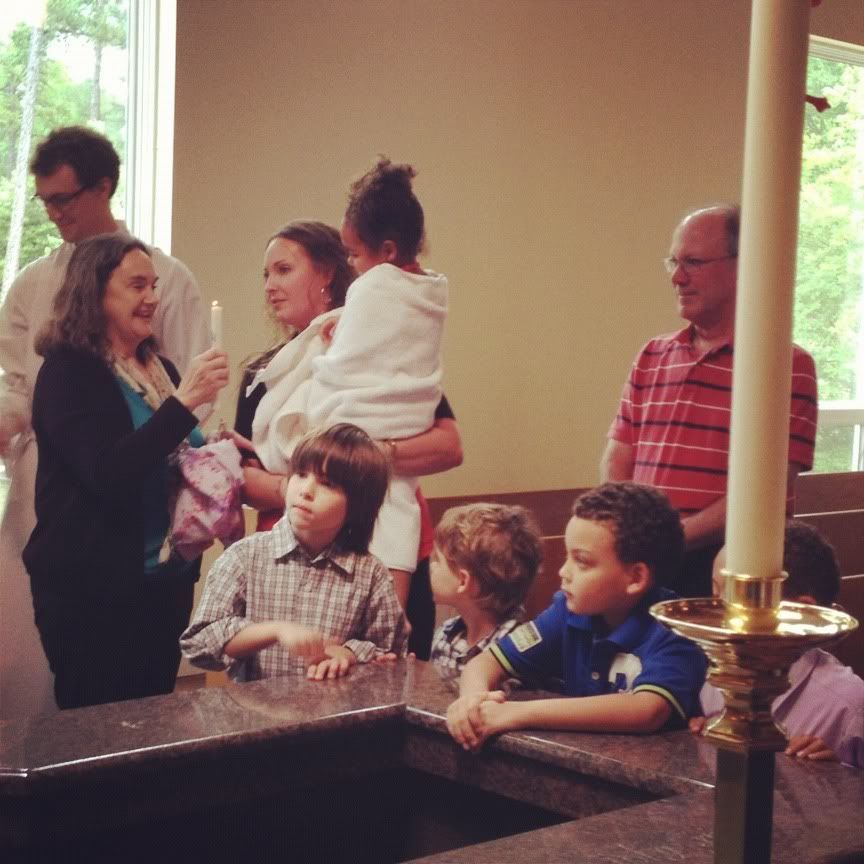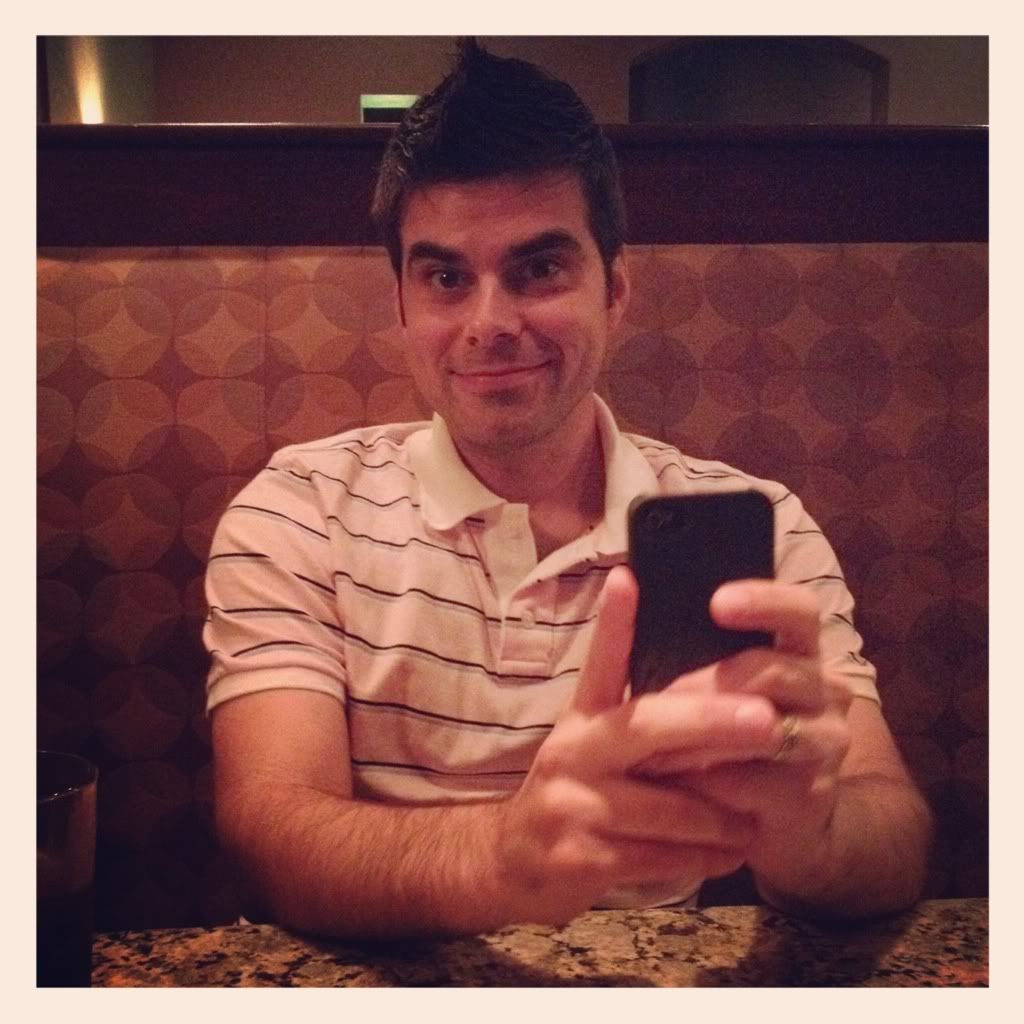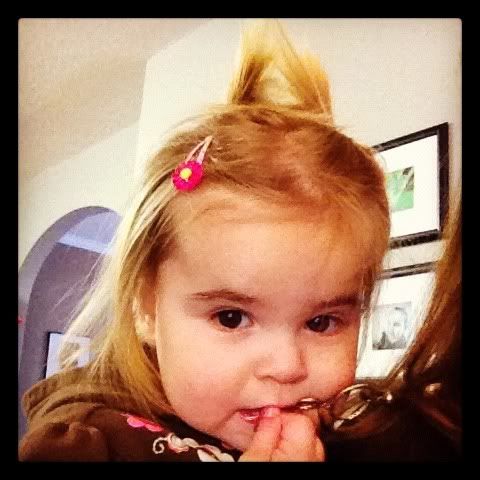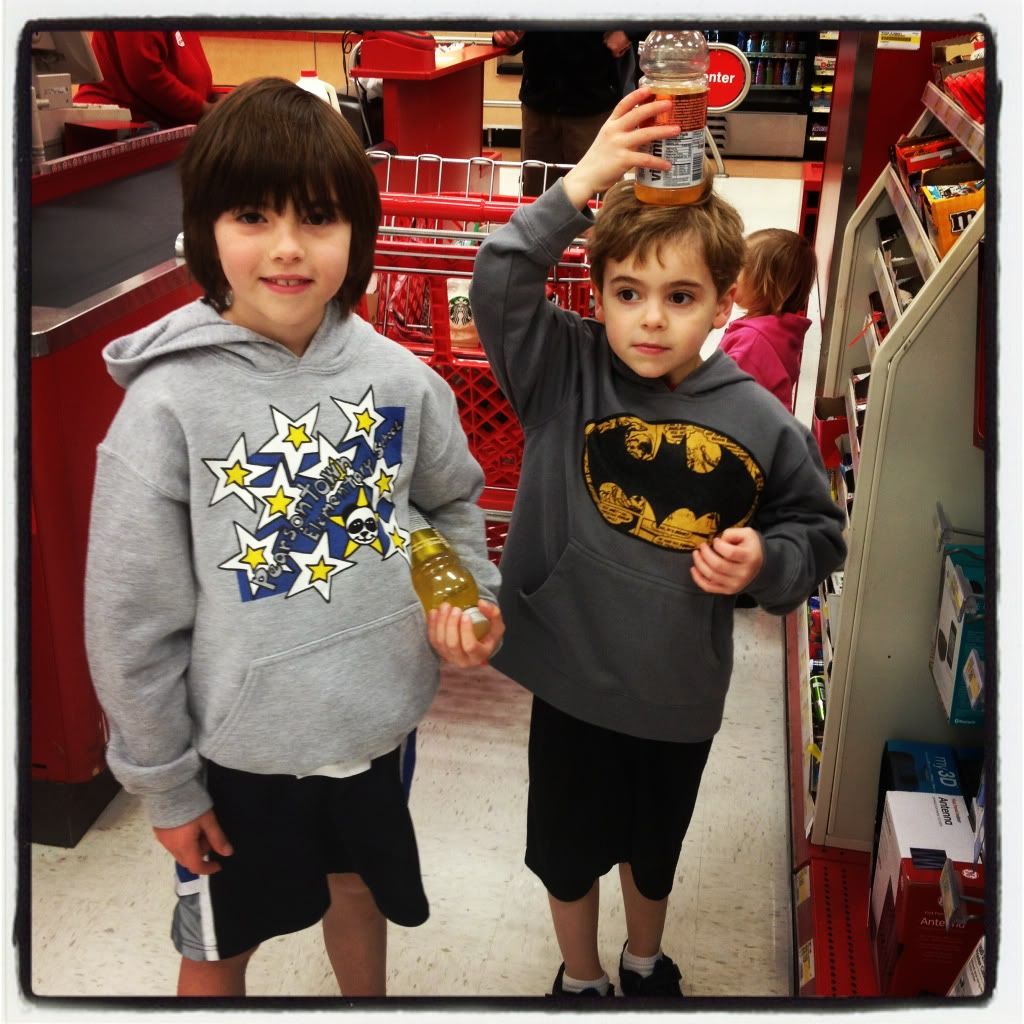 Highlights:
We had our anniversary dinner at the Melting Pot. Vats of cheese and chocolate?! Yes please!
Saturday was a beautiful day for tennis (while sporting awesome sweat bands, of course), voting, and checking out a ton of books at the library.
I started reading Charlie and the Chocolate Factory to the boys, and we're all loving it. Can't wait to finish the book so I can re-watch the original movie with them and see the new one for the first time.
The boys and I went to my mom's church (the church I grew up in, it's Episcopalian) on Sunday to watch my niece, Raina, get baptized. Baptisms are really cool there now because they have a huge baptismal font. The boys were amazingly good in church, considering we/they rarely go. Adam stayed home with Lorelai since she wasn't feeling well and the service plus a family lunch afterwards went past her nap time, but we missed them.
Adam was able to come home early just about every day this week to get Aidan off the bus and make dinner for us.
Lorelai came home from daycare with an absolutely crazy hair do. She pulled out the pigtails I put in, and whoever put them back up did a terrible job. Not really a true highlight, but it was good for a laugh.
That picture of Logan and Lorelai just cracks me up. Her shirt is off (and her belly is huge) because we had spaghetti, his shirt is off for no good reason. She's wearing my necklace, he's wearing a tail. Just awesome :)
The other morning Lorelai was snuggling in bed with us and she pointed to me, Adam, then herself and said in that order "Mommy, Daddy, Pretty." I guess she hears that a lot from us, huh? :)
My toes are all ready for our cruise (although I unfortunately didn't have time to get them professionally done). We leave on Sunday!!
We booked our cruise excursions. We'll be doing the Mayan Ruins of Tulum in Cozumel, and zipline and crystal cave tubing in Belize. I am seriously SO excited. So so so excited.
I had shrimp pad thai for lunch yesterday, which will always fondly remind me of my trip to the hospital when I was in labor with Lorelai. Ah, memories.
A quick trip to Target this morning. Starbucks + Target + cute kids who run around with their hands casually in their pockets and balance vitamin water on their head = good times.
Lowlights:
Lorelai wasn't feeling well over the weekend. She had a slight fever and not much appetite. Luckily she was all better by Monday so she could go to daycare.
Photobucket just completely eliminated their collage tool where I used to do all my blog collages. Since I upload my iPhone photos directly from my phone to Photobucket, it'll be an huge PITA to put them on the computer first to do a collage in Picasa, which is the only other option I know of. How does everyone else do collages? All the pictures above are just pasted individually via HTML and resized to look like a collage, but I'm worried that it'll look wonky if I ever change blog margins and layouts. First blogger changes, and now this. I don't like change.
I've been stressing about getting everything ready to go on our cruise (there's so much to pack!!), and I'm still stressing about leaving the kids for such a long period of time.
We just found out that after getting home next Sunday at 5pm after a week away from the kids, Adam has to be on a plane back to Florida for work bright and early at 6am on Monday. As in, he'll have like 2 hours with the kids in a span of 10 whole days. That SUCKS. For him and for them.
That was our week, how was yours?
Linking up with a good life.