Happy Easter! We had a fabulous day of fun, family and food. I have yet to sort through all of my pictures, so hopefully I'll have a post with some of them tomorrow. In the meantime, I wanted to share our egg hunt fun from Sunday morning.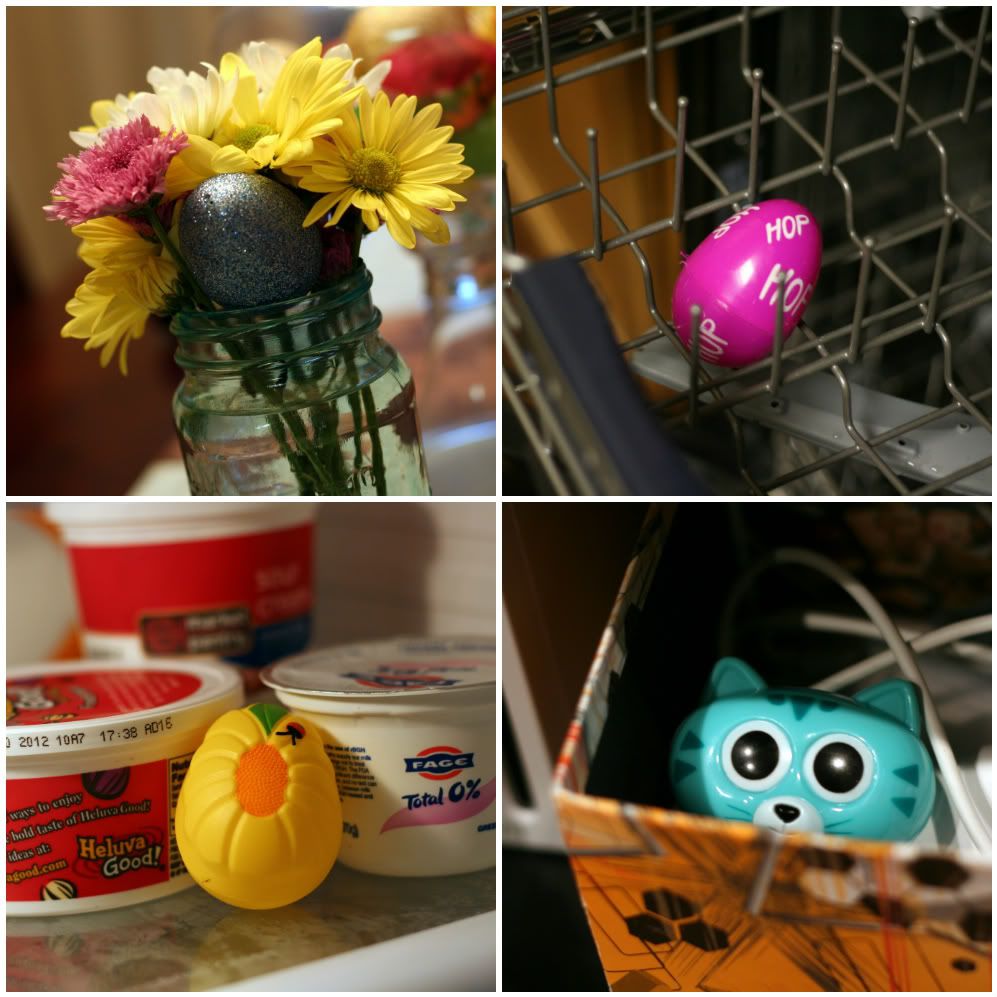 Since it was such a big hit
last year
, the Easter Bunny was back with another treasure hunt. This year she left a note on the back of the boys' bedroom door in the hopes that they would see it when they woke up and turned the lights on to play.
Note to the Easter Bunny: move the note back to a way more obvious place.
Apparently Aidan and Logan pay no attention to the back of their door. It took them a good 30 minutes to notice it, and they each went in and out of their room TWICE before that. Geez!
Once they finally found it, here's what they saw:
Good Morning, AIDAN and LOGAN!
Are you ready for an Easter Egg Treasure Hunt? Well get to hoppin'!

"Where's the treasure?" you may ask.
You must find it, that's the task!
Is it here? Is it there?
You must look everywhere!
Look for your first clue in the place where we put all the dishes to make them clean. Don't go alone, work as a team
☺


Here are the clues the Easter Bunny came up with all on her own, hidden in plastic eggs throughout the house (the first was in the dishwasher):

Clue #1: When you sit here for shows, don't be a grouch. Your next clue is on the __ __ __ __ __.
Clue #2: Scrub-a-dub-dub, find your next clue in the __ __ __.
Clue #3: Don't fall off while you're sleeping and bump your head, find your next clue under Aidan's __ __ __.
Clue #4: Look for Lego Star Wars and what do you see? Find your next clue beside the __ __ __.
Clue #5: Where do you eat, if you're hungry and able? Look for your next clue on the dining room __ __ __ __ __.
Clue #6: I hope this hunt has put you in a good mood! Your next clue is where we store our cold __ __ __ __.
Clue #7: Dirty shirts can be blue, red or green. Find your next clue in the washing __ __ __ __ __ __ __.
Clue #8: Look around and you won't find a Woset, you'll find your treasure in Mommy and Daddy's __ __ __ __ __ __.
The boys
loved
it! They were so excited about each clue that instead of going straight from one location to another, they brought each clue back up to show us. I loved being able to witness their excitement as they figured out each clue. They figured out most clues without any trouble. But they were both stumped for a while on clue 6, when they couldn't figure out that food rhymed with mood, which meant the fridge. I think they were just trying to think of a place in the house that rhymed with mood, so Adam and I had to help a bit. Aidan also got oddly stumped by clue 4, but Logan knew right away to look next to the Wii. Logan magically appeared with the egg while Aidan was still trying to figure it out.
Here's the treasure they found:
The boys got Angry Birds shirts, Little Debbie cakes, gummies and Cadbury mini eggs. Lorelai got shoes, a skirt, bows and clips, and they all got Jelly Bellies galore in their plastic eggs.
Obviously they loved the treats, and between three egg hunts they now have enough candy to feed an elephant (or me and my huge sweet tooth, whichever). Logan even went through all of Lorelai's eggs (and put them all back like no one would notice) before she woke up. Of course the one day she picks to sleep in just happens to be the day we want her awake, so we actually had to go in a wake her up at 8 to join in the fun.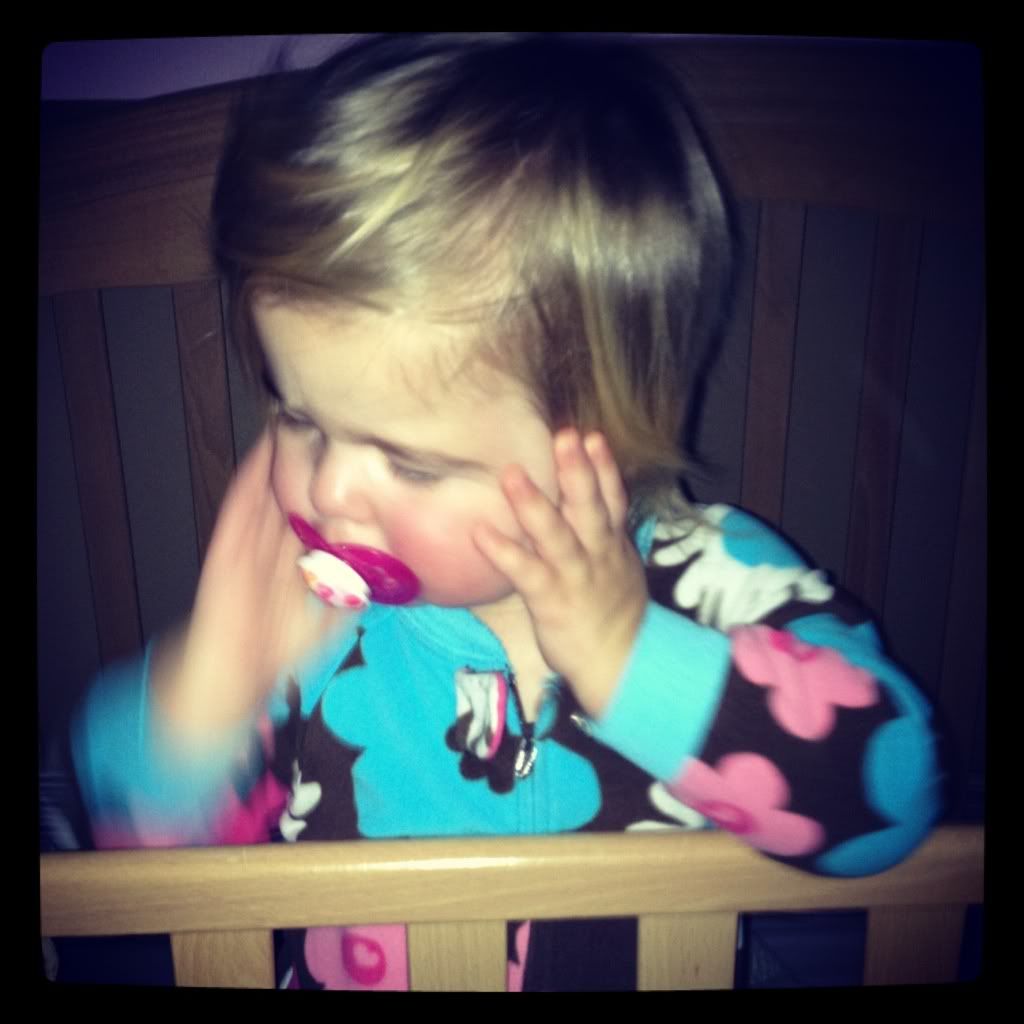 She was groggy and confused at first, but before I knew it, she had shoved a handful of Jelly Bellies in her mouth which perked her right up (that's my girl)! And BTW, the boys totally agree with me that Cadbury mini eggs are the bomb diggity.
The rest of the day was spent dying eggs, folding bunny napkins, lounging, cleaning up, making messes, having fun with Easter grass, more cleaning, getting ready to host dinner for 13 people, doing more egg hiding and hunting, eating, hanging out, and just generally having a blast. Yay Easter!