Not a whole lot to say about this (last? Since it's now Monday?) week. Here's what it looked like in pictures.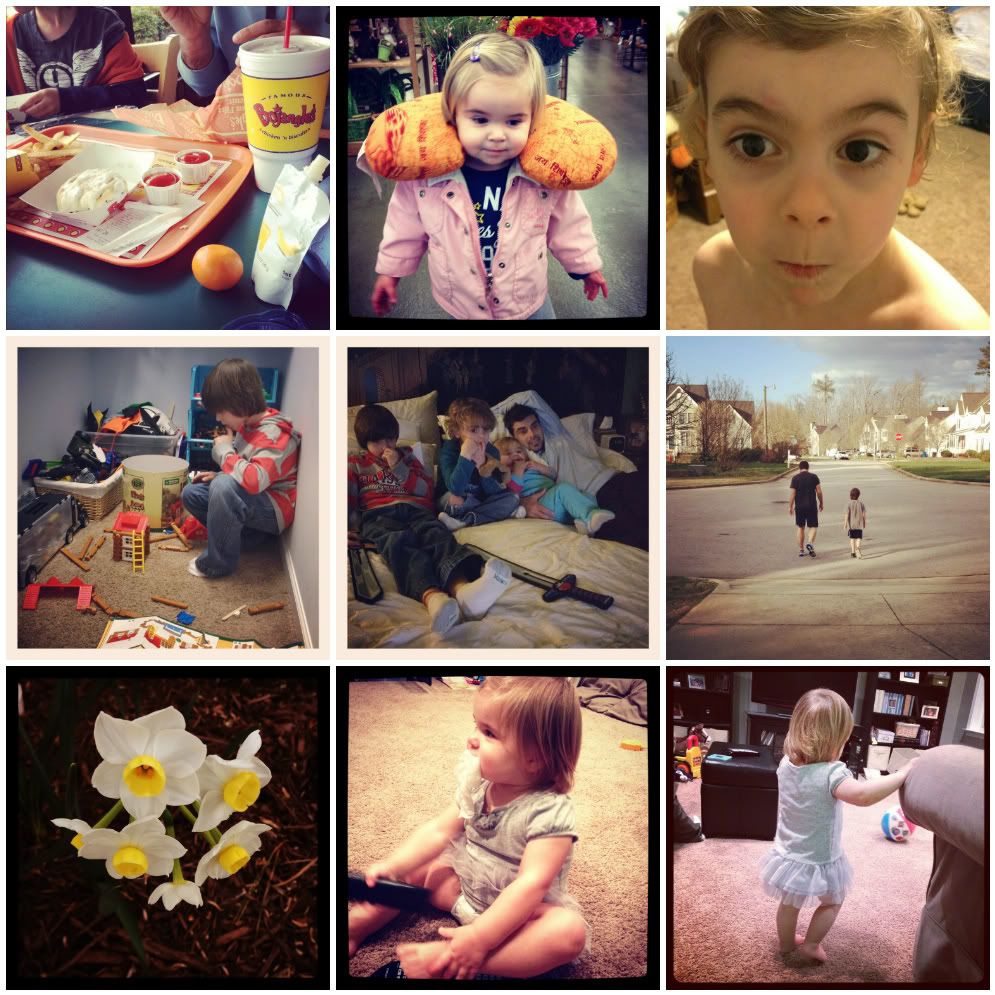 Highlights:
Bojangles, Target and World Market on Sunday. Lorelai found a neck pillow and had so much fun in that store, she didn't want to leave. Didn't buy anything, wanted to buy everything.
Spring is right around the corner! The daffodils are looking so pretty.
Adam has started running. He started on week 4 of the couch to 5k program, and took Aidan out on a run with him. Good for them!
We got a bunch of new hand-me-down clothes from the kids clothing exchange at my Mom's church. For free! Love the gray tutu dress! She wore them with leggings but stripped down after a diaper change.
Lorelai said "cheese" completely unprompted for the first time when I was following her up the stairs to take her pictures. OMG so cute (even if it was with the paci in her mouth...grrrr stupid paci!).
She has to do everything just like her brothers. She wanted the sword down her shirt like they do, and she played with it like that for a long time.
When she calls the boys, she says it so enthusiastically, and it sounds like "bees." She also calls Aidan "A," and Logan is "wo wo." I love that she's talking more.
I finished Mockingjay.
Lowlights:
Logan crushed his head on the playground and got a nasty goose egg. He said it didn't hurt though.
I'm a terrible housekeeper. That's an embarrassingly thick layer of dust on our tv stand. Wow, so bad. On the positive side though, I'm sure I made a bunch of people feel better about their own housekeeping skills :) It's clean now, don't worry.
I finished Mockingjay. The Hunger Games are over. Boo.
Daylight saving time. I really missed that hour. Especially since Lorelai was in bed with us at 4:30 (I think because of a cold, not related to the time change), ugh.
Happy Monday! And happy almost spring!
Linking up with Amy at a good life.