Adam and I, along with a couple of friends, ran in another race last weekend, the 5k Shamrock Run for Hope (it's a Relay for Life event). It was in Pittsboro, and the course actually ran right past my in-laws' bed & breakfast. It was perfect, we just dropped the kids off with them and they hung out in the driveway until we ran past. The boys gave us high-fives, and Adam even stopped for a Lorelai hug. My mom came to cheer us on, too.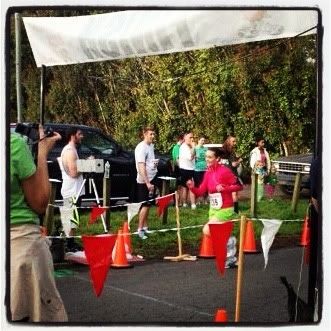 Just like each of the two other
races
I've done, the boys have asked me if I won. Of course, the answer I gave them was basically, no, but I did my best and I finished, and that's the most important thing. I got my best time yet (30:28), even despite some massive hills that kicked my butt.
So imagine my surprise when later that afternoon, a co-worker who also did the race posted on my facebook wall that I'd won a prize! The results weren't published yet, so I didn't know exactly what prize I won or for what, but I imagined something along the lines of a Miss Congeniality award. Like a "most enthusiastic sprint to the finish" or something (man, I booked it at the end and look ridiculous in that pic of me crossing the finish).
Once the results were published that evening, I looked up my time and discovered, to my utter shock, that I'd won first place in my age category!! Are you kidding me?! FIRST? Holy wow. Granted, it was a pretty small race with 112 people in the 5k and only 16 people in my age group, but still! I'm really proud of myself.
Since it didn't even cross my mind to stay for the awards, I didn't know what my prize was until today. The boys were hoping for a gold trophy, but it ended up being a pretty silk scarf.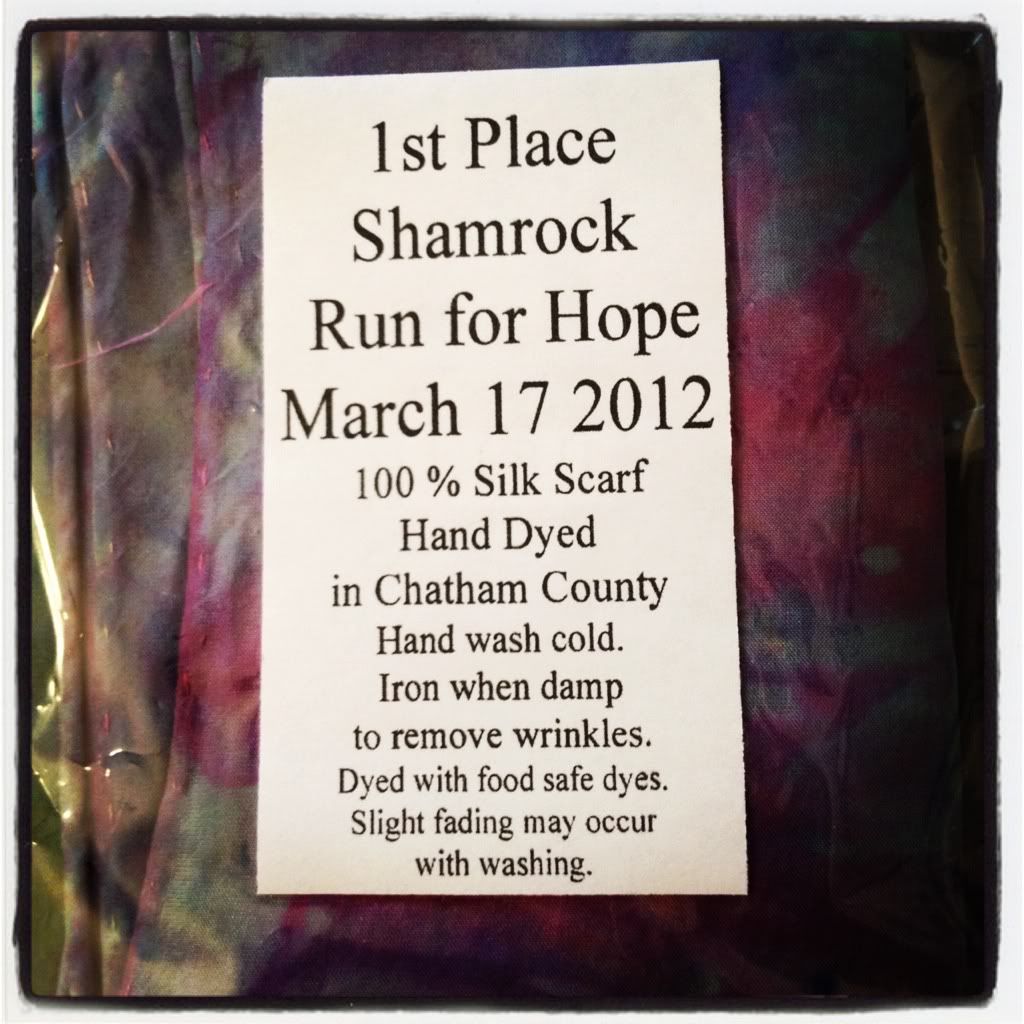 Adam finished not long after me, at 32:13. Not to shabby, considering he only ran a handful of times in preparation. But he got new shoes and downloaded the couch to 5K podcasts I've used, so hopefully once this pollen clears up, he can get back out there to finish the program. I think he'll keep taking Aidan out with him, so maybe the three of us can run in a 5k together later this year. We'll see...especially since I'm considering retiring from running and ending on a high note :) (Just kidding!)