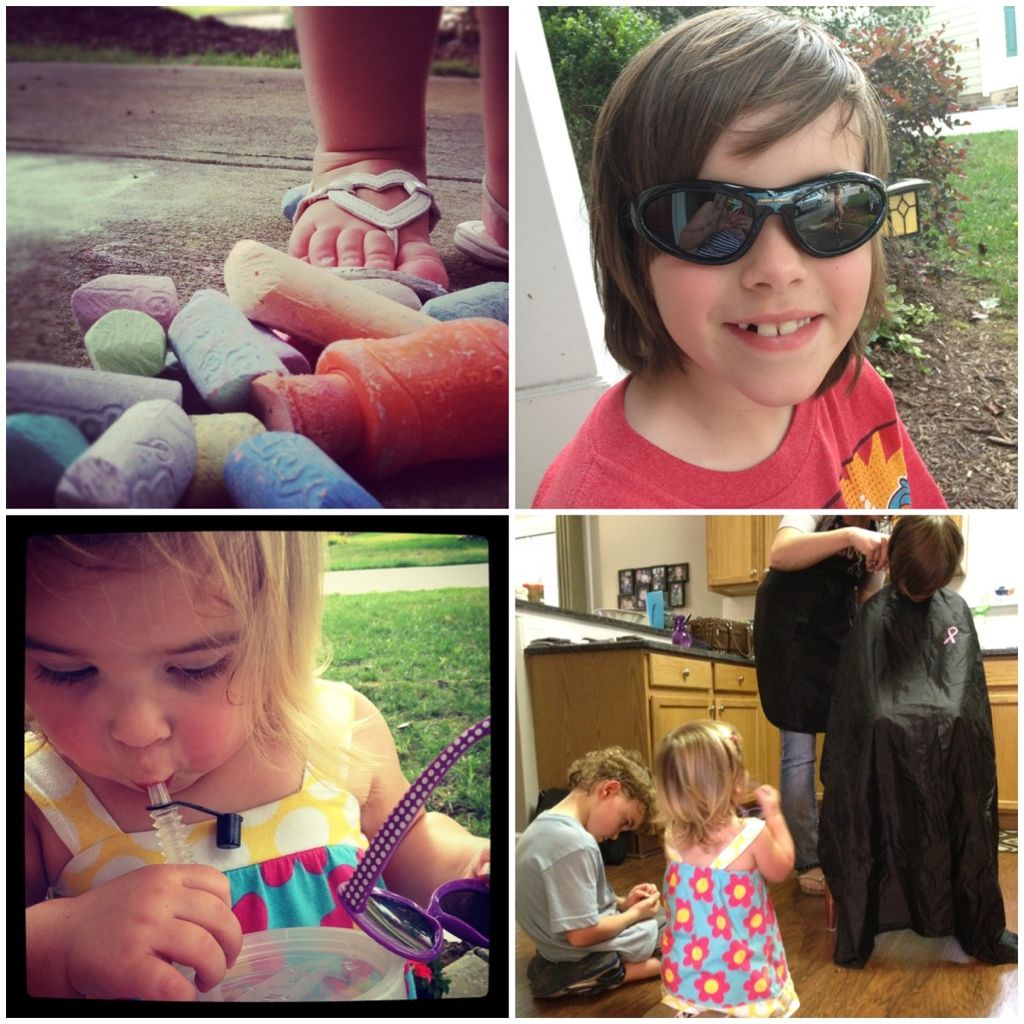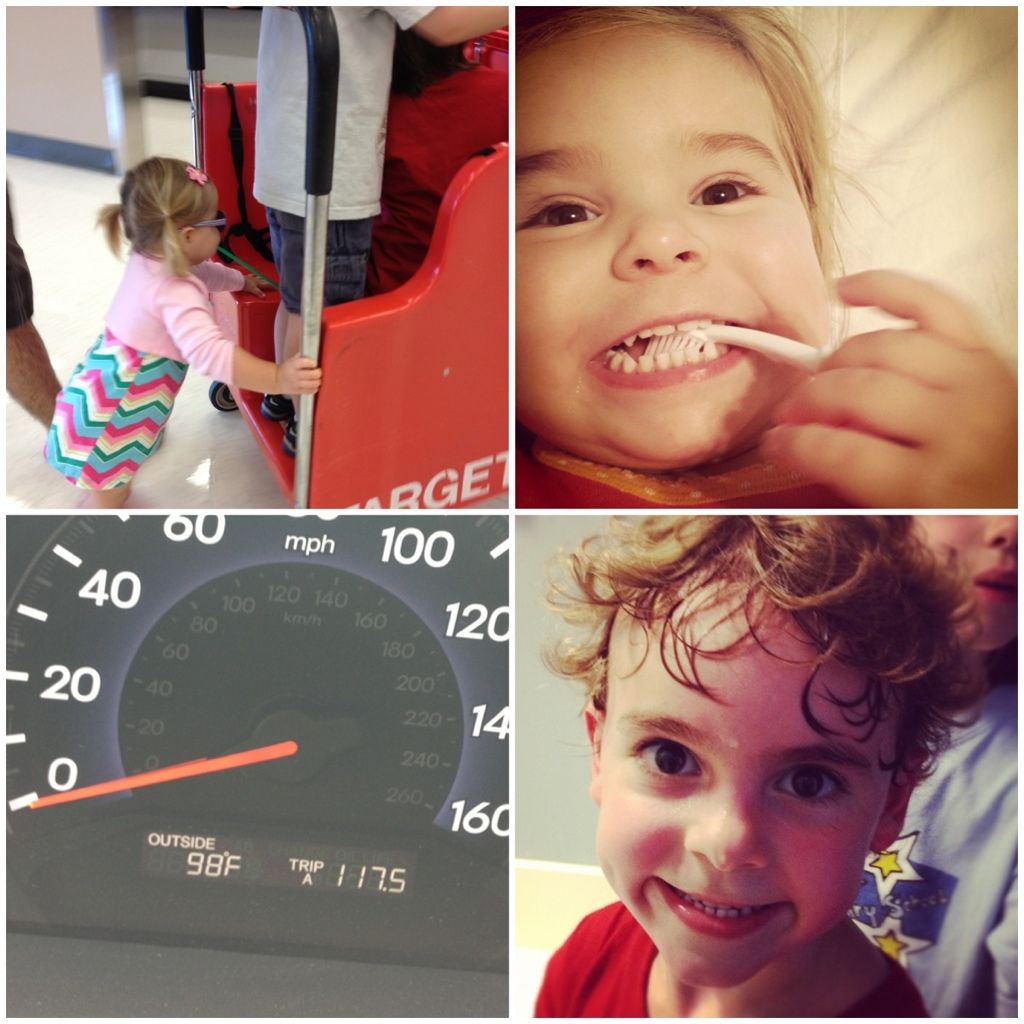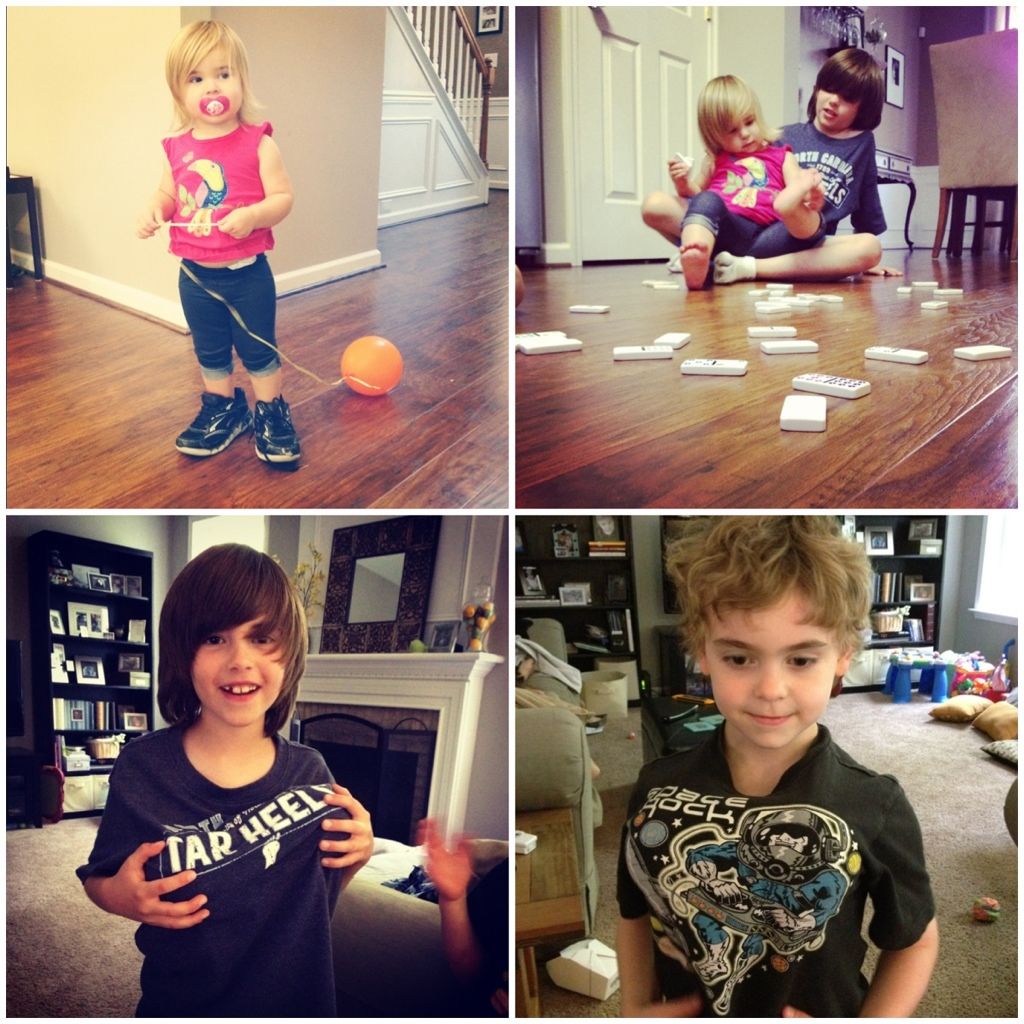 Highlights:
The kids were all pretty hilarious this week. Lorelai walked around in Aidan's shoes and made a bunch of funny faces. Aidan and Logan put nerf balls under their shirts and walked around talking about their "nurples" (aka nipples, and I'm thinking we should probably stop calling them that before Lorelai picks up on it, too...).
When Aidan was getting his hair cut, Lorelai and Logan sat on the floor to watch. Lorelai was cracking up like crazy, we're thinking because Aidan looked funny with the cape on. She was hilarious.
Lorelai was also pretty funny at Target. Instead of riding in the big cart, she jumped out to push it--with sunglasses on (for the entire trip) and straw in her mouth.
Adam and I are totally obsessed with Game of Thrones now. Thank goodness for HBO On Demand, so we can catch up on all the episodes. (Shhh, don't spoil anything, we're not caught up yet!)
I've been using my new BB cream, and so far I like it. I'm not used to foundation since I've been only wearing mineral powder for the past 5 or so years, but I like how this goes on, and I'm hoping it'll improve the condition of my skin.
I'm the only one in my house who will actually eat zucchini and squash, but I've really really been enjoying it lately. Roasted, grilled...yay for fresh summer veggies. (I just wish I could get them to grow in our garden, but I've given up on it for the past two years since the only thing I can get to grow is tomatoes.)
Father's day, which I'll hopefully blog about soon...
Lowlights:
More issues with stupid #%$ Time Warner Cable. I seriously can't believe we're still with them at this point. We've got constantly low signal that they haven't been able to fix permanently. Then, when we got our new DVRs/modem, our On Demand wouldn't work, then our wireless wouldn't work, our phone wasn't working for like 4 days, and this past week, we had three service calls to fix our internet, which we were without from Sunday through Thursday. $%#&!!!!
That's why I haven't been able to upload Father's day pictures and blog about it.
OMG it's been hot this week. Summer is definitely here, right on time. At least we were able to enjoy milder weather for what seemed like longer than normal for central NC.
I can't for the life of me get Lorelai to let me brush her teeth. All she does is suck and chew on the toothbrush and won't let me touch it. It's so frustrating and I'm worried her teeth are going to rot out of her head.
I feel so out of shape. I have to start working out again. HAVE to. I'm starting to feel bad about myself...not a good thing during bathing suit season. UGH.
Linking up with Amy @ a good life.