My little boy graduated from preschool today. And this picture? It kills me. Holy moly what a stinkin' cute and handsome kid (says the completely biased mom).

I've got such mixed feelings. On the one hand, I'm a little sad that my little boy is growing up so fast and clearly isn't so little any more. On the other hand, the offical countdown is on: only one month until we're only paying for one child in daycare! Hooray for free public school!
I've been worried about how Logan was going to handle graduation, since it means change, and he's not big on change. To put things mildly. But he did great! He was SO excited to put on a performance of what they've learned. They even memorized a ridiculously cute poem with hand gestures and everything, that he did perfectly.
His teacher and the directors made some moving speeches, they had a slideshow with pictures of the kids throughout the years at the school, and they handed out special character awards in addition to the diplomas. Logan got the Mr. Goodbar award (his teacher called them "The Sweets" where everyone was a different candy) because he's so good at making friends and he gets along with everone.
It's a miracle I didn't cry during all of that, although I do admit I got choked up a couple of times. We're all just so proud of this kid!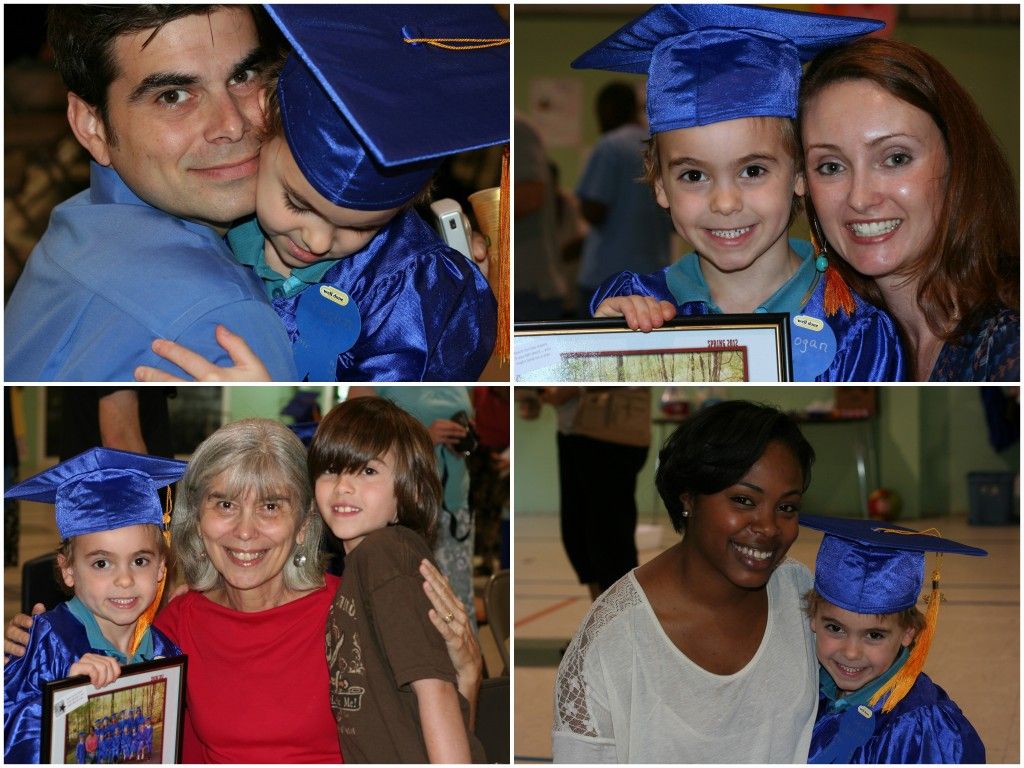 That's his awesome teacher, we're really going to miss her!
After the ceremony, we headed to Chick-fil-a for a celebratory lunch, and then met up with a bunch of his classmates at Frankies Fun Park. Logan and I had never been, and we all had a blast.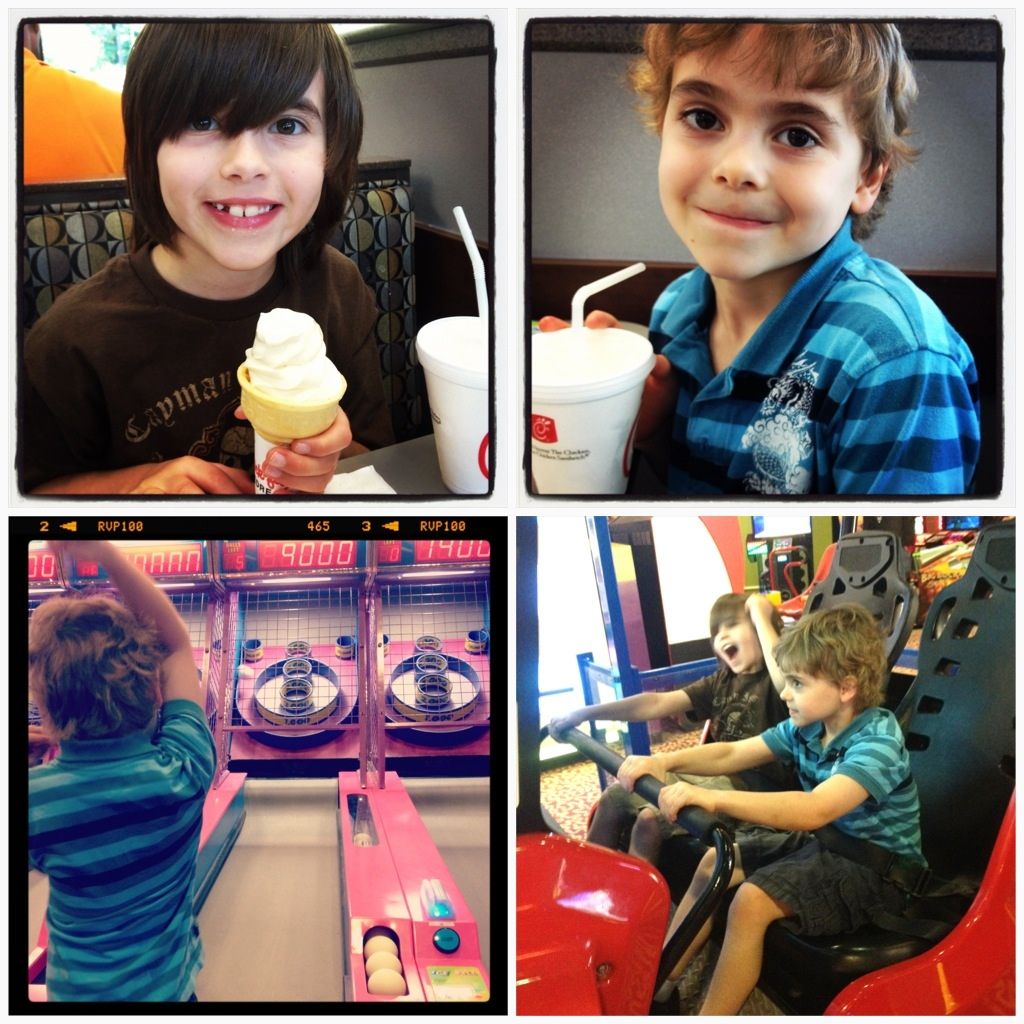 Logan's apparently a natural at skeeball, and loved the roller coaster simulator. That's the only reason I was comfortable with him going on the Drop Zone ride he begged us to let him ride, on which I was fully expecting him to lose his everloving mind. He looks thrilled, right? He had a look of terror on his face the whole time, but came off smiling and high-fiving. Win!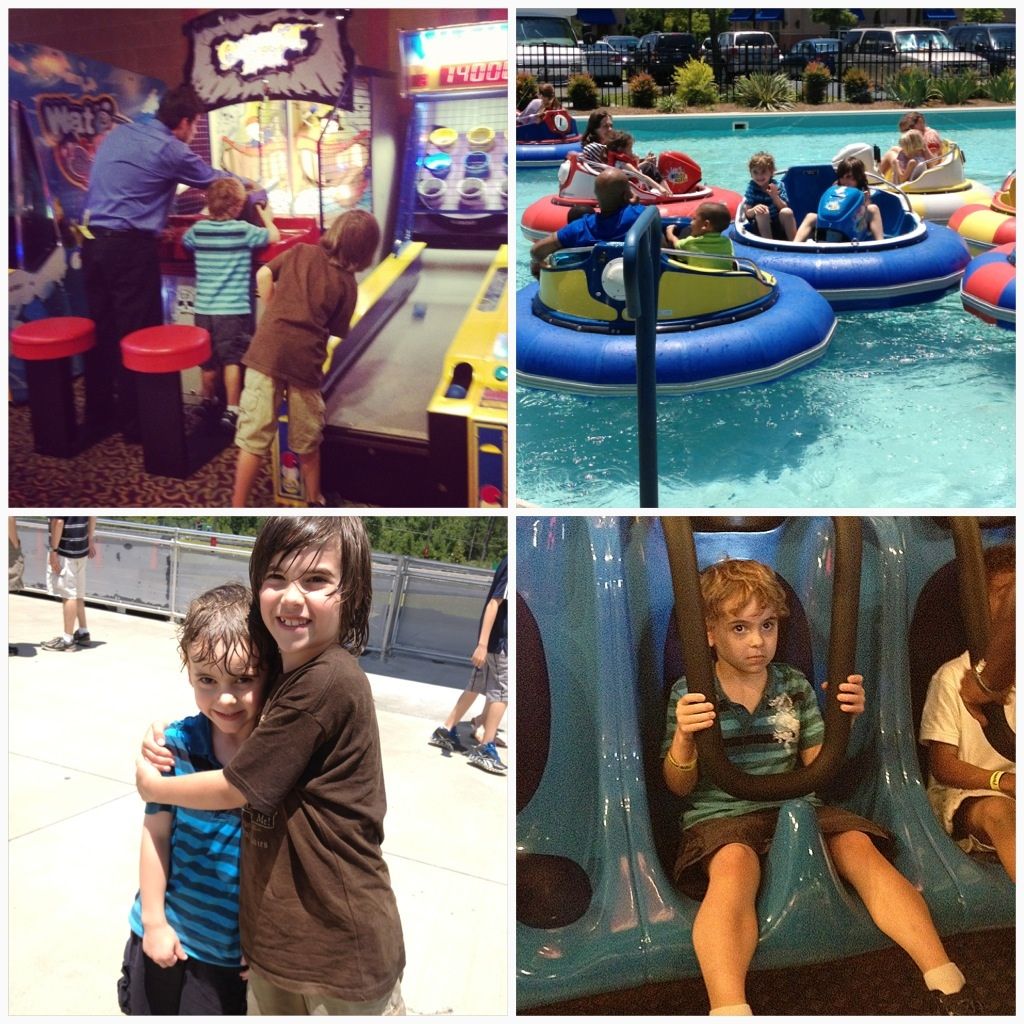 We also did several rounds of go karts (again, mine and Logan's first time, it was my favorite part!) and I'm an awesome driver if I do say to myself. Aidan, on the other hand, is NOT an awesome bumper boat driver. Somehow he managed to get his and Logan's boat stuck underneath the water fountain, so they both ended up soaked from head to toe. All smiles, though! (Which wouldn't have been the case if Logan had fallen in, like he literally almost did when he decided it would be a good idea to stand up and switch seats with Aidan. Crisis narrowly averted.)
It was an awesome day, and I'm so proud of my graduate!