Today, my little man turns 6.
The other night as I was rearranging some things in the boys' room, I just so happened to pull down Logan's photo album from when he was born (which is as close to a baby book as I ever got, unfortunately). Instead of reading a book together, he asked if we could look through the album, which was perfect timing before his birthday.
He just loved looking at pictures of his tiny footprints; the first time he and Aidan met; the first time mommy, daddy, the grandmas and grandpa got to hold him; his first trip to the pumpkin patch; his first halloween costume...
Looking back at those pictures, I can't believe it's been 6 years already, and it's crazy to think how much he's grown and changed in that time. I feel like birthday posts are hard to write without sounding redundant or cliche, but I guess I can't help it. Time flies, and every year--every kiddos' birthday--I shake my head in disbelief that yet another year has gone by way too fast. (Sound familiar?
Yep
and
yep
.)
I'm so torn on this whole growing up thing with Logan. Way too many times (more so than with either Aidan or Lorelai...combined), I've found myself wishing the time away, praying we could just fast forward through some
rough times
and he would just grow up already. But looking through his baby pictures made me feel so guilty for it, because the older he gets the less he needs me and the closer he is to going out into that big scary world all on his own.
I know, I know. We're still a long way from that, but even just venturing out to Kindergarten and seeing him quickly adjust to "big kid school" gives me a glimpse into that future. I dropped him off at school the other morning after his annual checkup, and he jumped out of the van and up to the door with a confident wave to me, and he was off, just like that. This is a big deal to me for Logan, because he's resistant to change, and I was worried how he'd adjust.
Seriously!? How cute and grown up does he look all dressed up for a
grandparents day event at school this morning?
Although he doesn't have quite the same enthusiasm for school (at least the whole academics part of it...) as Aidan did in Kindergarten, he still comes home happy and ready to go back each day without complaint. His favorite thing about school is playing basketball with his friends at recess. He did tell me
once
that he had fun in math centers, so at least there's that.
BUT! He's very recently discovered that reading is cool, thanks to a set of
Bob Books
. It was the first time he ever picked up a book on his own at home and wanted to try to read. He made it through one book easily, and just kept going. Proud mom alert!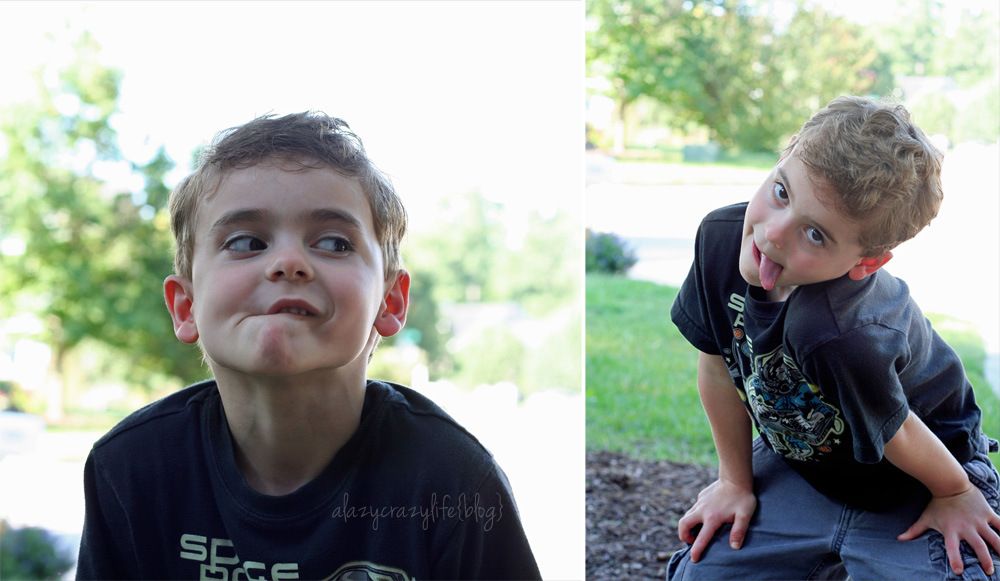 When asked three super-cool facts about himself for his All About Me sheet a few months ago, he said
(1) I love my mom
(2) I can run really fast
(3) I can watch TV a lot because I listen.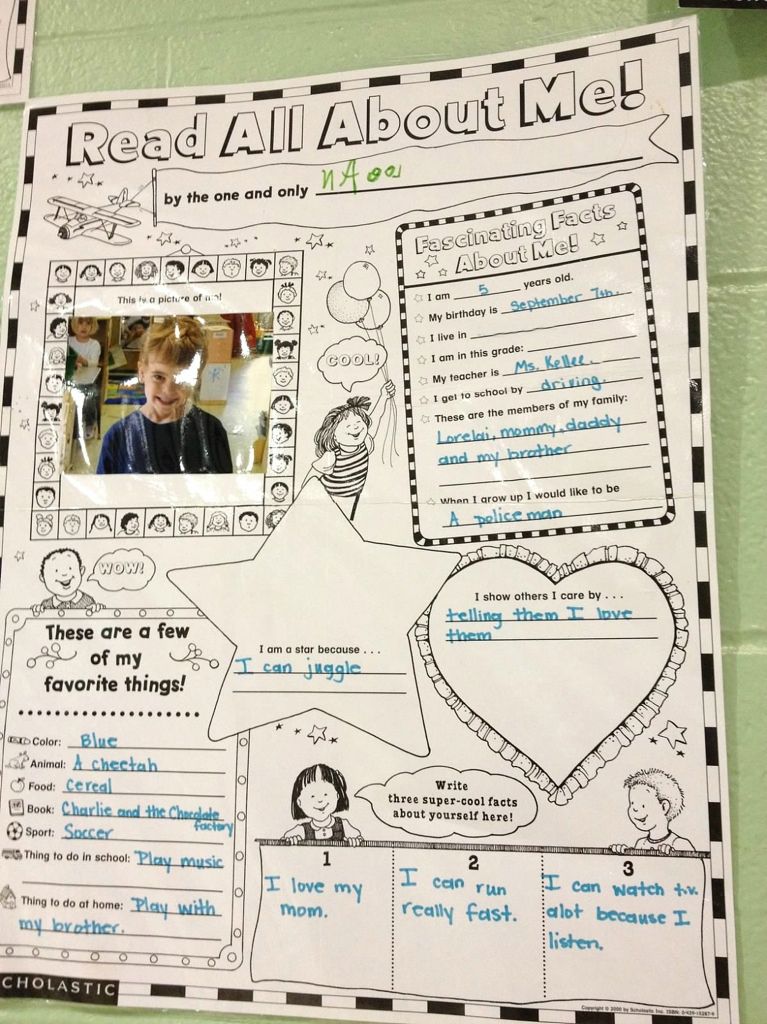 Oh, and he likes to write his name backwards, and apparently he's a star because he can juggle. Maybe he'll even work up to three balls at a time one of these days, ha! :)
Lately, his favorite color is blue, his favorite animal is a cheetah, his favorite book is Charlie and the Chocolate Factory, his favorite food is cereal (and pizza! how could he have forgotten pizza!), and his favorite thing to do at home is play with his brother. Usually something lego and/or Star Wars related. When he grows up, he wants to be a police man.
As always, he loves the heck out of his sister, and Aidan is totally his BFF. He's still emotional and has his
moments
, but, overall we're making progress in the "learning how to handle emotions" department. I said it
last year
, and I'll say it again: here's hoping that this next year is when he starts learning to control them a bit better.
The first test will be this weekend when Adam will only get to spend a few minutes with the birthday boy before he heads out of town on a work trip. :( I'm hoping to make up for it with a surprise Star Wars movie night and chocolate ice cream sandwiches. Plus, the grandparents are going to surprise him at school today for a grandparents day event they're doing. He's going birthday shopping with grandma and grandpa on Saturday, and we moved his party to Sunday, when we'll go to the Carolina Tiger Rescue to see some cool animals. Aside from daddy not being there for half the weekend, good times will be had, I'm sure :)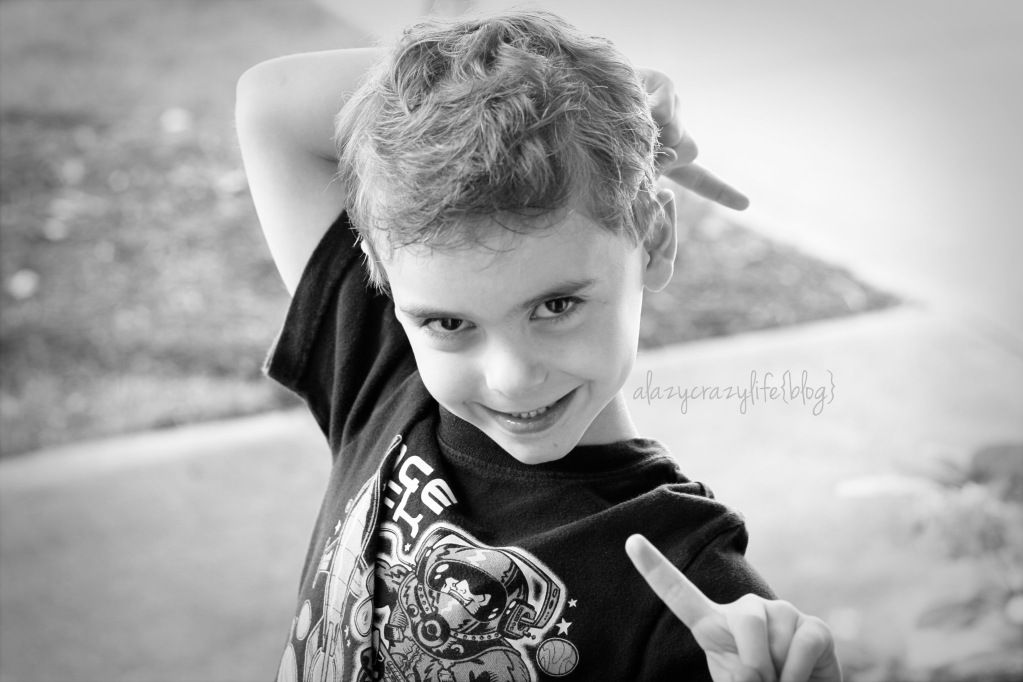 Happy 6th birthday to my sweet Logan, we love you so much!