For Logan's birthday,
we
I decided that instead of doing a big friend party like we did at the bounce house last year, we'd do something much more low-key and informal like we did with the trip to the aquarium for Aidan.
I figured this would be a perfect opportunity to finally go visit the
Carolina Tiger Rescue
that's literally like 5 minutes down the road from the in-laws' house. Logan thought it was a good idea, so plans were made (and then
changed
, but it turned out to be no big deal).
We headed over to meet some family (grandma, aunts, uncle, cousins) for the afternoon tour, and lucked out with amazing weather.
It certainly wasn't a cheap outing at $17 a pop for adults and $10 a pop for kids (Raina and Lorelai were free, thank goodness!!) but they're a nonprofit organization so we just looked at it as a donation to the cause.
The tigers were awesome. There were several different ones in multiple enclosures, and unlike the zoo, you could really get up close and personal with them. So close in fact, that if you were dumb enough, you could simply reach your hand into the fence and get it bitten off. They made us sign a waiver in case we were in the "dumb" category. (Spoiler alert: we all left with our limbs in tact.)
This guy, Rajaji, was the first one we saw. He was huge! He was rescued from somewhere that kept him penned up on a concrete slab his whole life and apparently he still sometimes acts funny on the grass. The tour guide warned us that he likes to spray at people, and has a 20ft range. He did indeed spray, and I did indeed run away like a crazy person with Lorelai in my arms.
One of the tigers they have is blind, which they didn't figure out until his cage mate (brother?) passed away. You'd never know by looking at him. It's cool--they adapted his enclosure with a sand path around the perimeter so he'd know where the fence was.
The guy on the left here was found roaming around on a highway in Charlotte, and they suspect he was pushed out of a moving vehicle by the way he was scraped up when he was found. So sad. The white tiger was gorgeous, too, even though we couldn't see him up close. His name is Jellybean (here's a much better
photo
from their
facebook page
). He was having some health issues this summer, but hopefully he's on the mend!
They have all kinds of animals there in addition to the tigers. We saw lions, caracals, servals, ocelots, binturongs, and kinkajous.
Unfortunately, the lions were being lazy and didn't get up for us. Look at
this guy
! They said he's on a diet because he's so overweight (which is why they couldn't be tempted to the fence with food). And apparently sometimes, the female lion will see a kid she likes and do some predatory stalking along the fence. I really wanted to see that. Raina was really cute bait, I'm just sayin'. :)
Some of the smaller "big cats" were hard to photograph through the enclosures. The cougar (left) was camera shy and took her food to the back corner. The servals (top right) have a strike speed of 1/60th of a second, which they like to use to kill and eat snakes that come into their enclosure. Not sad to say we missed witnessing that in action. The ocelots were really hard to be around because their spray stuck so SO bad.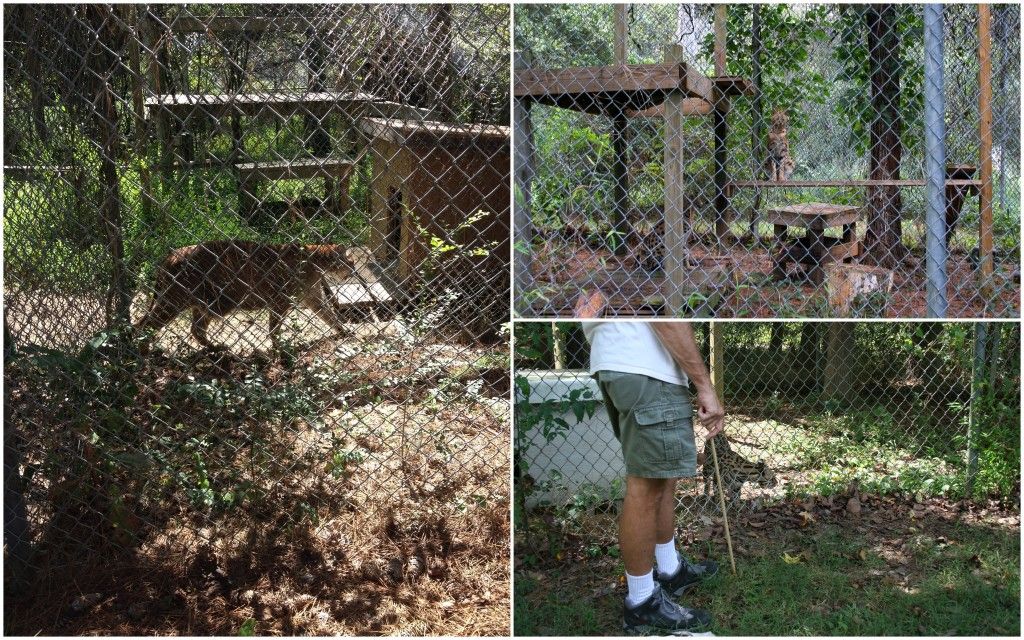 I really wish I had been able to get a better photo of the ears of these
caracals
. And you should have heard the sound of the chicken bone snapping when she took a bite!
One of the more interesting animals was this binturong. I'd never heard of them before, but she was automatically super cool in my book because her name is Becky. She just chilled out and ate bananas. Even though she's not aggressive, her teeth and claws can still do serious damage.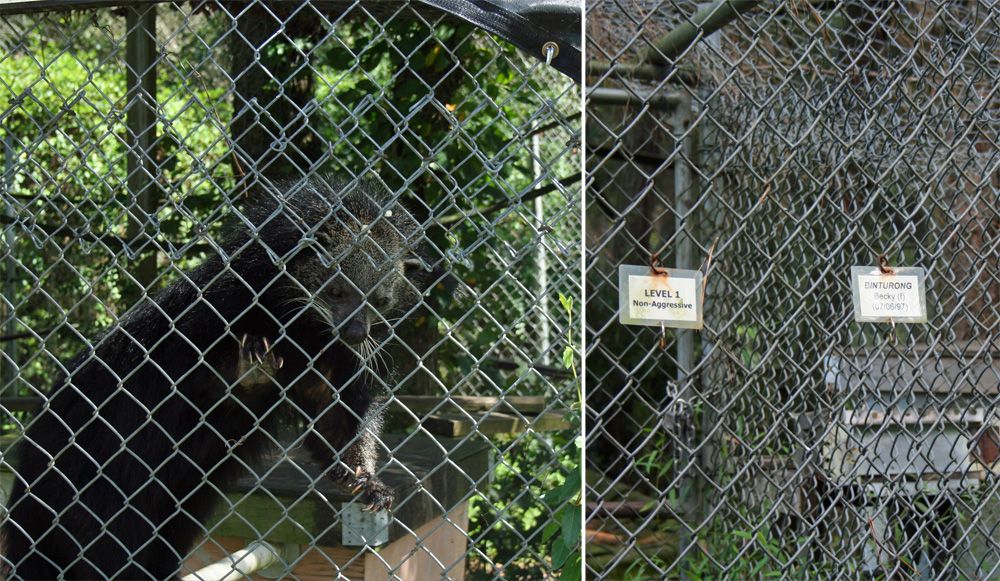 They also had a couple of kinkajous. They look like cuddly little monkeys, but they're really aggressive and they poop a lot. Raina really tempted fate (and broke all kinds of rules) when she ducked under the rope and next thing we know, she's standing within arm's length of the enclosure. Crazy girl!
But I think the scariest creatures by far were these guys. Good thing they're locked up tight! :)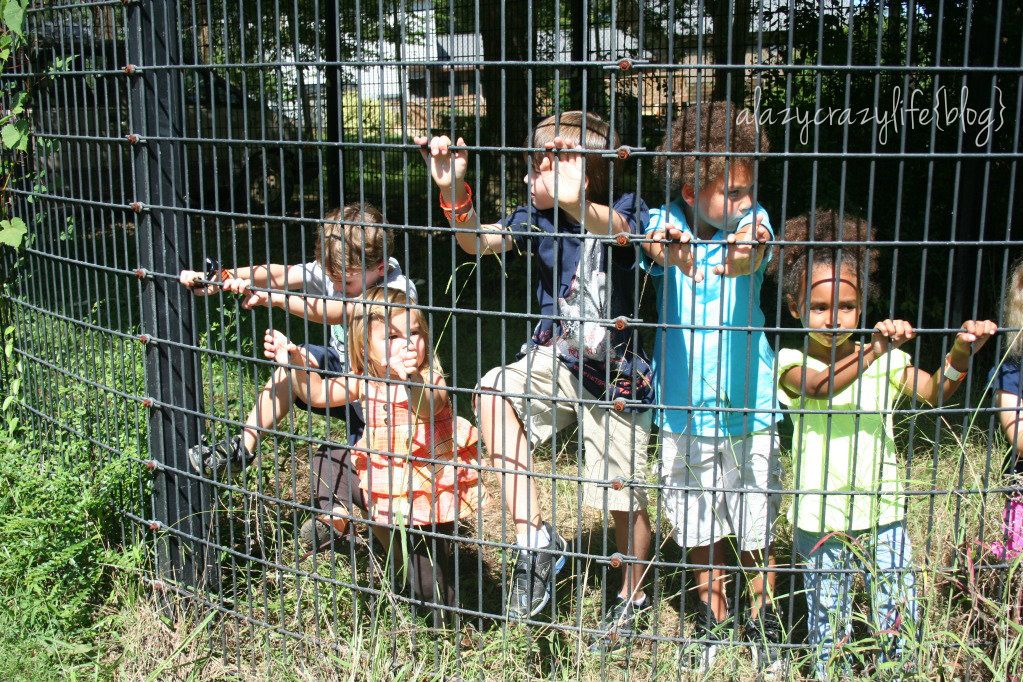 I was kind of worried about how Lorelai would do since she didn't want to be in her stroller for most of the time. I was worried she'd run under ropes or step in fire ant hills (of which there were a lot--Aidan got bit). But between me, Adam and my mom holding her, she was happy as a clam and really enjoyed seeing the animals.
After the tour was over (it was almost a full 2 hours so we definitely had some quality time there), we headed back to Grandma and Grandpa's for some birthday snacks and presents.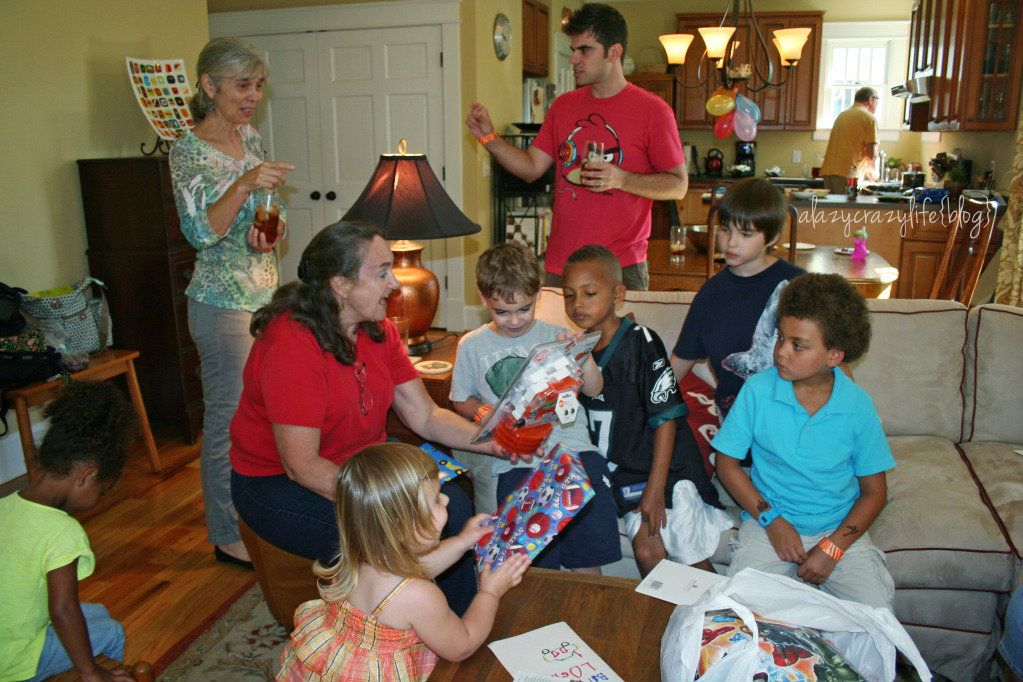 I feel really bad that I never made a cake for Logan, but he didn't even really care. He was totally happy with the oreos and popcorn mix Grandma picked out for him and of course, presents. It was a really great day and everyone went home happy.
I even convinced the birthday boy to take some pictures with me and Adam.
Let me just say for the record, that low-key birthday parties like this totally kick fancy friend party butt (from my perspective as the one who has to plan everything out). I know we'll end up doing friend parties in the future, but I guess I'm not much of a fancy party girl. I hope that rubs off on the kids! :)