I'm not ashamed to admit I won't win any kind of homemaking prizes anytime soon (good thing I'm not a homemaker?). I don't clean as often as I should (seriously can't remember the last time I mopped the floors), I don't like to cook, my home is disorganized, etc. I am kind of ashamed to admit just how lazy I typically am on the weekends when it comes to these things, because I'd rather sit on my butt.
BUT! I do have to pat myself on the back for once because I had a pretty kick-ass productive weekend. On Saturday, my sister and I helped my mom sort/clean out her garage, which is no small feat (hoarder alert!
Love you mom:)
). Adam even changed all of her locks while we were working and the kids were enjoying the weather.
Then on Sunday I totally raised the bar for myself. We did our grocery shopping and I planned out all our meals for the next 2 weeks. Our meal plan board is finally not blank! I also did laundry, made lunches, prepped dinner, cooked lasagna for later in the week, made spinach smoothies and breakfast muffins for the boys for the week, put away all of the Easter stuff and switched out our mantle decor, and I was even motivated enough for a 4.1 mile run! The kids played outside, we grilled hotdogs, and life was grand.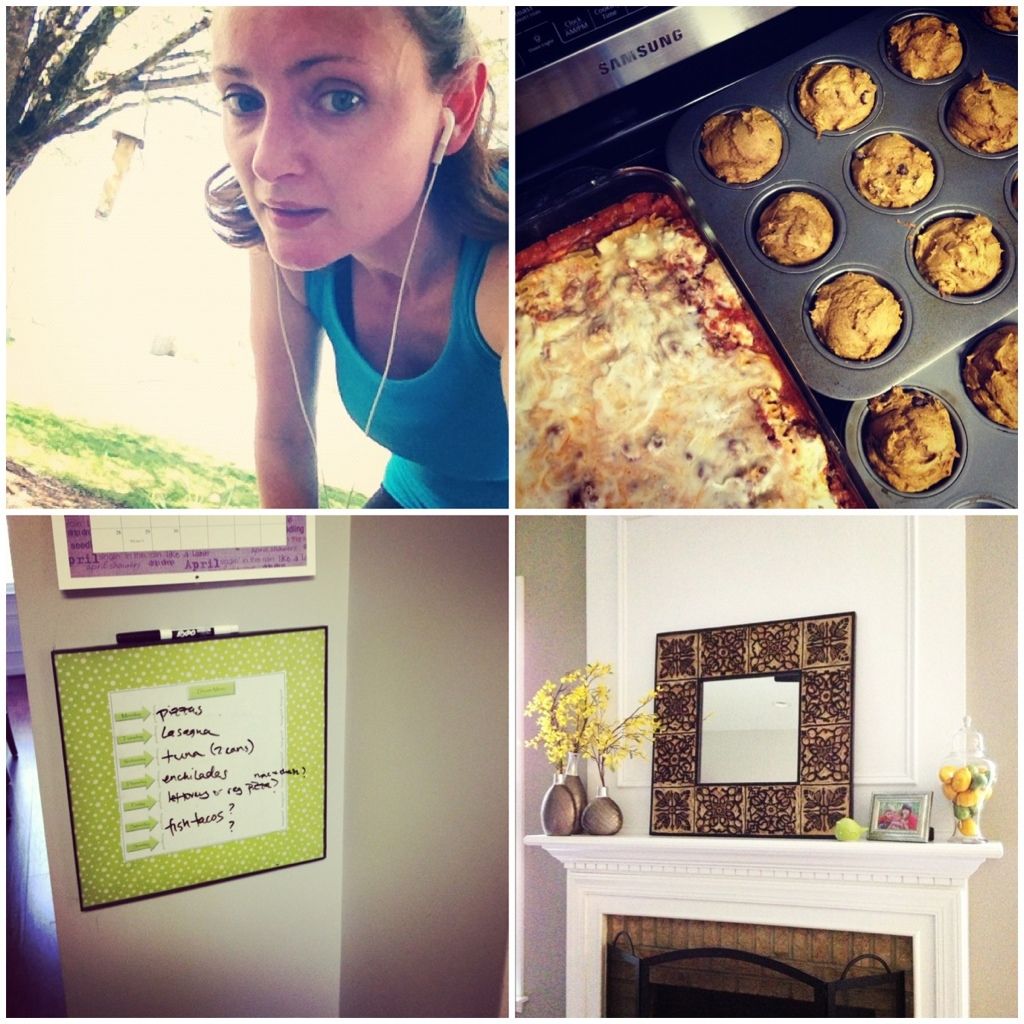 Spring seems to have finally(!) arrived here in NC, and I swear that's the motivation I needed to get off my butt this weekend. I felt energized and refreshed and good! Amazing what a little sunshine a fresh air can do to you, right? Who knows how long the motivation will last, but here it is, documented on the internet for eternity--I was not lazy all weekend! Ha!
Ok, so we won't talk about the fact that I'm swamped at work this week and I can already see the motivation I had at the beginning of the week slipping through my fingers...but it was good while it lasted. See also: I started this post on Monday and I'm just now finishing it. At least we still have nice weather--no more 44 and rainy like last week, thank goodness!