Sometimes my mind gets stuck on a worst-case scenario and I can't stop my brain from going down the rabbit hole of what would happen.
For example, yesterday when I was running, I kept picturing myself collapsing on the sidewalk. I was really struggling with my run (
so maybe the jogging stroller isn't the cause of my problems...?
) and I've also been having this weird issue where twice in the past two days, it's felt like my heart or lung is ripping inside me when I try to breathe deeply. So I guess that's where it came from. But instead of just brushing it off and moving on, I started picturing details about what would happen. Someone would drive by and see me laying there, and would grab the phone off my arm to find out who to call. They'd probably call the number labeled Home, Adam would answer, and they'd describe a person laying (dead?) on the street. He would freak out, get the kids in the car, and pull up as the ambulance was loading me in. Very detailed. I just couldn't get my brain to move on.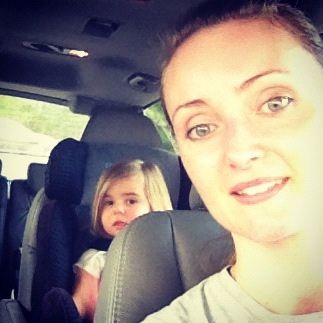 Obviously I was fine, but exhausted. And I should also mention that I waited to get Lorelai from daycare so I could run without the jogging stroller. #don'tjudge
It also happens regularly when I'm driving on a bridge over water (I admit, I have anxiety when it comes to bridges--driving to the OBX was really scary for me and you will probably never see me with fewer than two hands on the steering wheel over water). In my mind, I can't help but picture and play out what would happen if I drove off the bridge. Not that I would purposefully drive off the bridge, but if we had an accident that caused us to go over.
And I do it with the kids, too. It'll be a completely harmless situation--like they're at school when I get a call that something tragic has happened. It's always very disturbing. Kind of like a nightmare, but I'm wide awake.
I don't know, maybe it's just me subconsciously confronting my own mortality in the wake of senseless tragedy like the Boston Marathon bombings. Or my kids' mortality whenever I (often) get sucked into terrible news stories of kids dying...
Do other people do this too, or am I mentally unstable? And did I just admit that I'm mentally unstable to the entire interwebs? Maybe I should also ask: has anyone else had a similar feeling like your heart's going to tear or like your lung can't expand anymore or it'll tear (it's hard to describe)? I know better than to google...(
or do I?
)