Last week? Not super great. I've been in kind of a blah mood feeling bad about myself and completely uninspired (hence the lack of posts this week). Apparently I was also uninspired to take pictures this week.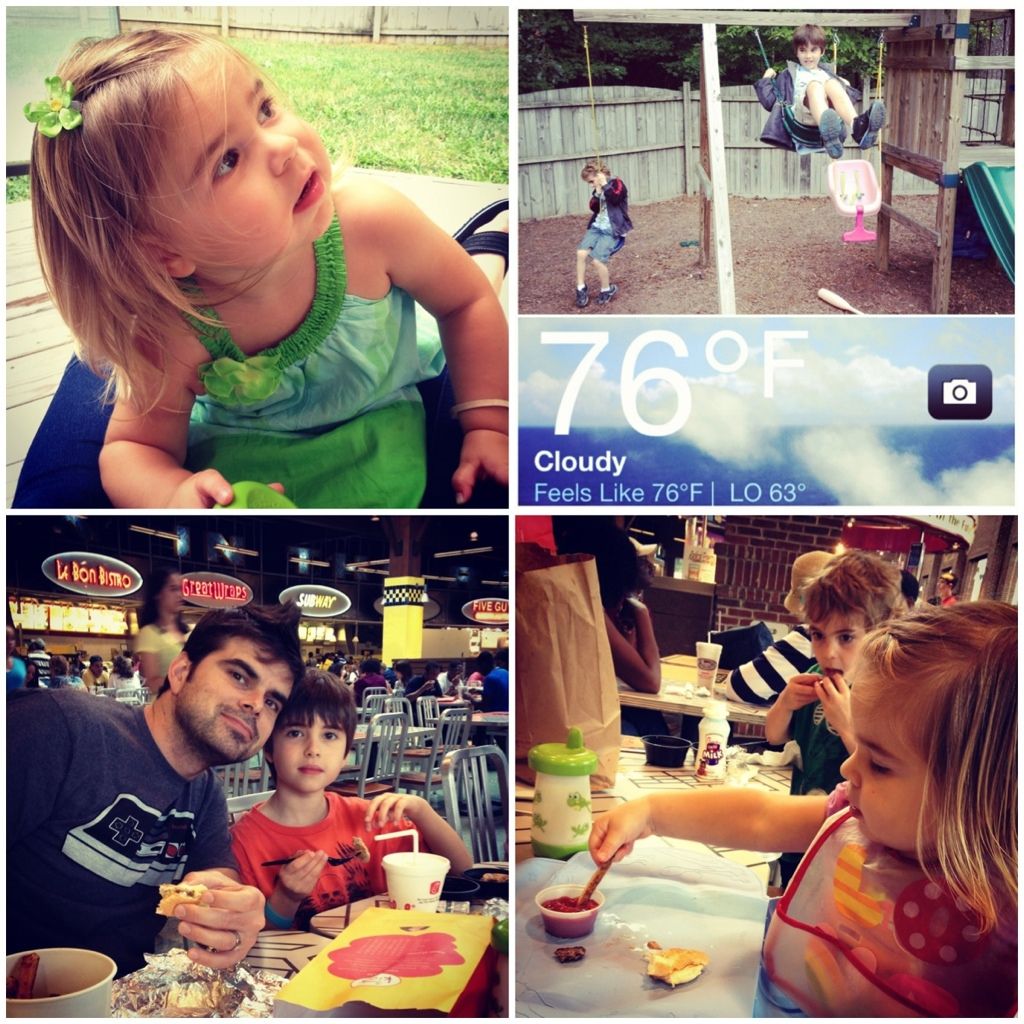 Highlights:
Sunday was great: my mom had spent the night with my sister's kids, so the cousins had fun playing until lunch while we all relaxed and even had my mom sew a hole that Lorelai ripped on my favorite pair of jeans.
That afternoon, we had Adam's birthday celebration.
Lorelai is seriously hilarious. Maybe it was because she was hopped up on birthday ice cream, but she was crazy on Sunday evening. She put on Logan's Wolverine claws and a fuzzy (pimp) hat and started "vacuuming." When I tried to get her to smile for a picture, she pulled her hat down over her eyes.
She pooped on the potty three times this week! (No pictures, you're welcome.)
We went to the mall to get Lorelai some new shoes (two pairs at Payless for $16 thanks to a sale and coupon) and had an early dinner at the food court. Then we surprised the kids with ice cream at Sweet Frog because they all had such a good week (too bad we walked in right after an entire charter bus full of the Liberty University volleyball team--talk about bad timing).
I bought a $19 groupon for 10 Zumba classes, which happens to be at our daycare's gym right around the corner from our house, so it was a steal of a deal. The instructor is awesome and I'm so glad to get back into it!
We had our first conference with Aidan's teacher to discuss his progress so far this quarter, and the feedback was good. Thankfully all the focus issues Aidan's having at home are not happening at school.
More nice weather=more time outside. Apparently 76* is jacket weather to the boys. Weirdos :)
Lowlights:
Adam was out of town AGAIN this week which just sucks by itself. It sucks even more when the bus is late and I have to leave early for afternoon bus duty and end up having to do more work from home.
It's a really terrible feeling when you realize even your fat pants are tight.
It's also a really bad feeling to gain weight immediately after you start working out again :(
I'm stressing out at work, trying to figure things out with my new job.
I'm sure there's more I want to say, but the season finale of True Blood is on, and my mind is elsewhere (as it's been all week). Maybe this week will be better? I'm going to try to run some more this week, so hopefully that'll help my mood and stress. Fingers crossed!
Linking up with Amy @ a good life, who's got a bunch of cute baby pictures I'm drooling over.