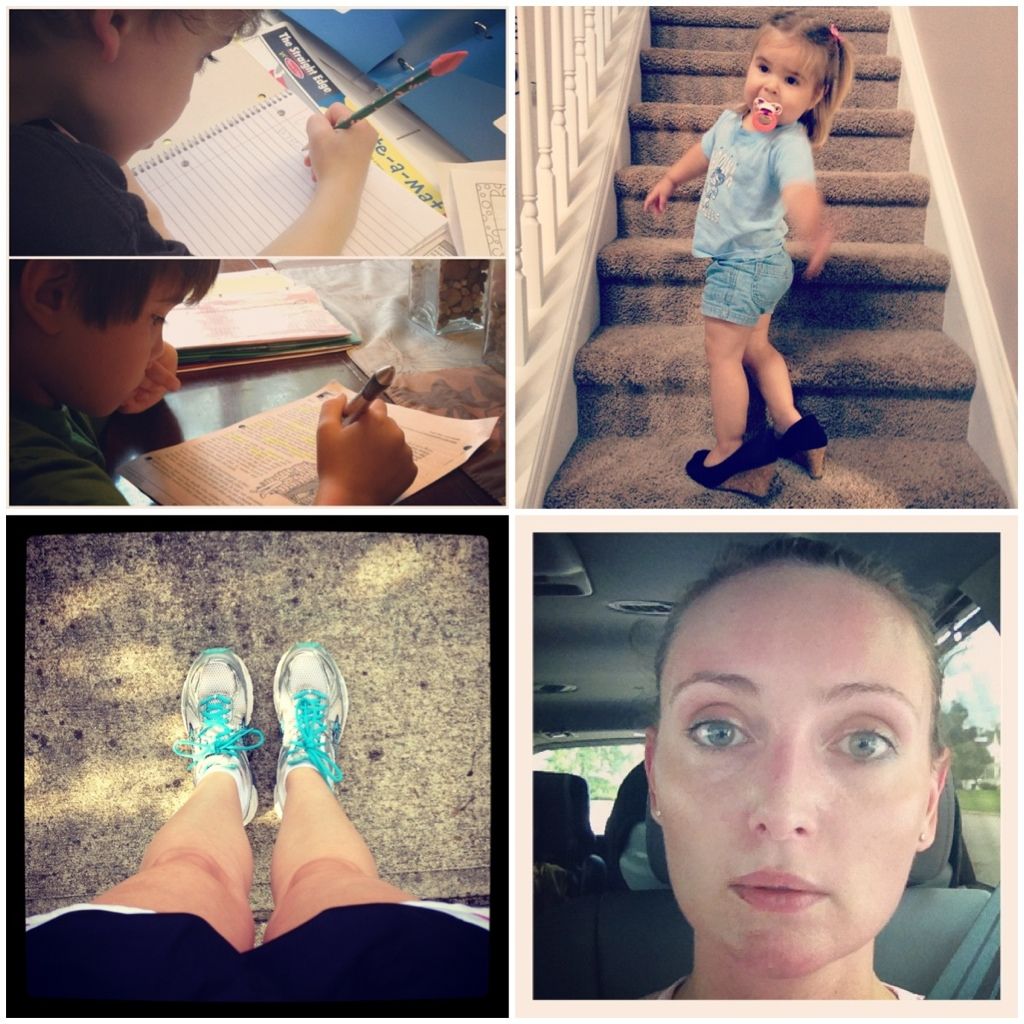 Highlights:
I actually ran this week, as well as did a couple days of yoga and Pilates. I'm finally getting back into a workout routine (after like 4 months off) and I'm happy about it. I just hope I can keep it up!
Lorelai was super sweet this week, giving out kisses to everyone (and looking like she grew up over night when she walked around in my heels with her daisy dukes).
Lorelai is now an expert burrito eater, making her mexican-food-loving daddy super proud :)
The weather cooled off slightly (it was down in the 80s this week) so we spent some time outside.
The boys donned their cowboy boots in anticipation of cooler weather (and no, they did not go out in public with their boots and shorts).
On Saturday morning, we went to Bob Evans for Adam's early birthday breakfast where Logan ate a bazillion pancakes (but literally, 7, whoa!).
We stopped at the farmer's market on our way home where there were thankfully no puddles to jump in this time, but there was an "eggplant lady" that the kids thought was funny. We ended up getting a couple of sprite melons, which sound like they'll be yummy (we're just waiting on them to ripen a bit more).
For Adam's birthday, he and I went to see the Cirque du Soleil show Dralion, which was really awesome. We've seen a bunch of their other shows, both in Vegas and traveling shows, and this was every bit as excellent as we had expected. Unfortunately, I couldn't get any pics because they didn't allow cell phones use while in the arena. But it was a super fun birthday date night (especially since we also hit up PF Changs for dinner before the show).
Lowlights:
Hours of homework at night sucks for everyone. Is the expectation of an hour to an hour and a half of time spent on homework per night normal for 3rd grade?! Seems like a ton to me, and it sometimes takes Aidan even longer.
I hate how out of shape I am after not having run for the past 4 months. I'm kind of sore and really mad about myself for getting out of the habit, since it just makes it that much more difficult to start all over again.
Adam was out of town for work for a couple of days again this week. I hate when he travels :(
Other than that, it was a pretty decent week, thank goodness!