I guess we didn't have a very traditional 4th of July. We didn't watch a parade, we didn't go to the pool, and we didn't grill out. Although that was not for lack of trying--the propane ran out right when Adam put the chicken on the grill. Bummer.
But we did get all decked out in our festive red, white and blue and took the kids to see some fireworks.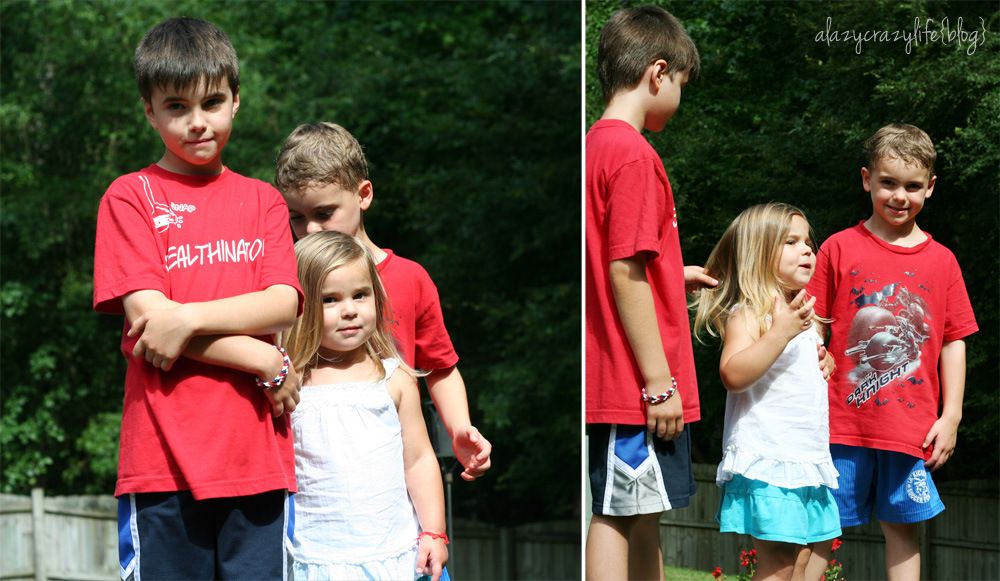 I even painted our toes matching red. :)
It was Lorelai's first time watching fireworks, and I was worried that she'd be scared of the noise. But she did so great, clapping and cheering, oohing and aahing--so cute!
We've never actually taken the boys to see fireworks, either. They've seen them from the beach house and from our car in the distance on our way in to the beach a few years ago, but this was the first time we went somewhere to watch them on purpose. We went to a local shopping center, parked in front of Target, and waited. And then waited some more...until well after 9:30.
We passed the time with feeble attempts at sparklers (
it was tough to do and nicely photograph in a parking lot, so we'll have to do them another night
), and despite being past everyone's bed time, they all hung in there like champs. And I think we'd all say it was well worth the wait. They were in awe!
Logan was pretty much in a trance the whole time. Totally mesmerized.
I love this pic!
The kids didn't get into bed until after 10:30, but thank goodness everyone slept past 8. Lorelai didn't wake up until 8:30. Score!
And who cares if we didn't do all of the quintessential 4th of July things, because the one we did do was pretty awesome. Dare I say, a blast? (
Haha, so punny.
) Although I'll be sure the grill has plenty of propane for next year because I
really
wanted some grilled food. :)