I've got to present some slides tomorrow at an all day meeting and I'm really nervous. I
hate
public speaking.
I dodged a bullet by not having to travel to my company's main office to do the presentation in person, and I don't have to actually stand up in front of the group, but we're supposed to do a video conference and it's to a whole group of people I don't regularly work with, including a lot of senior staff. It's a big deal. I don't really know what to expect, some of the subject matter is outside of my comfort zone, and I hate public speaking. I mentioned that already, huh?
I do have to say that I've really come a long way in terms of my ability to speak in front of people, which I'm super proud of. I used to get nervous just going around the room and giving a simple status update at staff meetings, and now I lead multiple different meetings, two of which are daily. I have conference calls all the time and don't get nervous about those. But there's just something about the context and the audience that flips a switch on my nerves. Put some VPs in the room, call it a presentation, and boom. My stomach is in knots.
But I've got my notes and I know people are there to back me up if I get stuck, so I'm just crossing my fingers that my slides go over well and my brain continues to function through my nerves. Hmmmm, what are the odds I can convince them to order me a glass of wine with my lunch? :)
***************
And in an effort to take my mind off the meeting tomorrow, here's my weekly photo dump: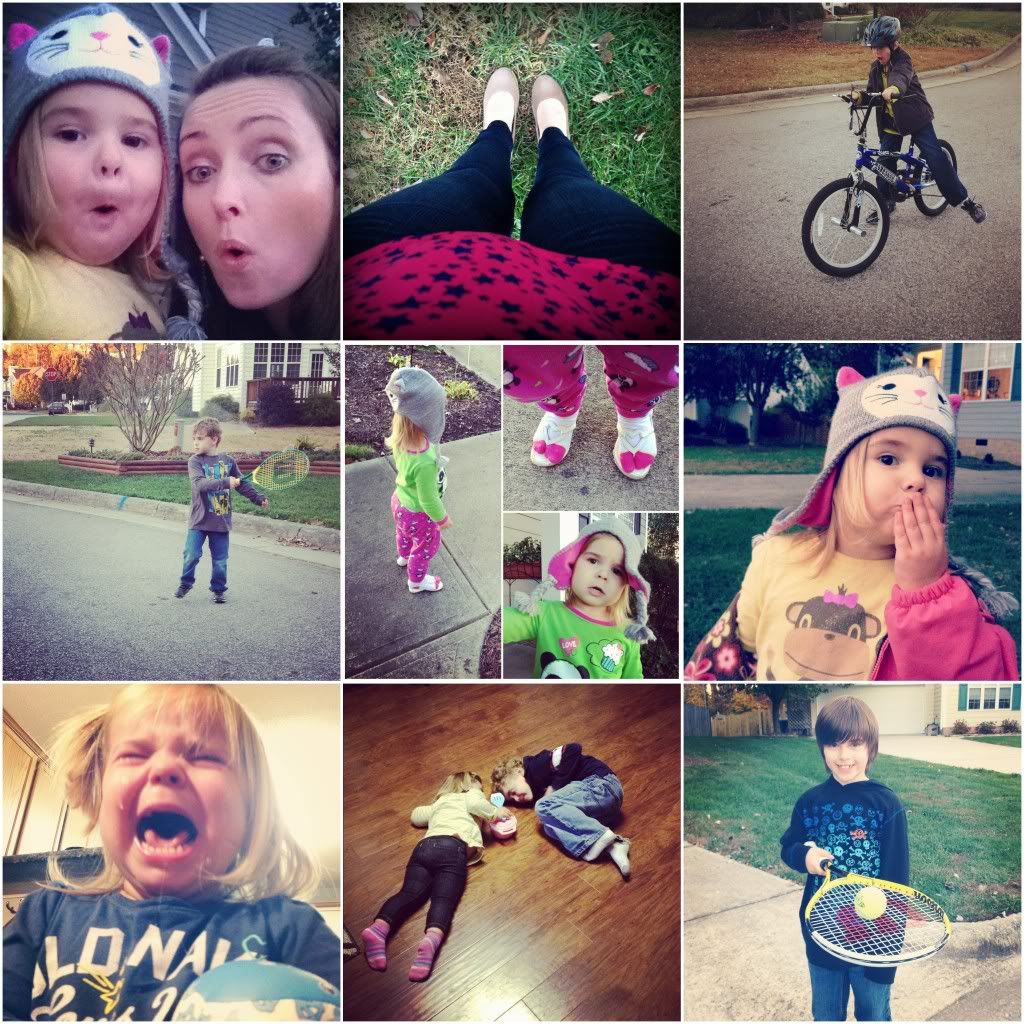 Aside from almost nightly meltdowns from Lorelai, last week was good, and this weekend was really great. Highlights:
Amazing weather, so lots of time outside. (Who needs tennis courts? Cul-de-sac tennis FTW!)
I even went on a run with the boys on their bikes and Lorelai in the jogging stroller!!!
A family breakfast at Bob Evans.
A sweet sister checking on Logan who had a tummy ache.
An independent little lady who got herself all "ready" to go with grandma and the boys to cousin Isaiah's football game on Saturday (she was not so happy when I told her she wasn't going...)
Quality time with my girl while the boys were out and about with grandma.
I'm also doing #30daysofthankful on Instagram, so I'll be sharing those photos in a post at the end of the month.