After missing a couple weeks due to being on vacation and just plain lazy, I've got some new iPhone photos to share from this week and last week.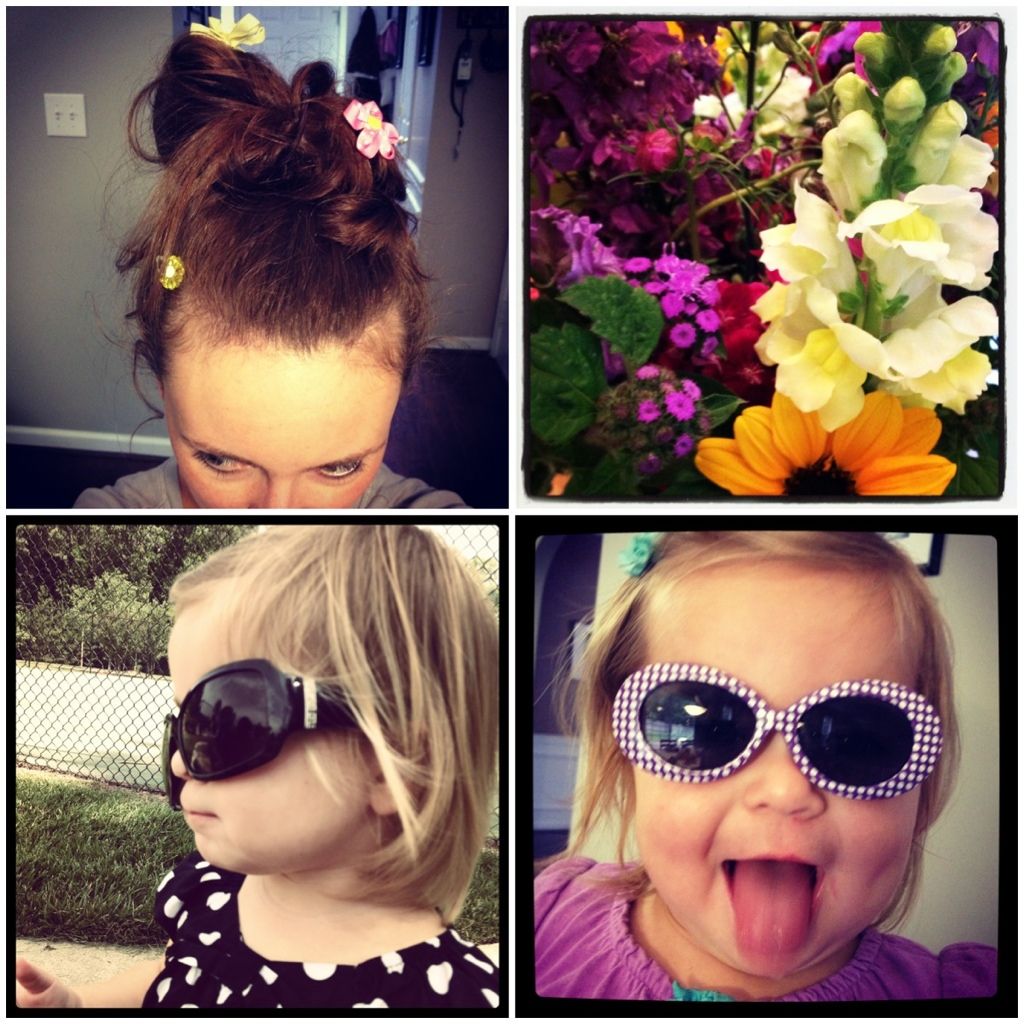 Highlights:
I had a wonderful mother's day (which I'll blog about eventually...hopefully!)
We took our first trip to the new farmer's market that just opened up right around the corner from our house. Got yummy veggies and pretty flowers for our sisters as a thanks for helping with the kids.
Lorelai has become obsessed with sunglasses. So cute!
I had a productive week at work (granted, it felt like the longest week ever, which is odd since I would have assumed my first week back from vacation would feel like the never ending week).
I've been enjoying some yummy Honduran coffee we got from a craft market in Isla Roatan.
I've also been enjoying a lot of baby girl snuggles (and accessorizing with her hair bows she leaves laying around all over the house, just to explain the random picture above of my head).
We celebrated my mom's birthday on 5/12. Happy Birthday, mom!
Lowlights:
All of my kids were on their best behavior while we were gone, and now 2/3 of them have given up on it. And surprisingly, Logan isn't one of them. He's been really great, but Aidan has had a bad attitude, and Lorelai has been super clingy and having major meltdowns at night.
Speaking of Lorelai's meltdowns, she's cutting molars on top of the whole "mommy and daddy left me for a whole week" thing, so that's just really bad timing.
She's also more obsessed with her paci lately, to the point where she's started asking for it as soon as she gets home. I'm starting to get really worried about what a nightmare it'll be to break this habit...
Mentally getting back into work was tough. Ugh. I really miss not having to do anything boring or mentally difficult :)
I didn't get any good pictures of me and the kids on mother's day, which I didn't realize until Tuesday when it was too late to do anything about it. They all ended up out of focus or just not good, which makes me SO upset.
PS: Since photobucket got rid of their collage tool, I've been experimenting with some iPhone apps so I can make a collage with my instagram photos and upload them to photobucket without having to mess with my computer. There are a bunch out there but Pic Collage seems to work fine, even though it doesn't have a 3 x 3 square layout. I guess the 2 x 2 square will have to work for now. Just FYI in case anyone else was looking for an alternative to photobucket collages.
Linking up with a good life.