Our first excursion during our
cruise
was to the Mayan Ruins of Tulum. Adam is really into the archeology and history of ruins like this, so it was an excursion he really wanted to do. After seeing some of the pictures, I was sold. This place was absolutely beautiful.
We had to get up early for a 30 minute ferry from Cozumel to mainland Mexico.
From there, we hopped on a bus and drove through town (can't remember which one, but it was beautiful) before we hit the highway to Tulum.
On the way, our guide talked to us about the history of Tulum and Mayan culture. We stopped for a bit to shop (and to use the
baño) and we learned about obsidian and the Mayan calendar (our guide made sure to tell us that the world is not ending this year, btw).
We finally got there, and after walking a while up to the back entrance of the ruins, this is what we saw.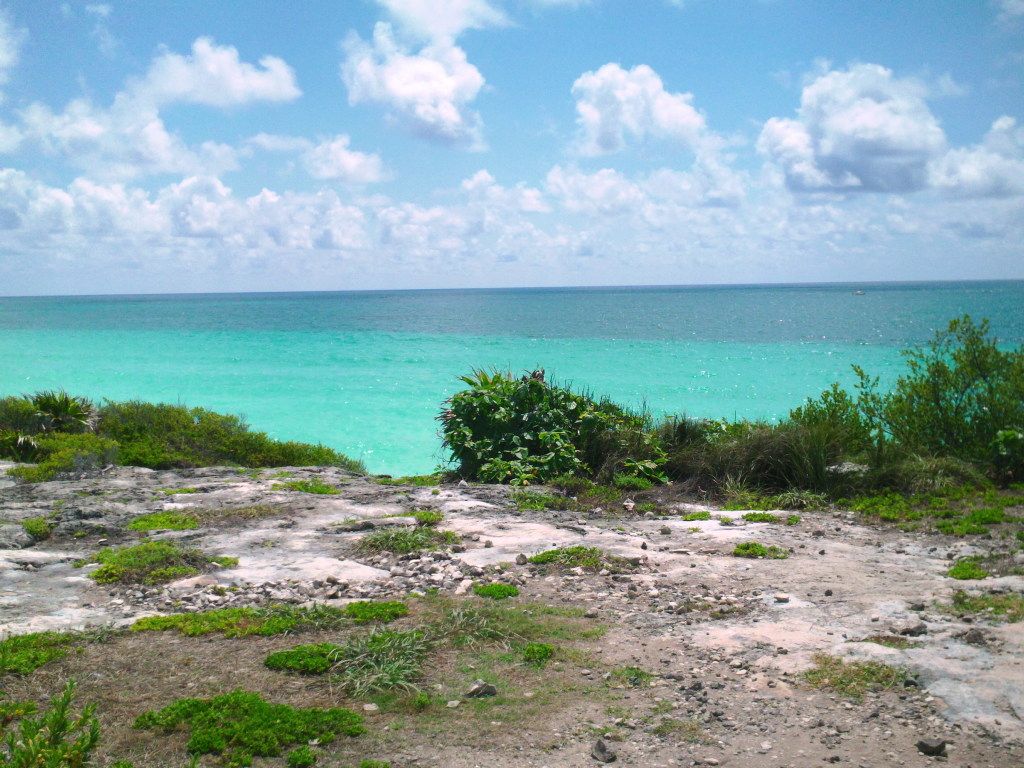 There was a pile of iguanas hanging out in the shade. It was strange to see them everywhere.
Our guide talked to us some more about the ruins (I wish I could remember all of what she told us, it was very interesting!) and then we got to walk around and explore.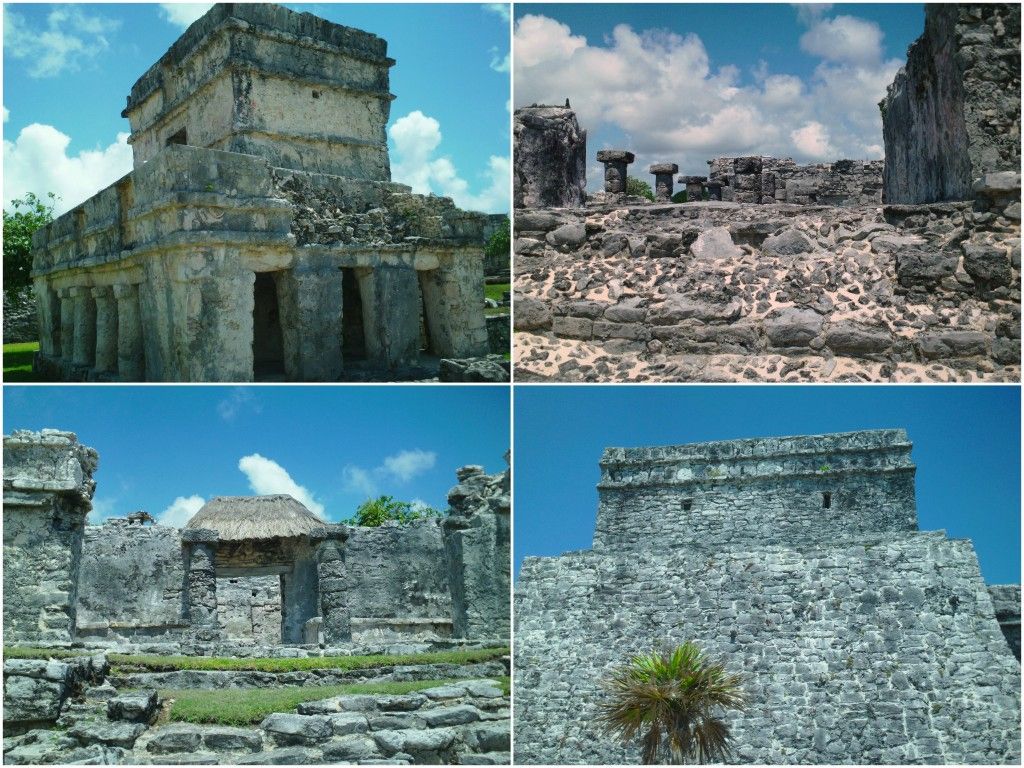 Tulum is right on the water, situated on a cliff above a gorgeous beach with crystal clear water.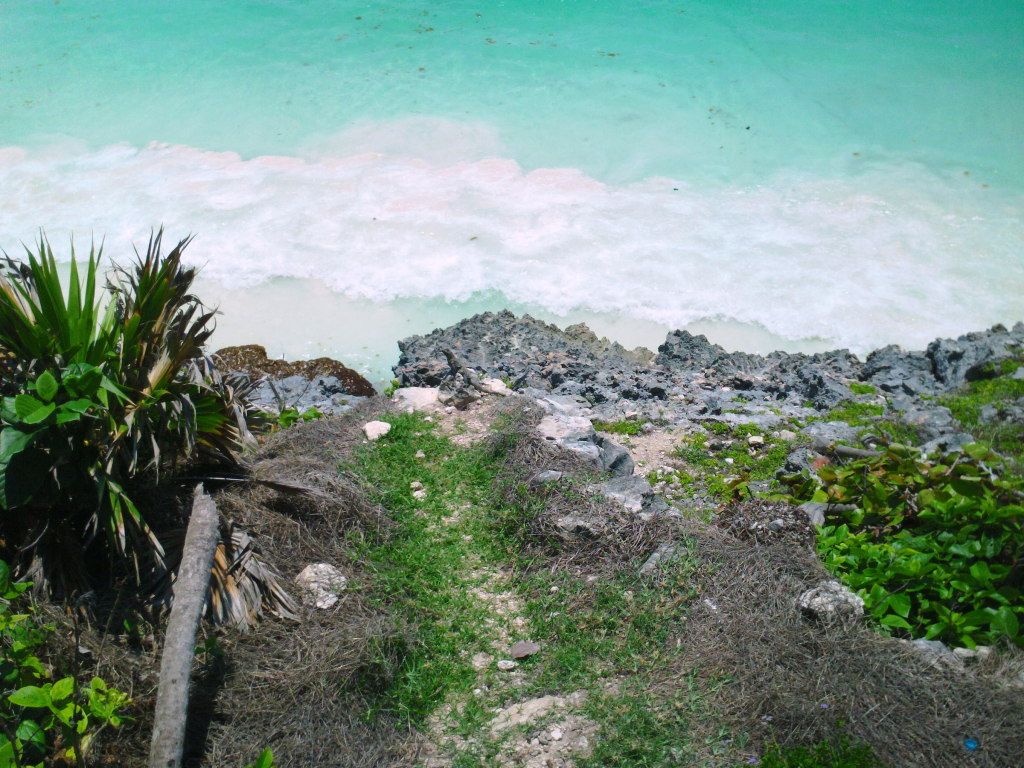 We had a little bit of time (definitely not enough!) to venture down and dip our toes in the water, which was nice because we were so hot and sweaty. We didn't have our suits on, but we didn't have enough time to swim anyway, unfortunately.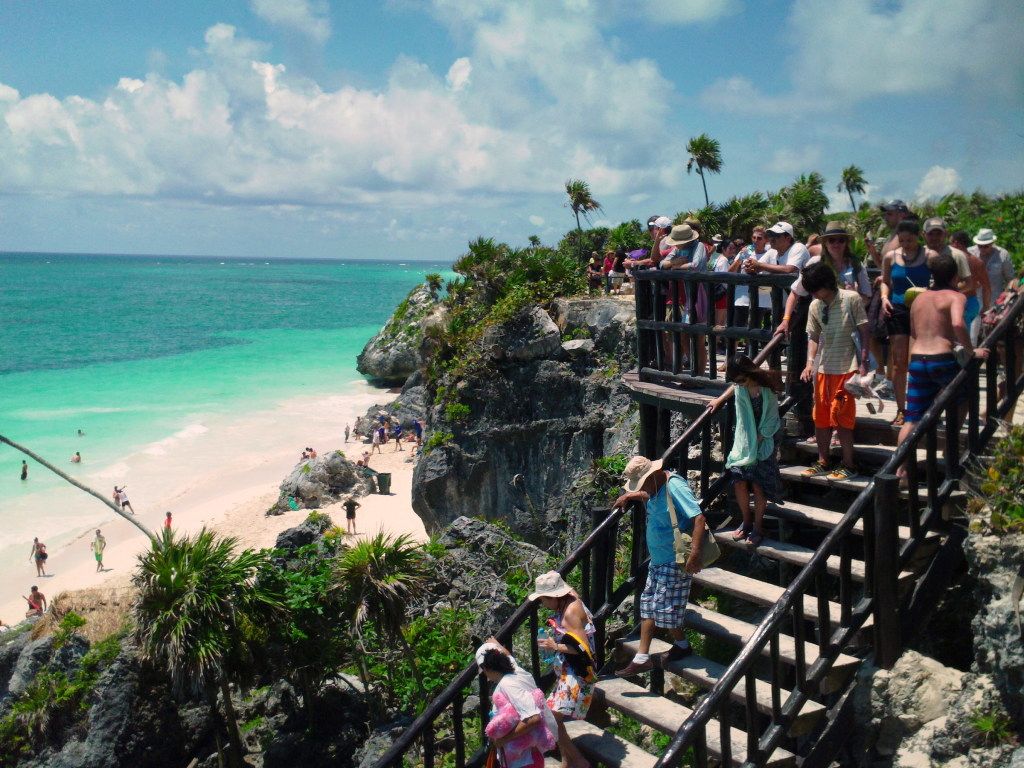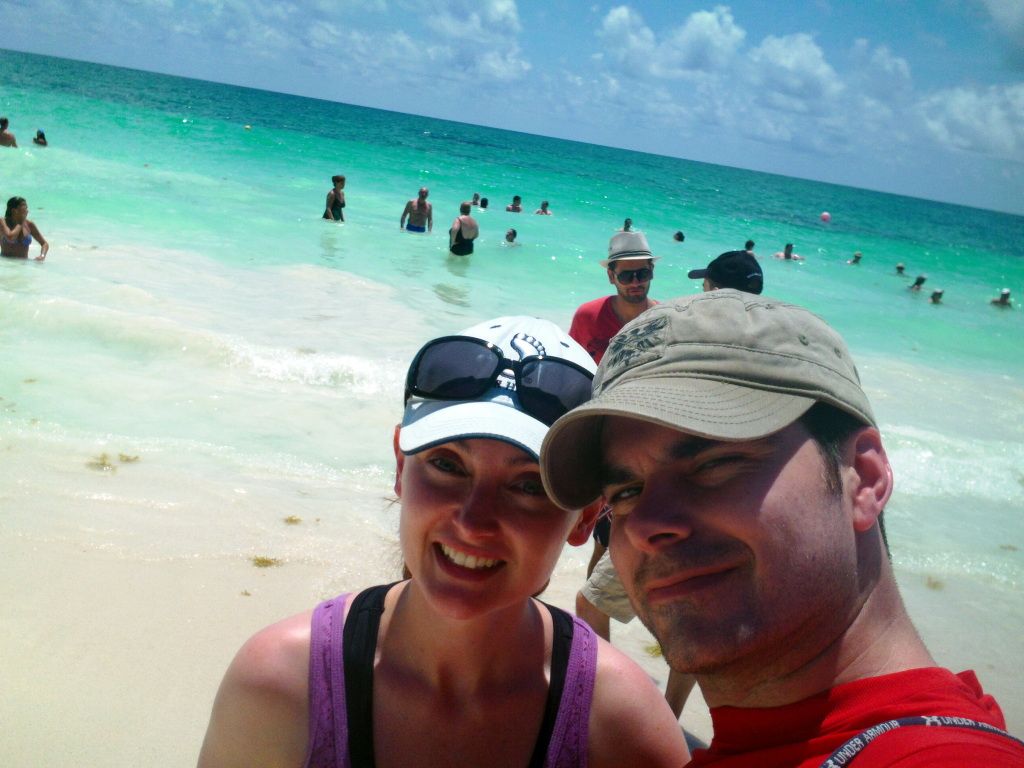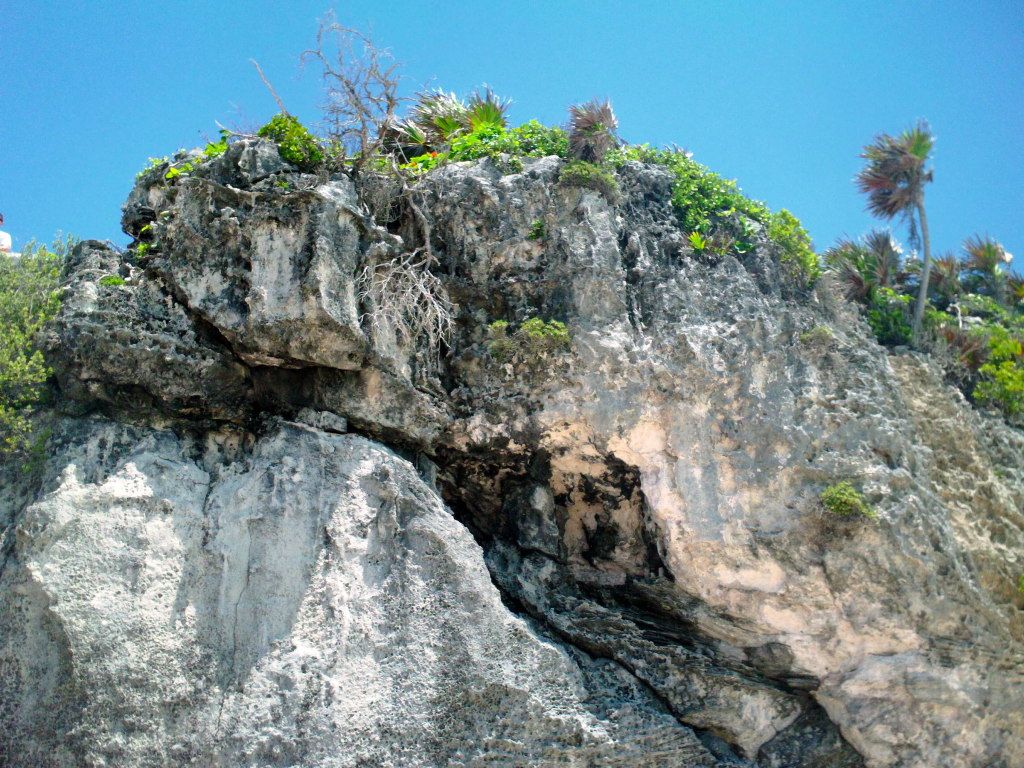 By then, not only were we roasting, we were starving! Our time was almost up, so we had to head back to the little shopping area where the bus was parked so we could grab some food before the bus left. On our way, we ran into the biggest iguana ever, so we just had to stop and take a picture. The boys couldn't believe how big he was and that I actually got to hold him. They thought it was awesome.
Then we saw these dudes, and couldn't pass up that photo op. Again, the boys thought this was awesome.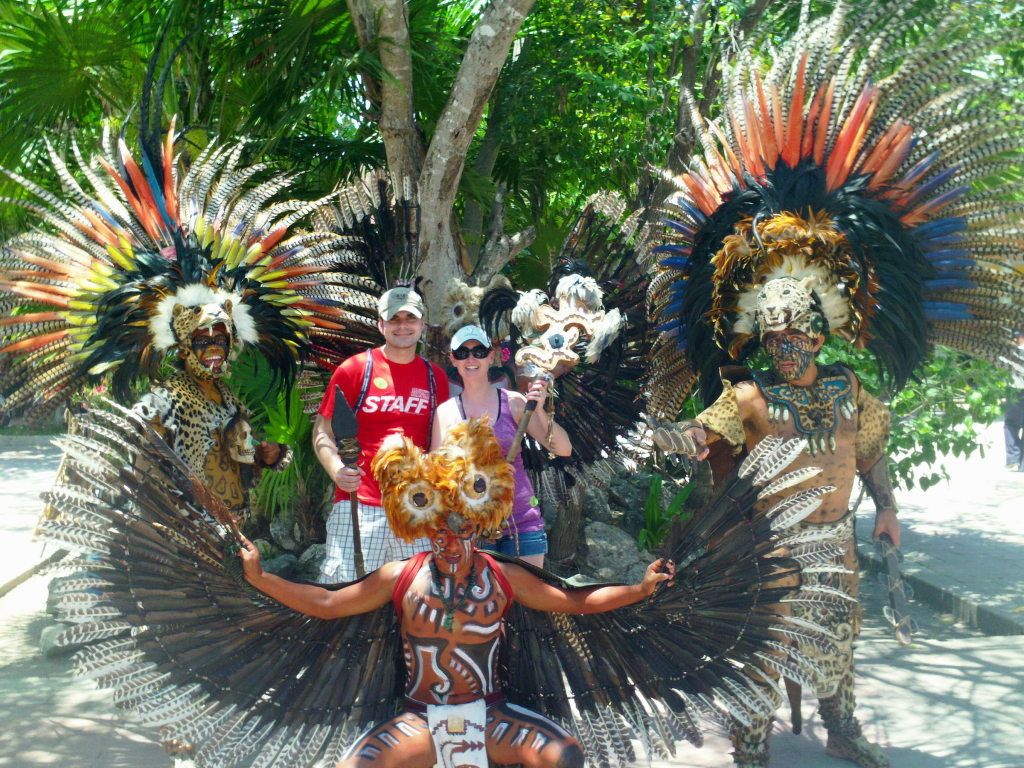 Finally, food! Our guide highly recommended Mr. Frosty's Mexican restaurant, and said they had amazing fish tacos. Since fishing is what they do there, we had to try them and they didn't disappoint. She also warned us about the salsa, that it was crazy hot. She called it "ay ay ay" salsa and one tiny dip of my fork in it lit my mouth on FIRE (granted, I'm a total wimp when it comes to spicy things). I'm just so glad she warned us because I might have needed medical intervention if I had used it like regular salsa!
Even though we had to get up early, it was extremely hot, there was a lot of travel involved, and we felt like we didn't have as much time as we would have liked to explore, it was totally worth it! Our tour guide was really great and made it educational and fun. If we ever vacation in Riviera Maya in the future, I'd totally go back.