This week was not the best ever. Nothing spectacular happened and there were a lot of lowlights. Lorelai ended the week sick, and we got a call on Wednesday that Adam's grandfather's (his Mom's dad) had taken a turn for the worse and they didn't expect him to live much longer. Friday morning he passed away, so needless to say it's been sad around here. I was especially sad for my mother-in-law who was on her way from NC to Indiana and didn't make it in time to see him one last time before he passed.
On a much more superficial note, my eyes were annoyingly dry every night this week and I hated not being able to wear eye makeup to work all this week. And that buzzer-beater loss to Duke sucked, too.
Here was our week:

Apparently I can't make my mind up about whether I want these recaps to go from Monday through Sunday, or Sunday through Saturday. That, and when you sit around the house all weekend the days just run together. I totally forgot in my
last recap
that on Saturday Aidan stayed in his PJs all day and we watched UNC beat Maryland.

On Sunday, we did some grocery shopping and I remembered that couponing is so annoying. That afternoon we popped (ha, I just typo'd that as pooped) popcorn and watch Megamind for the first time. Funny stuff.

Tuesday was a loooong day. I had an all day meeting at work. It ran long and we didn't even cover everything I wanted to cover. I didn't take my drops into the meeting so my eyes were crazy dry. Didn't feel like fixing dinner so we went to Moe's, YUM! Finally sat down to relax and cry-laughed watching New Girl. If you're not watching that show, you MUST. Bonus: it made my eyes feel better :) We also forgot to call my niece to wish her a happy 5th birthday. Thank goodness we gave her a present and wished her and early happy birthday in person a few weeks ago!
Thursday I needed lots of coffee from staying up way late just to watch UNC lose to Duke by 1 point at the buzzer. Total bummer. Otherwise, we just had a regular night. You know, wrestling and sword fighting (the boys) and being cute (the girl). Business as usual.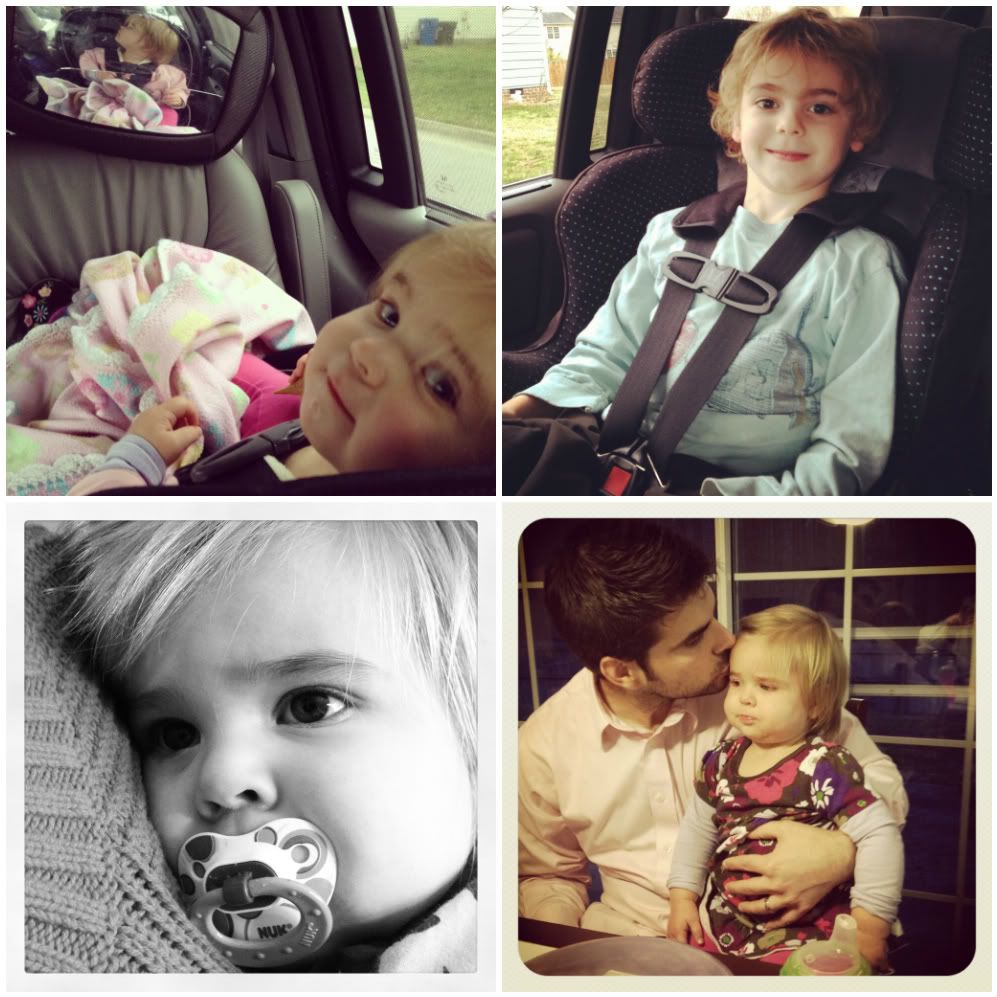 Friday was going well until I got a call at 3:30 from daycare that Lorelai had a 102 fever. I left right away to get her and Logan and then we all went to the bus stop to wait for Aidan. For the most part, Lorelai wasn't acting too sick, but she was a bit more fussy than normal. Probably just some virus, ugh.
Despite the two pictures of us laying in bed on Saturday, we had a pretty productive day. Target errands in the morning, then laundry, floor cleaning and general tidying up of the house. We also said goodbye to Adam who packed to head off to Indy on a 5:30 am flight for his grandfather's funeral. My sister-in-law, nephew and father-in-law stayed over to be closer to the airport. Also, Lorelai's fever came and went throughout the day, but she was playing like normal, thank goodness.
That was our week! How was yours?
Linking up with a good life.