One of my absolute favorite pizzas to make at home is a Mediterranean pizza. Spread hummus on the crust and top with diced grilled chicken, mozzarella cheese, kalamata or black olives, artichoke hearts, grape tomatoes and feta. SO YUM! But...not super healthy--mostly because of the crust and lots of mozzarella.
When Adam and I made the pizza this weekend, I cut up some extra artichoke hearts and tomatoes and made over the pizza into a healthy quinoa salad for lunch at work. All part of my
mission
to start eating healthier and get into better shape, which is even more important to our family now, since Adam was recently diagnosed with high cholesterol. Boo :(
I can hardly even call this a recipe, since it's really just throwing some ingredients (however much you want!) in a bowl and calling it done (um, that actually may be my absolute favorite kind of recipe, come to think of it!) but I figured I'd share anyway.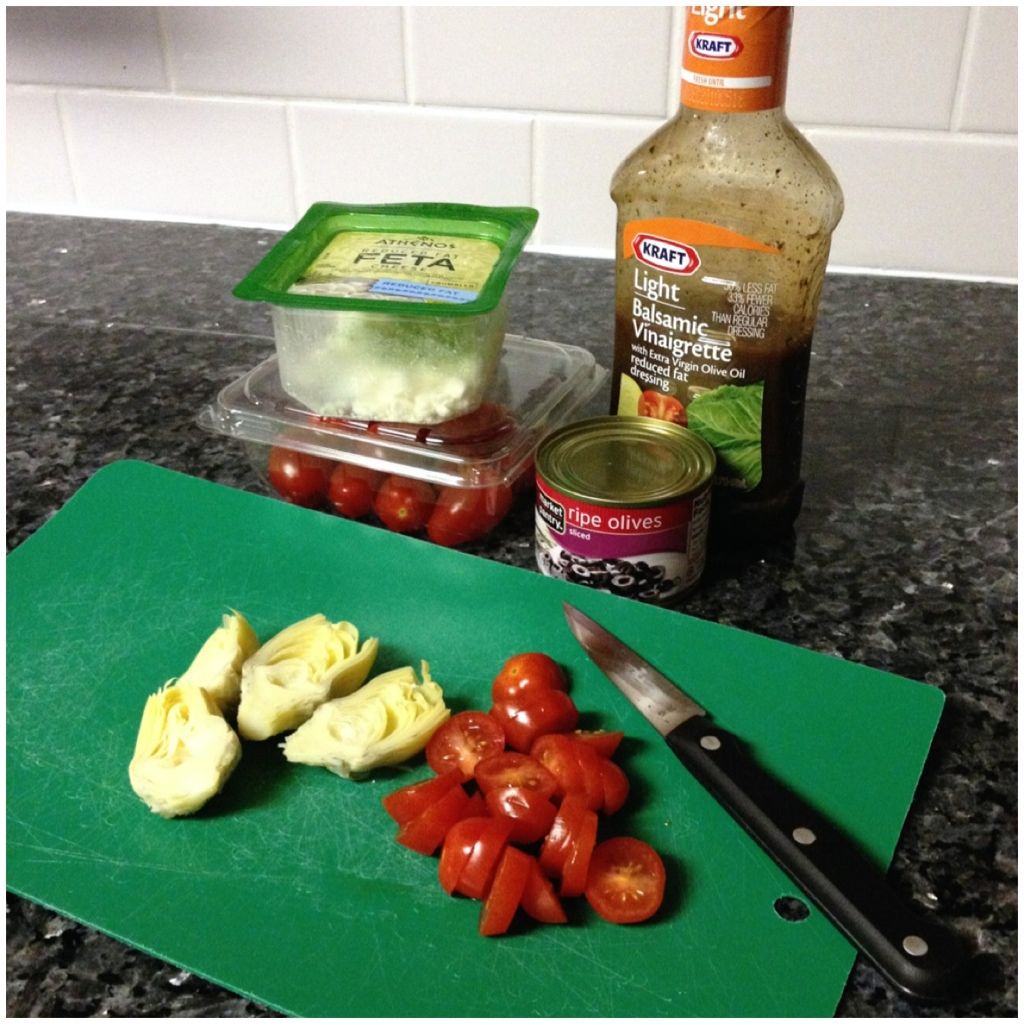 Ingredients (serves 1, because my family is lame and won't eat quinoa):
1 cup cooked quinoa (follow package directions)
1-2 tbsp light balsamic vinaigrette
2 or 3 artichoke hearts, chopped
handful of grape tomatoes, sliced
handful of olives (I used black since the kids don't like kalamata olives)
2tbsp reduced fat feta cheese (ok, I'm totally making up that measurement, just sprinkle however much you want on the top--my point is I didn't use a ton)
diced cooked chicken (optional)
Directions:
Toss ingredients together in a bowl and enjoy! (um, duh?) :) And honestly, use however much you want--these amounts are just what I happened to use. Pretty foolproof, if you ask me!
Since I made my quinoa ahead of time, I reheated it in the microwave with the balsamic and then tossed in the rest of the ingredients cold. But I'm sure it's good warm or chilled.
I've eaten this meal twice this week, it was so good. I've really been on a quinoa kick lately, but NO ONE else in my family will touch the stuff for some reason. Not even Adam, who
has
to start eating better for the sake of his health. Oh well, more for me! And maybe I'll change his mind about quinoa one of these days...
Anyone have any other good quinoa recipes to share?
Linking up with Noel @ High Heeled Mama for

F

itness Friday,
since healthy eating and fitness go hand in hand, right

?!