Yep, over two weeks later and I'm just now getting around to blogging about Lorelai's first birthday party. Laziness and craziness strikes again.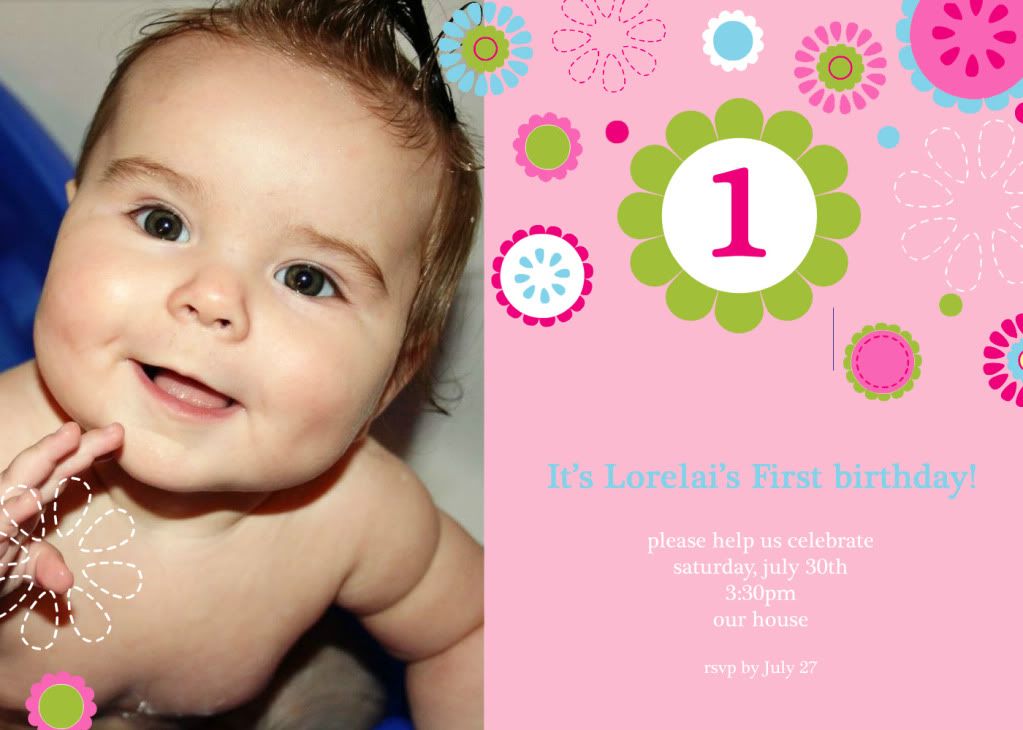 The invitation that never was...
As per usual, I procrastinated and didn't have enough time to get these invites I made printed and
sent, so I ended up sending an evite instead. Oh well.
We had her party at our house on July 30, and I don't know about everyone else, but I thought it was a perfect 1st birthday party!
It was a pretty low-key event, as far as 1st birthdays can go, I'm sure. Pretty much just family, plus a couple of friends who I don't see often enough, so it was nice that they were able to come. We all just hung out and chatted, watched the birthday girl crawl around (and hang out in my arms), ate and opened presents. Wow, when I say it like that, it sounds totally boring. I hope none of my guests were bored!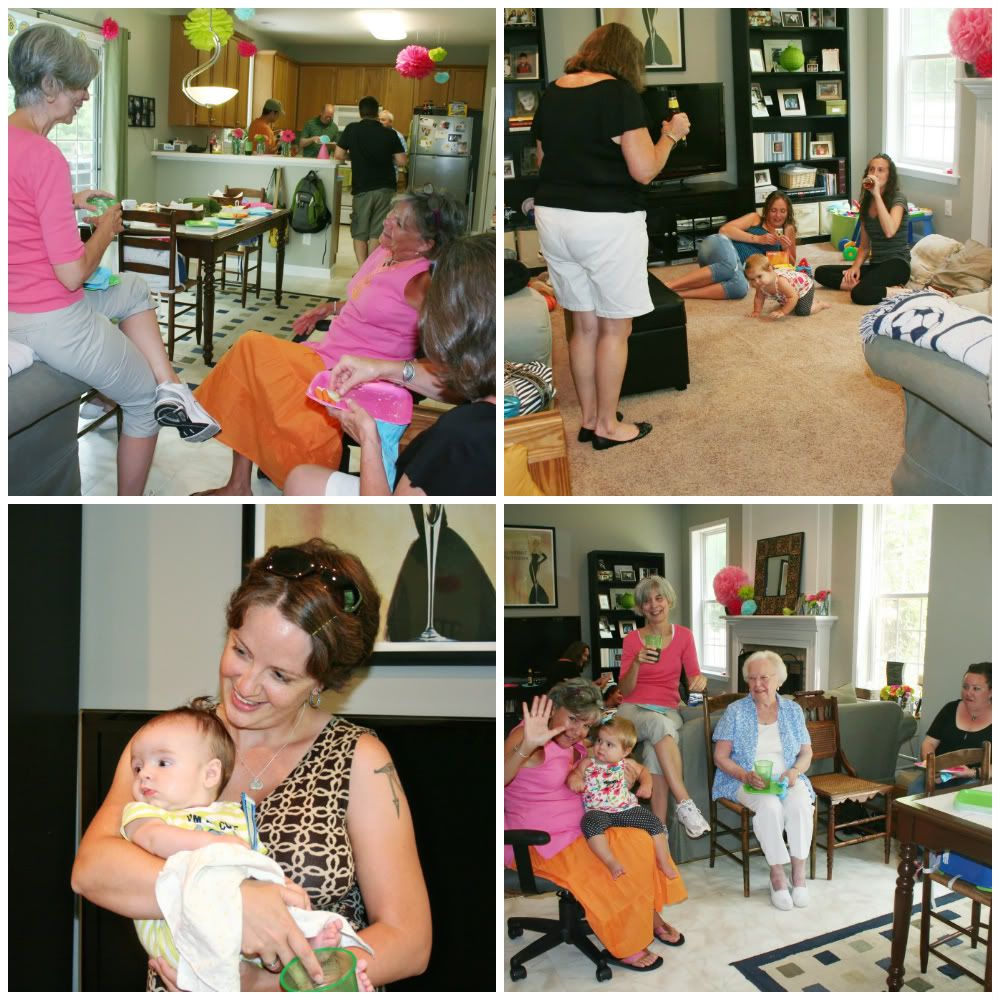 Although I have it on good authority that the cousins had fun, if the level of noise is any indication :)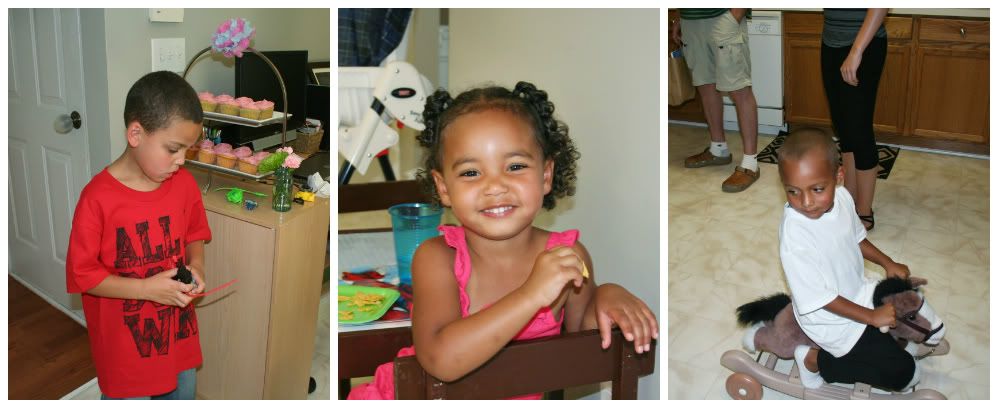 Shaun, Raina and Isaiah
For such an informal gathering, I've got to admit, I did a lot of work behind the scenes on some little things that probably didn't matter in the grand scheme of things (or to Adam—he said "wow, you sure are putting a lot of effort into this party" like that was a bad thing. Silly man. He did say everything turned out really pretty though.) I tried not to stress myself out, but I really wanted to personalize this party and make it special for Lorelai.
Over the course of many nights in front of the tv, I made a crap ton of tissue paper flowers that I used as mantle decoration and hanging decorations. Thank you, Pinterest and
Martha Stewart
! I love how they turned out and added pops of color (for not a lot of money—I think I used 6 packs of tissue paper for $1 each at Walmart).
I also made a personalized name banner and party hat out of scrapbook paper (on sale for $.25 per sheet, yay!).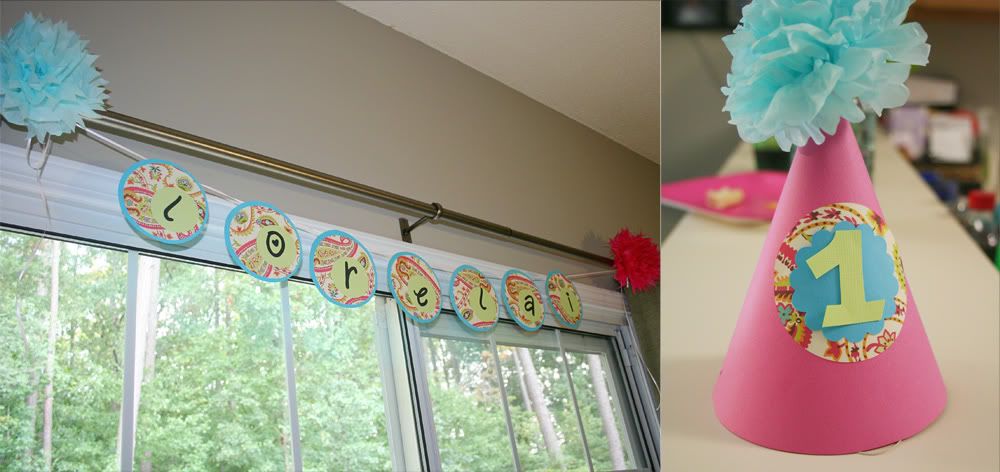 Of course, Lorelai only wore the hat for like a minute, but it was worth it for those couple of pictures :)
I think my favorite decorative element though is the flowers. I picked up some fresh flowers from Harris Teeter (I didn't know what I was getting before I went, but ended up with hot pink gerbera daisies, lime green spider mums and soft pink carnations for $16 total) and put them in some recycled mason jars that I dyed blue with glass paint. I love how all the colors came together so perfectly.
I made cupcakes, and for the first time ever, made my own frosting. Usually I just buy boxed cake and frosting, but I wanted pink frosting, so I figured I'd give some homemade raspberry buttercream frosting a try. They were pretty darn tasty, if I do say so myself!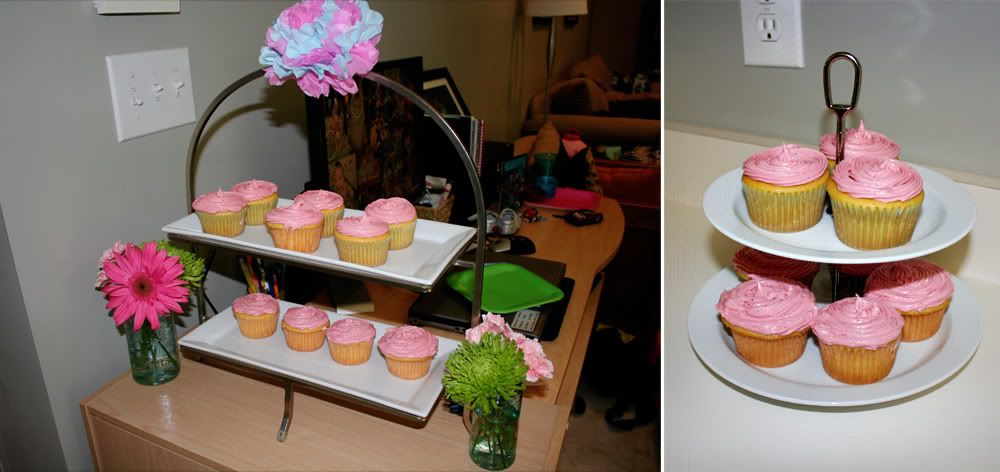 And I think the birthday girl agreed. This was her first time having anything sweet like this, and I dare say it looks like she's got her mommy's sweet tooth!

Love Logan's face in the background.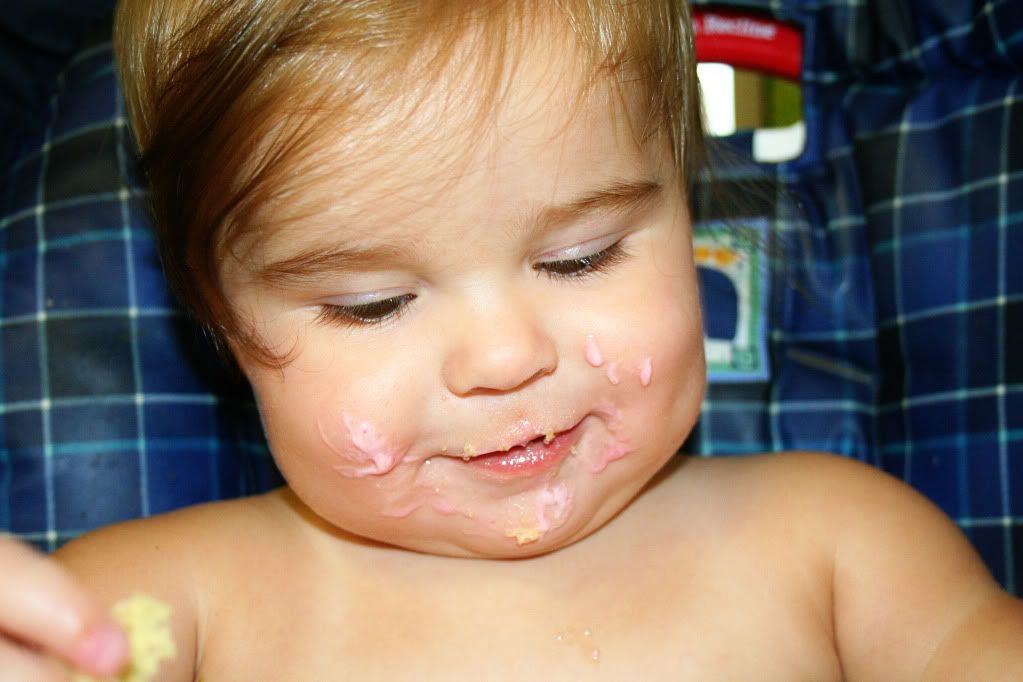 I think she loved it so much she wanted to share with me. That's my girl.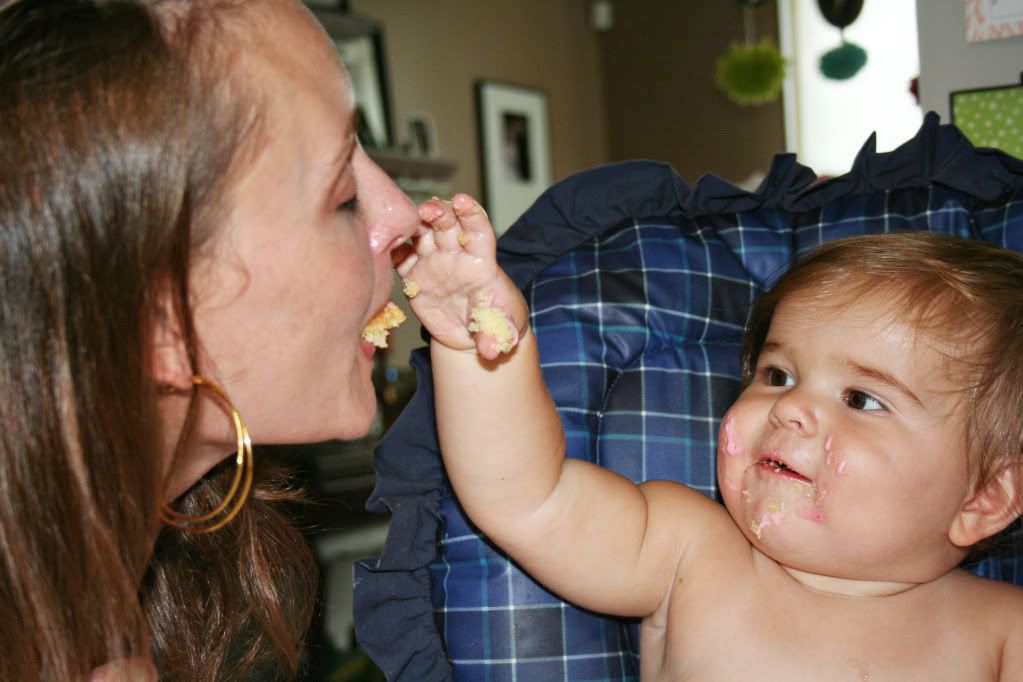 As for food, I knew I wanted it to be easy, so the only thing I made was some yummy skinny artichoke dip (Seriously, SO yum, it's my go-to appetizer now. I'll have to do a separate post with the recipe I got from my friend since I can't seem to find it online). We also put out chips and salsa, and got a couple of trays of pita sandwiches from Kroger. Easy peasy!
After all of the eating and cupcake smashing, Lorelai got down to business opening presents.
Rather, the rest of the kids and I opened presents, and Lorelai tried to eat them. Of course.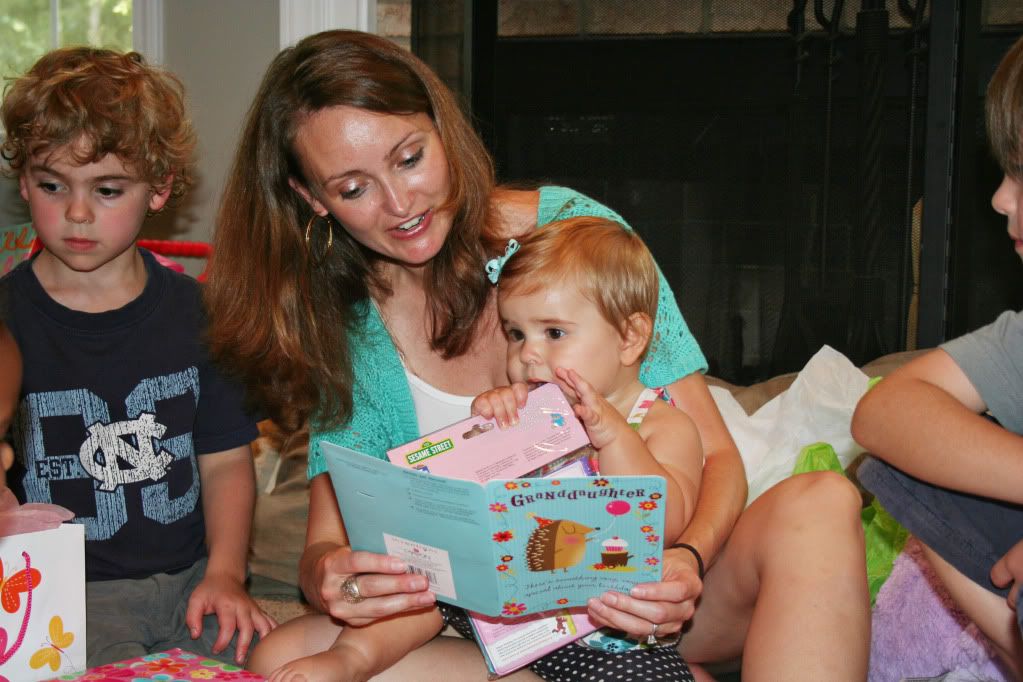 A look at the aftermath shows you that this is one very loved and lucky little girl!
All that present-opening was hard work, so she just wanted to sit back and relax with cold beer. Seriously, for some reason she kept making a beeline to beer bottles that were left within her reach. She kept grabbing at the one I was holding while I was holding her, and when I put it down, she pitched a fit and started pulling my hair. True story.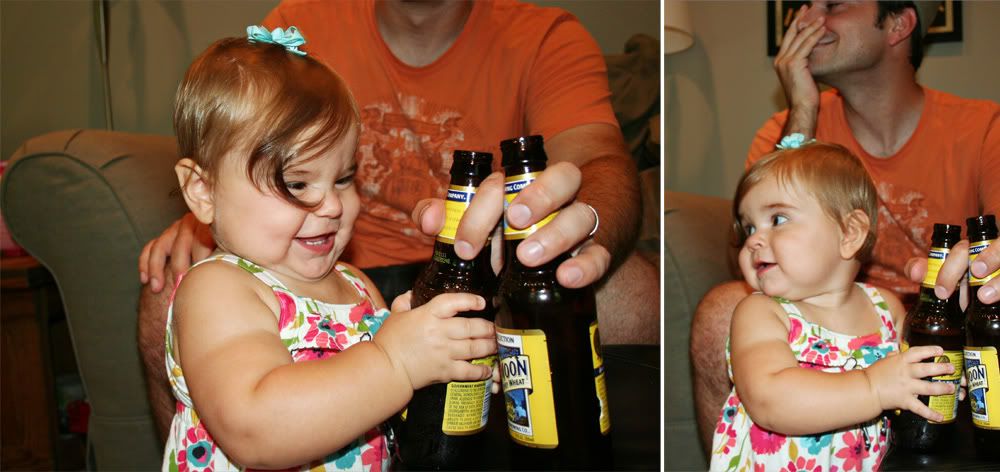 What do you think you're doing, young lady? It's your 1st birthday, not your 21st! :)

I'm just so glad we could have so many of the people that matter most to Lorelai there for her party. Like I said, she's a very loved little girl!


Grandpa Houston and Grandma Cheryl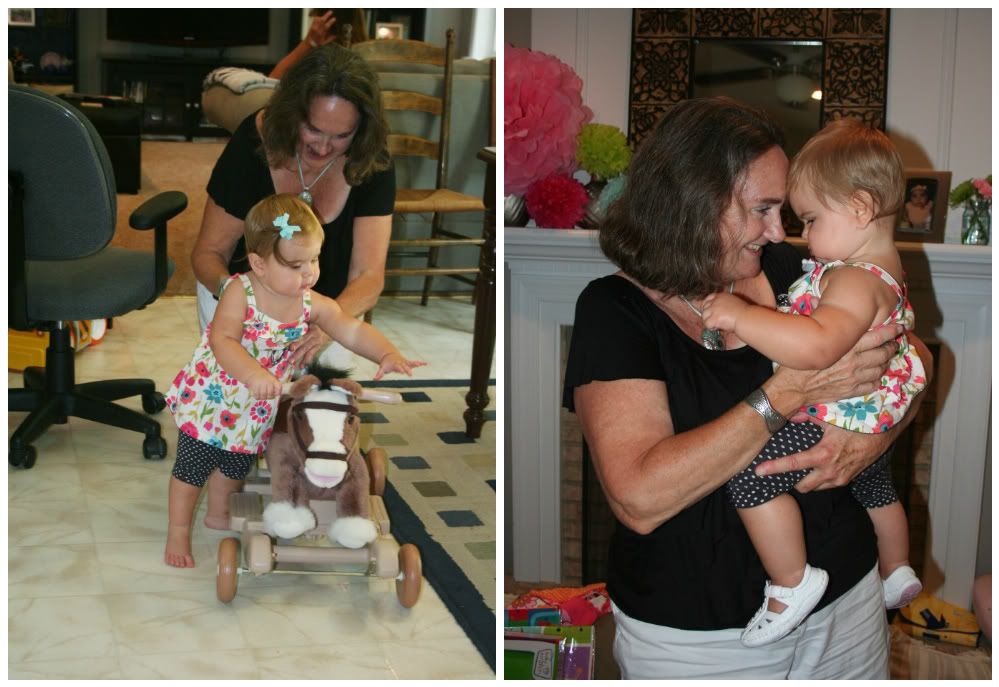 Grandma Ellie
Aunt Anna and Aunt Jillian



Grandma Blair

Happy 1st birthday, sweet girl! Can't wait till next year!


 
PS: Two weeks later, and all of the decorations are still up and surprisingly, the spider mums and carnations are still looking pretty good (and the daisies lasted until the other day)! After all that effort, maybe I'll just leave them all up until next year :)

PPS: (what, am I in middle school again with all these post scripts?!) I hit post too soon and forgot to add a couple of photos including the invite that would never have seen the light of day if not for this blog.

PPPS: haha, nope, that's it for real this time!