The weather has finally been mostly nice lately, so I've got a bad case of spring fever. I wish it was the kind of fever that makes me want to clean...but in reality, it's the kind of fever that makes me want to spend all kinds of time outside.
And um, doing anything except blogging, apparently
.
Aidan and Logan are out on their 3-week (
minus 2 snow makeup days
) intersession from their year-round school, so I took last Friday off to just hang out with them. It was one of those perfect days where you're exhausted at the end of it, but smiling like a loon 'cause it was just that wonderful. Maybe my bar is low because we didn't do anything all that exciting, but it was crazy productive, and the best part was that it was quality time with them and only them--a rare thing these days.
After dropping Lorelai off at daycare, we started off the day bright and early with a trip to Target for some Starbucks and shopping. They browsed their stuff, indulged me while I browsed my stuff, we smelled candles for a riduculously long time and cracked jokes about the ones that smelled horrible.
Our next stop was Petco, at their request. Adam's not on board yet (
um, at all
) but the boys and I are really interested in fostering cats through the Independent Animal Rescue after talking to the representative for a long time. Seems like a good way to introduce the kids to the responsibility of having pets without the immediate life-long commitment. We'll see...
Anyway, then we hit up Michaels to browse and ended up with the makings for jewelry instead of the makings for a spring wreath like I'd intended, oh well! I like my two new pairs of earrings better. :)
Our last stop was Walmart, where we loaded up some other stuff we needed, as well as flowers and vegetable plants, because on a whim, we decided to plant a garden. It's been four years since we've had one (
it didn't do so well the last time--basically never got watered since I was very pregnant with Lorelai that summer, oops!
). The boys are really interested in helping, so it seemed like a perfect thing to do. We took turns hoeing the garden (
but let's be real, I did most of it
), potting plants and watering. Hopefully we'll have our very own strawberries, tomatoes and peas soon! And zucchini, if I can manage to find a plant.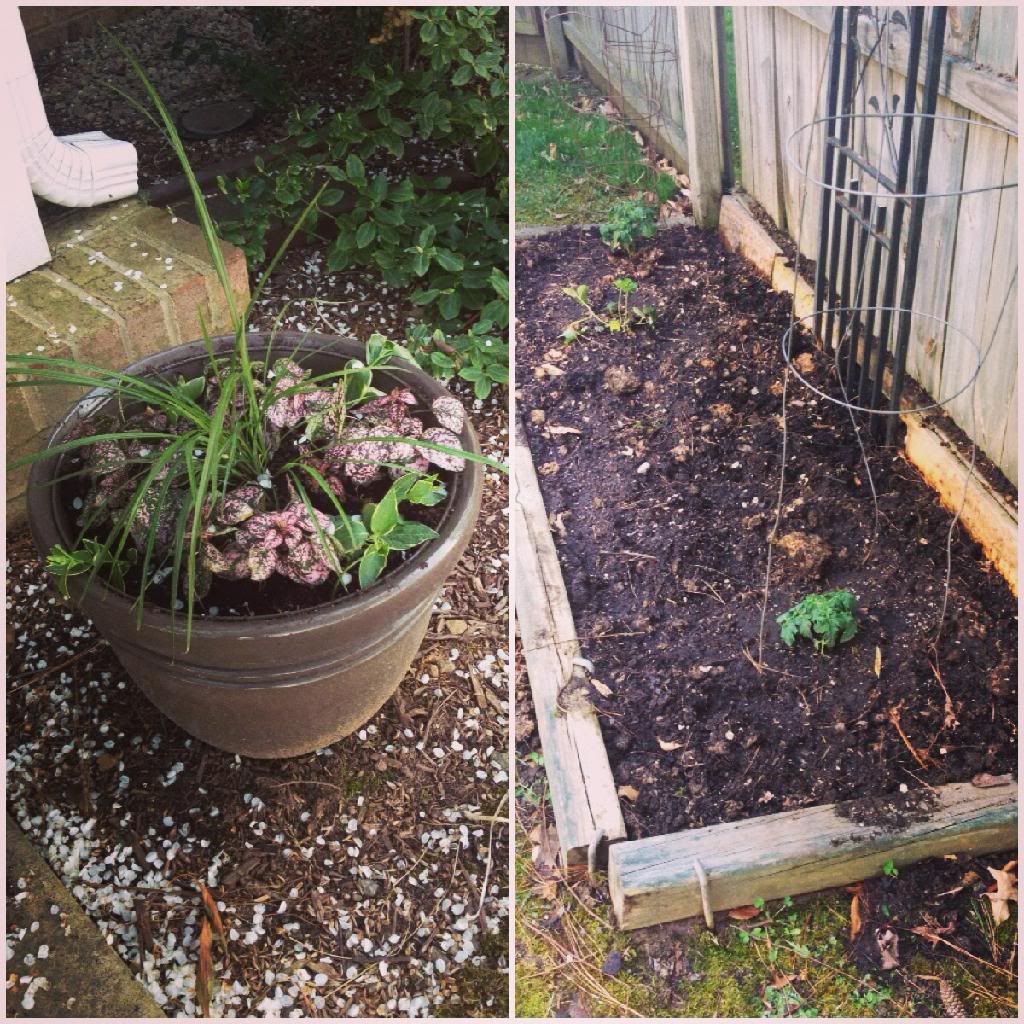 To cap off our day and take a "break" from the gardening, we took a jog down to the neighborhood playground where the boys played for a while. On another whim, we decided to
finally
--after 11 years living in this neighborhood--walk the nature trail that winds along our neighborhood creek. I figured if I was going to do it at all, it'd have to be now, before the snakes all wake up to come "play" and the foliage fills in too much. It was such a great walk! Of course I had to grab a stick for protection just in case, because we all know how I feel about
snakes
...
We jogged (
well they jogged--I did some HIIT sprinting/jogging, go me!
) back home and played outside some more until Adam got home with Lorelai. At the end of the day, the boys and I were filthy and tired, but so proud of all we did, and the fun we had together. And bonus for me--I logged some serious calorie burn with all the activity, since I only sat down to drive and eat the entire day. And hoeing is seriously hard work. :)