Whew, how's that for a name? I stopped short of adding honey in there--you're welcome. :) And I almost decided to leave chickpea out for fear of completely turning people off, but the fact that these "cookies" are made mostly with chickpeas (garbanzo beans) is the best part! Because they're seriously healthy, seriously yummy, and seriously easy to make. Win, win, win!
Clearly my food photography needs work. ;)
I came up with this recipe based on the
other chickpea cookie
I made. Logan was not a fan because they were too peanut-buttery. So this time, I subbed banana for the peanut butter. Unfortunately, that turned my mix into a runny batter consistency not suitable for cookies (
duh, should have guessed!
). But it turned into a happy "accident" because by necessity I had to add something to thicken it. Voila--quick cooking oats.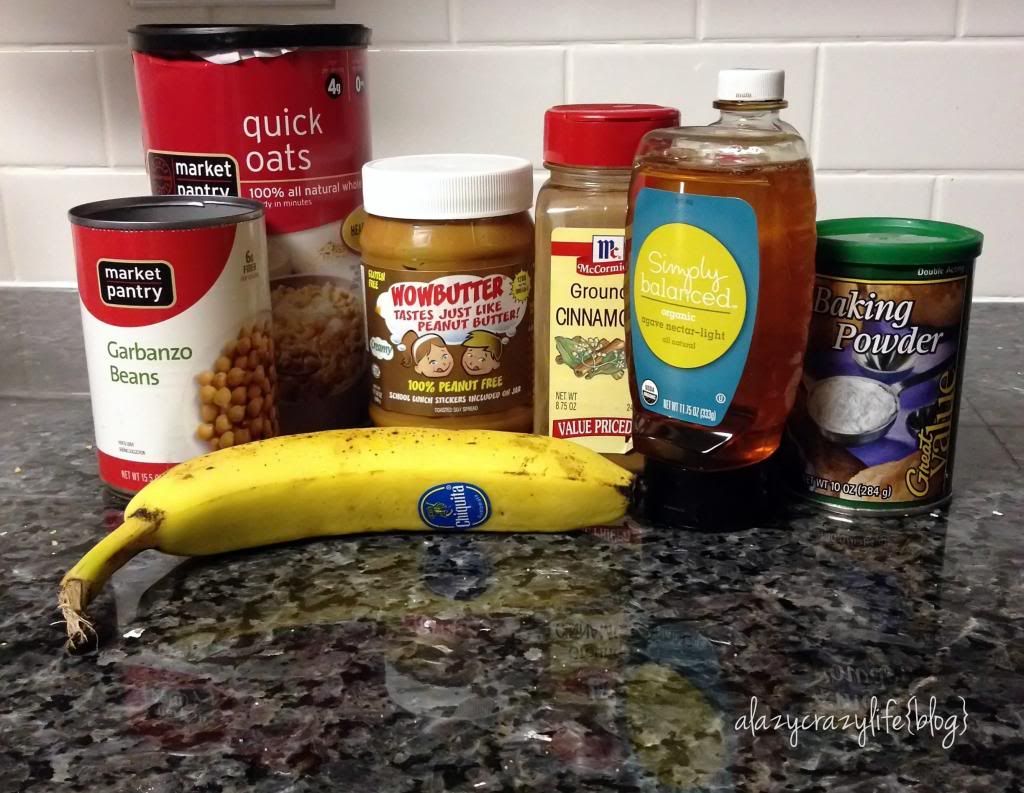 The result was surprisingly good--so good that my kids were begging for these before school, after school and after dinner as a treat! And aside from the fact that it meant less for me, I was happy to oblige. If you like bananas/banana bread, I'm sure you'll enjoy.
They're ugly...but taste yummy!
So without further ado, here's the recipe.
Chickpea banana chocolate chip oatmeal cookies
Makes about 15 cookies.
Ingredients:
1 15oz can of garbanzo beans (or about 1 1/2 cup cooked beans if you start with dried)
1 medium banana (about 1/2 cup mashed)
2 tbsp natural peanut butter (optional--I left it out and didn't miss it at all)
2 tsp vanilla extract
1/4 c honey or agave nectar
1 tsp baking powder
1/8 tsp cinnamon (or to taste)
1/8 tsp salt
3/4 c quick oats (add more or less to achieve a loose dough consistency)
1/2 c semi-sweet chocolate chips (or however many you want!)
Directions:
1. Preheat oven to 350 degrees.
2. Blend all ingredients except oats and chocolate chips in a food processor until smooth, scraping the sides occasionally. I started by pulsing my chickpeas as fine as I could get them, then added the banana and pulsed until there were no whole chickpeas. Then I blended in the honey, vanilla extract, baking powder, salt, and cinnamon.
3. Transfer to a mixing bowl and stir in the oats and chocolate chips.
4. Drop heaping spoonfulls of dough onto a baking pan.
5. Bake for 10 min. They'll still be soft when they come out, but once they're cool, they'll firm up so you can transfer them to a container. Or, just eat them straight off the pan!
If you really don't like banana, you can sub about 1/4 cup milk for the banana and double the peanut butter. They say baking is a science, right? Well clearly this isn't baking, because I eyeballed this recipe a few different times in a few different ways and it's been good each time. Ha!
Nutrition information: Each cookie has 109 calories, 4g of fat, 2g of protein and 19g of carbs. (Or less, if you omit the peanut butter like I did!)
Enjoy! If you try these out, let me know. I'd love to hear what you think of them!