>>>Flip-flop weather!
Need I say more? :)
>>>Scanpan
. Maybe we're crazy for spending so much on a cooking pan, but I'm seriously loving our new
scanpan chef's pan
from Sur La Table. It has a lifetime warranty which is nice after our previous one broke, and has eco friendly non-stick coating so I don't have to worry about eating teflon. We got it last weekend and have used it every day (
sometimes multiple times
) since then. Our cost per use will totally justify the $200 price tag. :)
>>>Chickpea chocolate chip cookies
. I made
these
on Monday (
subbed Wow Butter for peanut butter
) and they're surprisingly good! I've been heating them up so they're nice amd gooey and eating them for breakfast and/or snack all week. I'll definitely make them again. Although next time I'll be sure to blend the chickpeas much better. Each cookie has a couple of whole ones, which is kind of weird.
>>>Tortilla pizzas
. I was too busy scarfing mine down (
made several since last week
) to take a pic, but I sliced up some zucchini and put that over some mozzerella on a pan-heated tortilla. Splashed some balsamic vinegar on the zucchini and sprinkled with feta and broiled (
in my new scanpan!
) for 2min. Seriously DELISH!
>>>Game of Thrones is back on
. The flip side to that is Shameless, House of Lies and The Walking Dead have all ended, but GOT fills the void pretty nicely.
>>>Lorelai's new dress
. I scored this gorgeous dress that Lorelai wants to wear for her birthday at a clothing exchange at my mom's church. Brought a garbage bag full of outgrown clothes and baby items, and walked away with a few dresses, a bunch of shorts, skirts and shirts for Lorelai this spring and summer.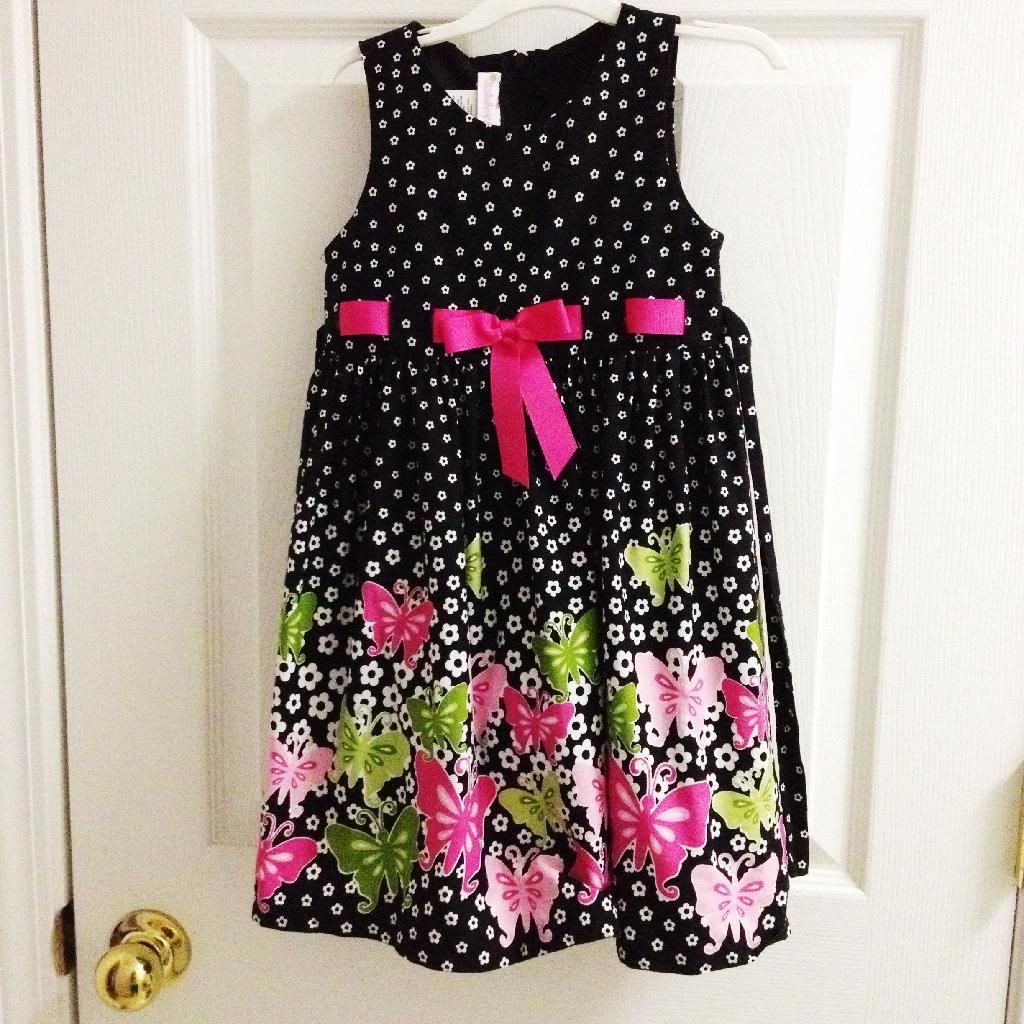 >>>It's been the fastest week ever
. I worked from home on Monday so I could be with Aidan and Logan, then all three kids went to Grandma/Grandpa "camp" on Tuesday and Wednesday. It was SO weird not having them home on a weeknight, then getting up and ready for work in the morning without them. Adam and I even ate dinner on the couch while we watched TV, which we never do anymore. Made it almost seem like a weekend in the middle of the week. So glad they're back though (
even if they wanted to stay with Grandma and Grandpa forever
) because I miss them like crazy when they're gone.
TGIF!!