Remember how Lorelai seemed so jealous of the boys when we were
back-to-school
shopping? She had her own backpack picked out and everything. For at least a month, every time we walked by the backpack section, she'd point to one and say "I
need
that" (heavy emphasis on the need). I always put her off by saying "you don't need that now, we'll put it on your birthday or Christmas list" and moved her along.
So when Yak Pak contacted me about reviewing one of their products, of course I jumped at the chance and knew exactly what I wanted to get. I chose the deluxe backpack in this fun star pattern (the purple was a must for Lorelai) and it's safe to say my girl is obsessed.
The first thing Lorelai did with it was pack it up with her baby doll, teddy bear, blanket, shoes, plastic kitchen fruit--you know, the essentials ;)--for a day trip to Grandma's house. Then we used it again last weekend on our trip to the beach. It's obviously big on her now, but it's a great size to hold whatever she needs for short trips away from home, and she'll grow into more by the time she goes to kindergarten in two years. The material is nice and sturdy (
much better than the cheapo backpack we got Aidan and had to return...TWICE...to Target
) so I know it'll last for a while.
Whoa, a glimpse into my future with her first day of school photo or what?!
But don't even try to tell Lorelai that she has to wait two years. As soon as she loaded up her backpack, she headed straight to the car saying, "okay, let's go to kindergarten now!"
Oh girl. You may be ready for that, but I'm SO not. Let's just stick to pretend kindergarten with your cute backpack for now. :)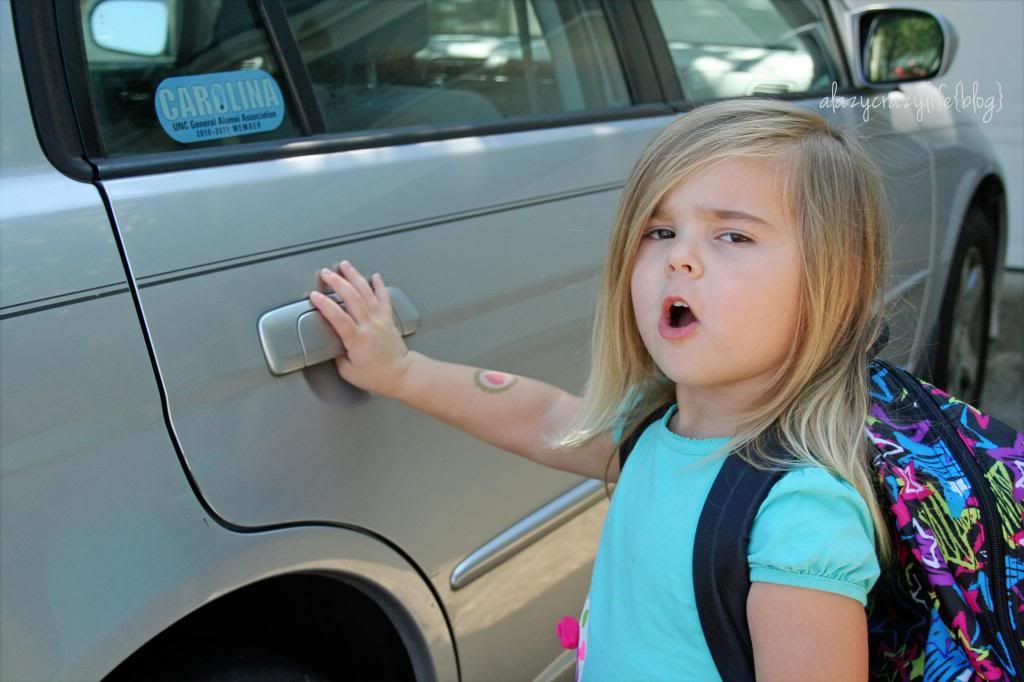 Would you like a chance to win a YakPak product? Not only do they have cute backpacks and messenger bags in lots of fun patterns, but they've got lunch totes, pet accessories, headphones, iphone cases and more. Just enter via the Rafflecopter form below. Good luck!
a Rafflecopter giveaway
Full Disclosure: I was provided the backpack for a review. All opinions are my own.