Aidan's big 3rd grade project for this quarter was a report on a famous African-American inventor. He chose Lonnie Johnson, and using the template provided by his teacher, he created a mock Facebook page with lots of information, after lots of research on Aidan's part. He spent a lot of time googling and reading and then (with some guidance and prompting from me, but not a ton) came up with various pieces of information to put into the template. It's actually a really cool project idea, although at first glance it seemed a little advanced for 3rd grade--what happened to a simple poster?! Here's what he came up with.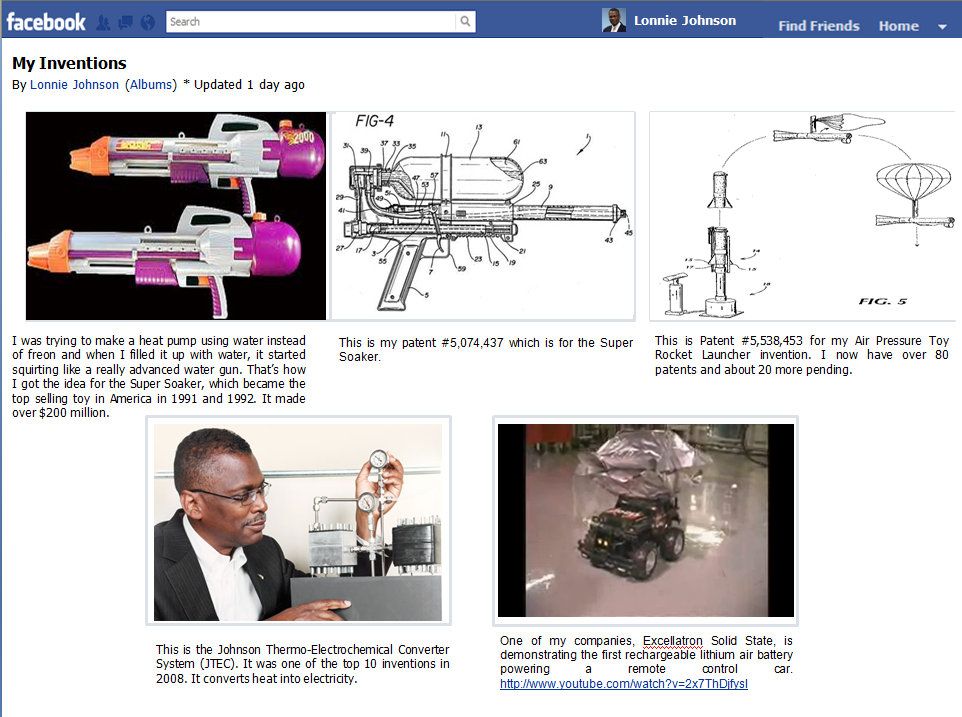 I was really proud of the work he did--summarizing what he read, paraphrasing, figuring out what he could put where, choosing images all on his own, doing the vast majority of cutting/pasting/re-sizing/formatting (he's now well-versed in the right-click/copy/paste special, ctrl-c, ctrl-v and ctrl-z!). I did help with some of the more complicated formatting issues and I helped some by typing the words he dictated to me. But in large, the work is his.
Maybe I'm biased (ok, I am, but still...), maybe I'm out of touch with expectations of freaking 3rd graders, but I'm PISSED that he got a 75 on this project. Please, someone give me a second opinion.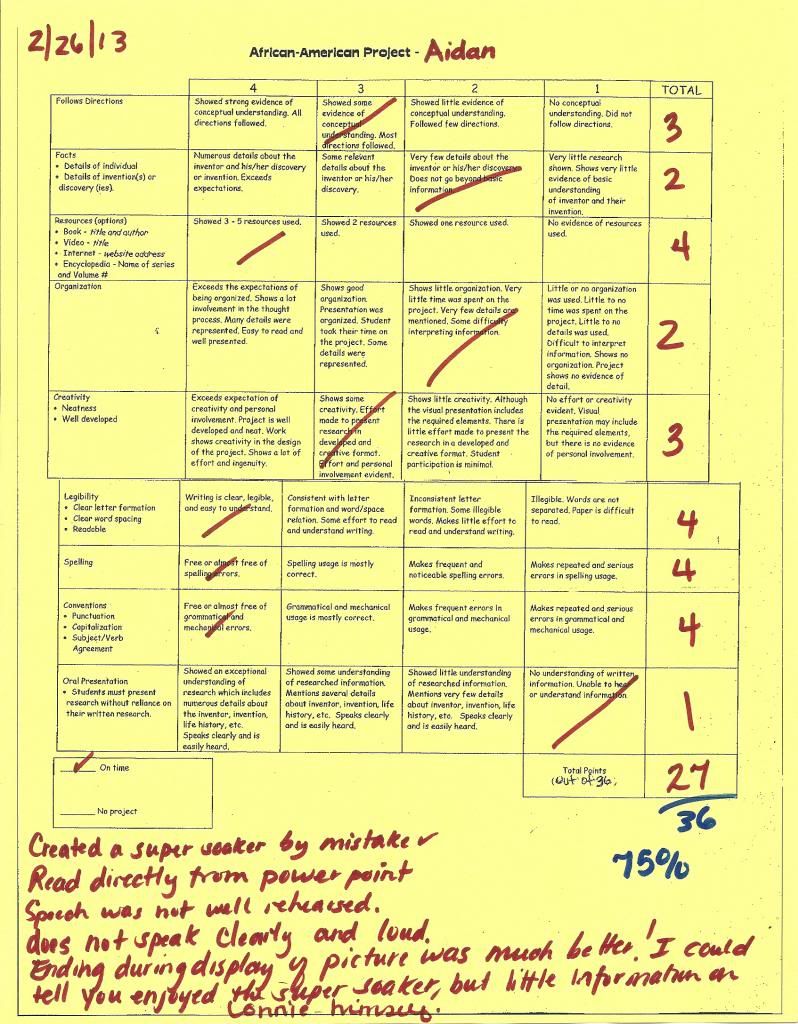 "...but little information on Lonnie himself" What?!?!?
Does this project look like it:
Shows very few details about the inventor or his/her discovery. Does not go beyond basic information. (2 out of 4 on the rubric)
Shows little organization. Very little time was spent on the project. Very few details are mentioned. Some difficulty interpreting information. (also 2 out of 4)
He also got a 1 out of 4 on his Oral presentation. I don't know otherwise because I wasn't there, but the criteria for a 1 on the rubric says "No understanding of written information. Unable to hear or understand information."
Aidan prepared notecards and practiced several times over the weekend before his presentation so I have a hard time swallowing that 1. Maybe he did mumble or read a bit too much from his slides, but I know he had a good grasp on who Lonnie Johnson is and what he's famous for. He did way too much research for that not to show at all. For this one, I'm mostly just sad that none of the practice Aidan did at home translated to his actual presentation. Maybe he got nervous, I don't know. He thought he did well, but his teacher said he couldn't answer many of the questions she asked without looking at his presentation. Is it really realistic to expect an 8-year-old to recite an entire presentation of facts from memory? That's a real question. Are most 3rd graders capable of that?
My momma bear instinct is raging right now, and I cried along with him when he came home today with this grade. Granted, I'm an overachiever by nature and rarely got bad grades myself (nerd alert!) so I cringe when I see grades like this. But if I thought Aidan truly did subpar work and deserved this grade, I wouldn't be nearly as worked up. Well I would, but for a different reason. I'd be more disappointed in myself that I didn't provide enough oversight or guidance to make sure he did well. But I did this time. And he really tried. And learned. And it looks good, damnit!
I really do welcome any and all opinions. If my mom-bias has clouded my judgement, please let me know. I want to go into the conference with his teacher next week with a clear head and realistic expectations.