Thanks to a co-worker, we lucked into 5 free(!) tickets to see the Carolina Hurricanes hockey game last Monday. And they were great seats, too. Score!
We've taken the boys
before
so I knew they'd love the opportunity, but I wasn't sure about Lorelai. Especially since the game was at 7, and her bedtime is usually 7:45/8pm. I debated seeing if my mom could watch her, or just getting three tickets so Adam could take Aidan and Logan, but Adam insisted we take her, without hesitation. I'm so glad we did, because the whole thing kind of blew her mind. :)
All the people, the cheering, the ice on the middle of the floor inside...she loved it. She kept saying "whoa, they're skiing so fast! That's too tricky for me though." I told her they were skating, but she kept saying skiing, which was too cute. She also kept asking where the pig was, aka, Stormy the ice hog mascot. (
BTW, I had to google Stormy because pig, really? What does that have to do with hockey? But yeah, ice hog. I get it now.
)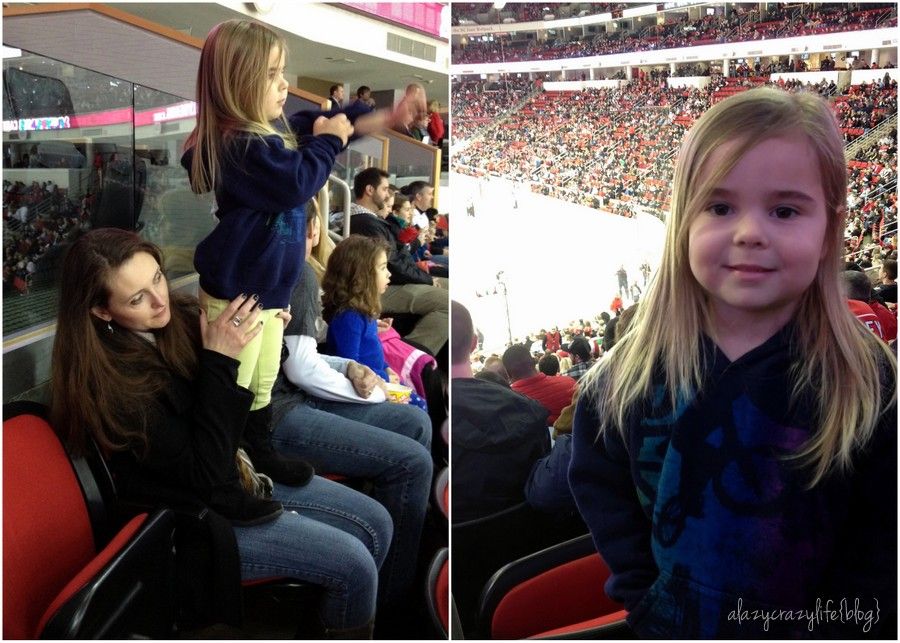 Honestly, I don't know much about hockey at all. I know they skate (not ski!), I know that a puck is supposed to go in a net, and I know who to cheer for. But that's about it. Adam tried to explain icing to me at one point, but I couldn't repeat a word he said. Doesn't matter one bit though, because we all cheered on those 'Canes like we knew exactly what was going on, and had a blast doing it.
We left at the end of the second period because it was getting late for Lorelai and we wanted to beat the crowd. Unfortunately, they were losing 0-2 to the Bluejackets after 2 early goals within 17 seconds of each other, so it was kind of a bummer of a game at that point. In hind sight though, I so wish we had stayed. Apparently, the 'Canes had a major comeback and ended up scoring 3 goals in 3 minutes and won the game. How fun that would have been to see!
I think we've got some official "Caniacs" on our hands here.
Maybe we should invest in some Hurricanes gear so we fit in better next time though :)