Subtitle: The house is a mess and we're insane
Why in the world did we decide to schedule our installations before Christmas? Between working and the extra stuff like shopping, baking, decorating, and wrapping...finding time to prep the house for new counters and floors is not easy. Who knew? I think we're just so eager for a change, we just couldn't wait.
Anyway, the counters went in last week, and it's such an improvement already. I can't believe we lived with such ugly counters for so long!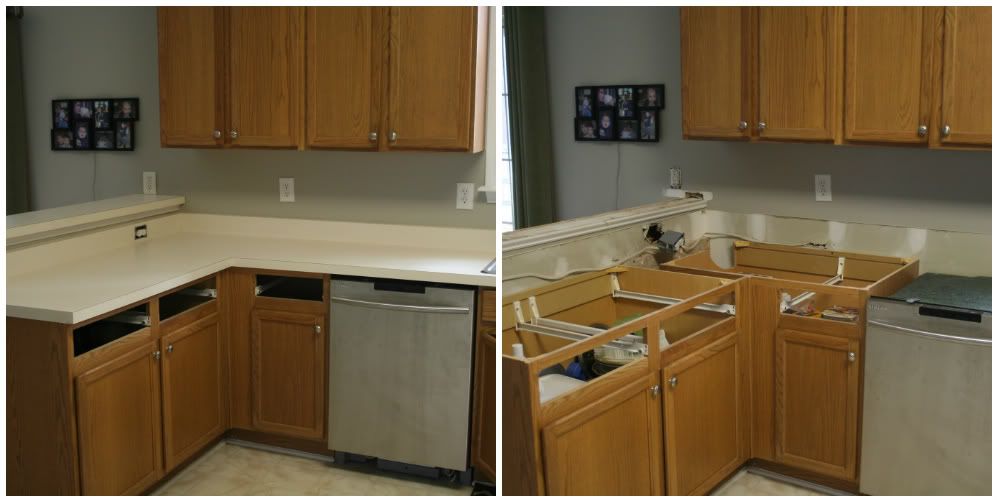 Good riddance, ugly laminate!
But OMG it was so stinky. It didn't even cross my mind that the epoxy and granite polish would smell so toxic. They were installing from like 1:30 to 5:30 so the house didn't have time to air out before the kids and I got home, so we had to go out to dinner. Even now when I open up the cabinets, I can smell it. They look great though. Don't mind the lack of a back splash and the ugly cabinets. I can't WAIT to paint them white!
Maybe it's all in my head, but I think the new counters make the cabinets look a *little* better.
Here's the blue pearl granite up close. The slab we chose is definitely more gray than blue. Love it!
Floors go in on Thursday. Yep, just a few short days before Christmas, like we don't have anything better to be doing. So I spent Saturday afternoon prying off all of our quarter round trim. Such a huge pain (literally, I bled, bruised myself and got sore) all to save a few bucks in labor costs. We're cheap like that.
Adam started ripping up the carpet in the dining room so we'd have a place to put the boxes of flooring, which arrived today.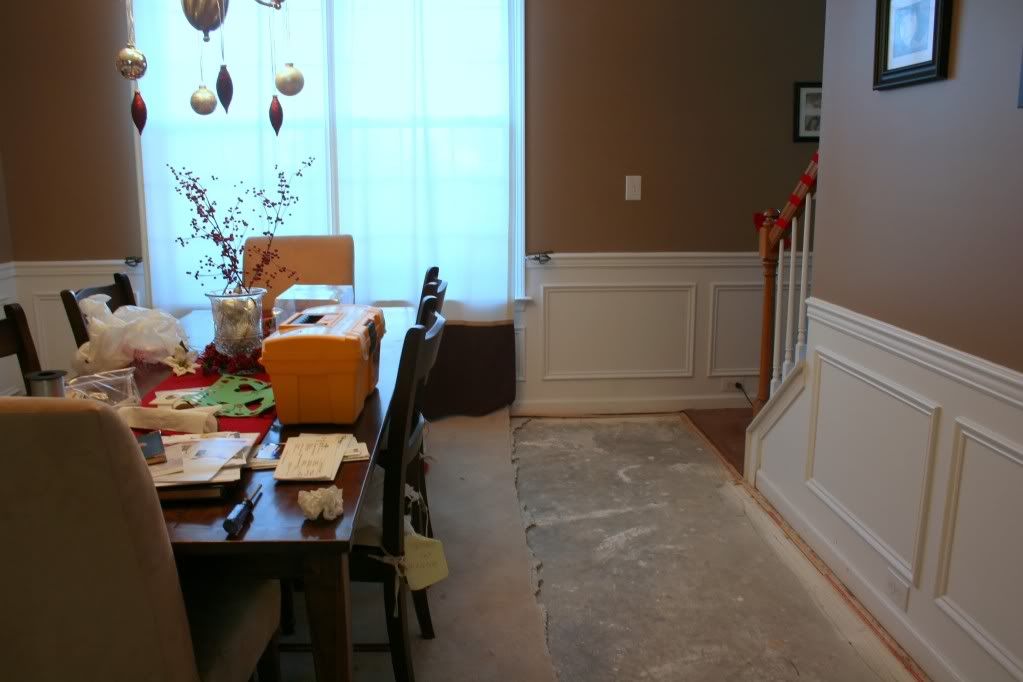 And even aside from that we've just got crap everywhere. Bags and bags of Christmas gifts, clothes, toys, etc all over the kitchen and living room. When one part of your house is a complete mess, it's really hard to find the motivation to clean the rest of it.
Ew. Don't judge me please. At least I finally hung the stockings. And the floor is mopped.
We've even cluttered up the new counters already. Such a shame.
Notice the electrical boxes just hanging out of the wall? The idiots who built the house took a shortcut and decided to just go behind the laminate back splash instead of the wall. So now we have to pay extra for electrical work. Great.
Wednesday we'll be having fun ripping out carpet, tack strips and our old laminate, and moving all of our furniture into our living room. Wait, when am I ever going to find time to wrap and finish shopping? OMG.
But yay for progress!