Over Labor Day weekend, Adam and I took a trip up to Staunton, VA for the wedding of one of my high school friends, Becky (yep, there are two of us). We had a blast partying and hanging out with sweet friends who we rarely get the chance to see.
Courtney, Lindsey, Leigh-Anne, Lauren, Kerie, Me, Marianne, Kristina.
It was like prom all over again, and Lindsey's parents were even there to take pictures :)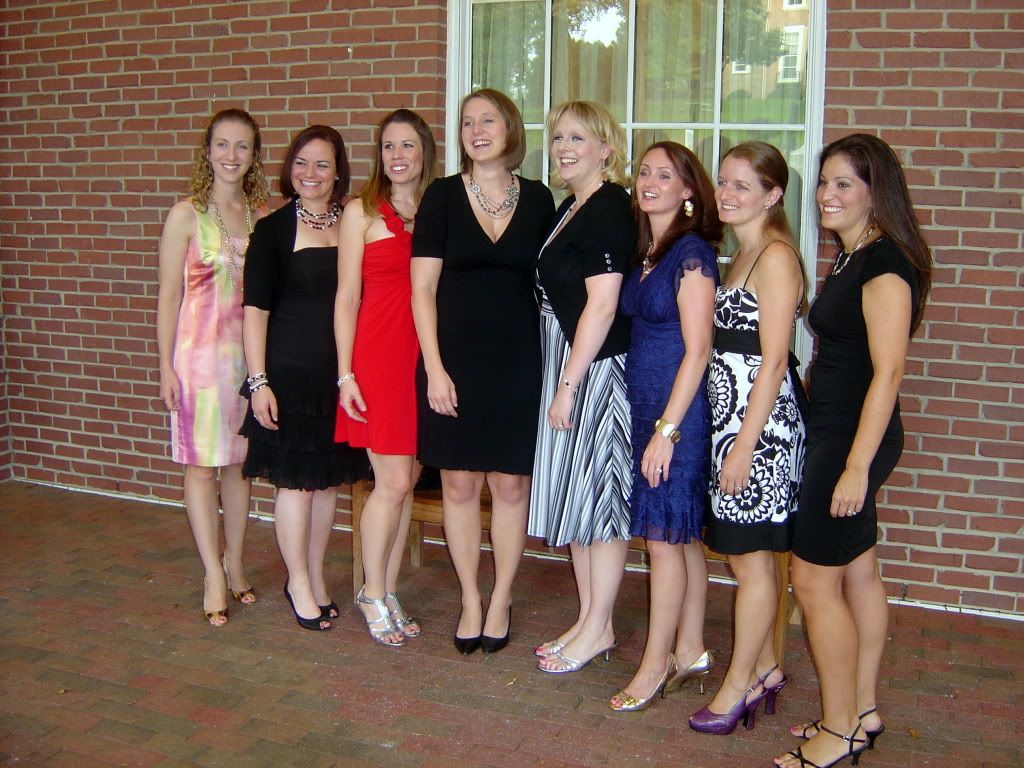 One more for good measure. It's really hard to get a good picture of everyone when there are
like 52 different cameras all snapping pics at the same time!
We got up there on Saturday and had time before the rehearsal dinner to take a trolley around the town and walk around a bit with a couple of friends who made it into town before us. It's such a cute little place! Too bad I forgot my camera so all I have are iPhone photos.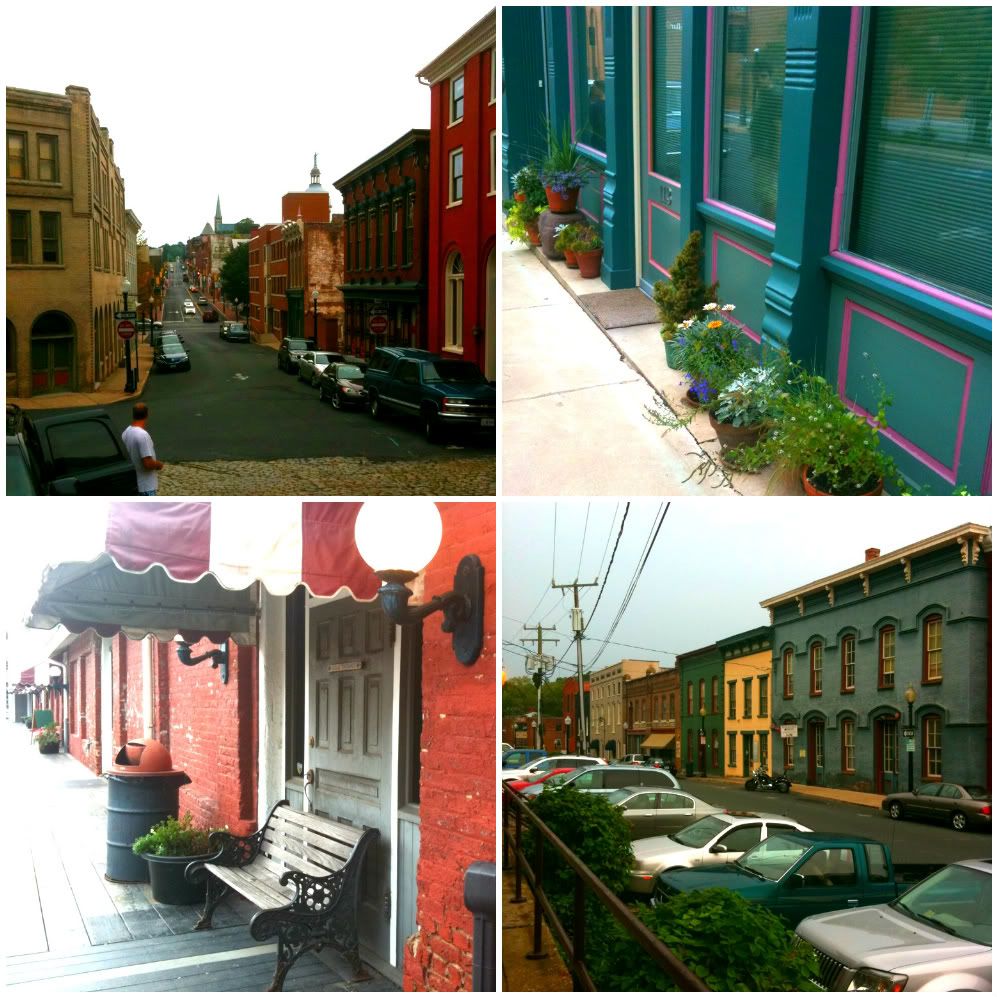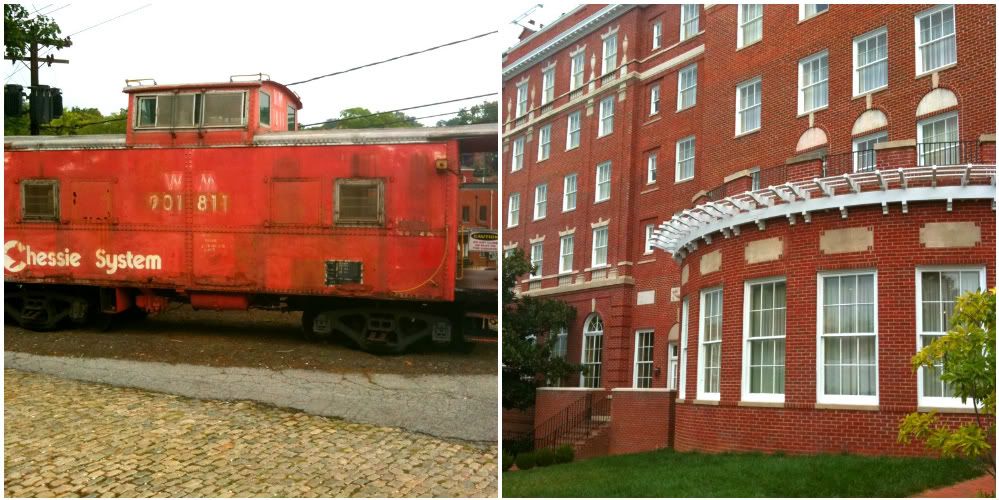 We had fun at the rehearsal dinner, where we discovered the wonders of blueberry butter. It was seriously so amazing we were taking pictures of it (none of mine came out though, boo). Hearing friends and family tell stories about the bride and groom was also pretty great. Fun fact: she's the daughter of a clown, and her new husband is the former boss clown for Ringling Bros. They met at clown camp! I remember when she first started dating him, we were all together for another friend's wedding and kept getting her to ask him ridiculous questions like "has he ever been shot out of a cannon," "does he walk the tightrope," and "does he ride a unicycle." Little did we know (but we hoped, because come on, how cool is that—you just don't get much more perfect for each other than they do) we'd be at her wedding a few short years later!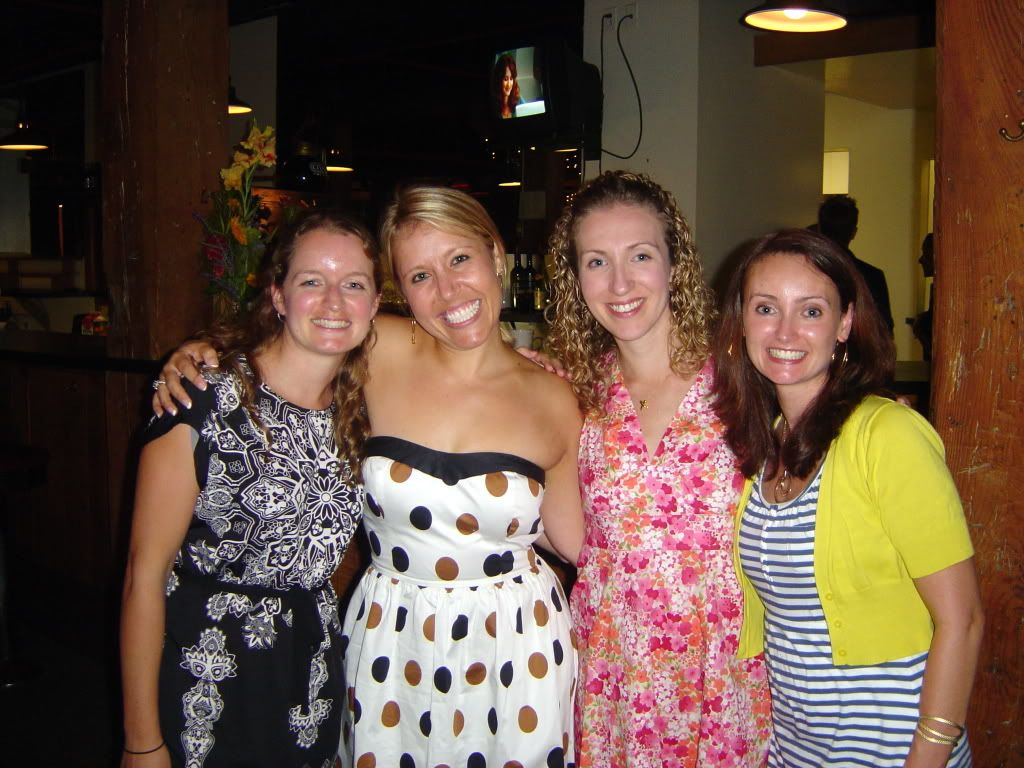 Marianne, BeckyB (the radiant bride), Courtney, Me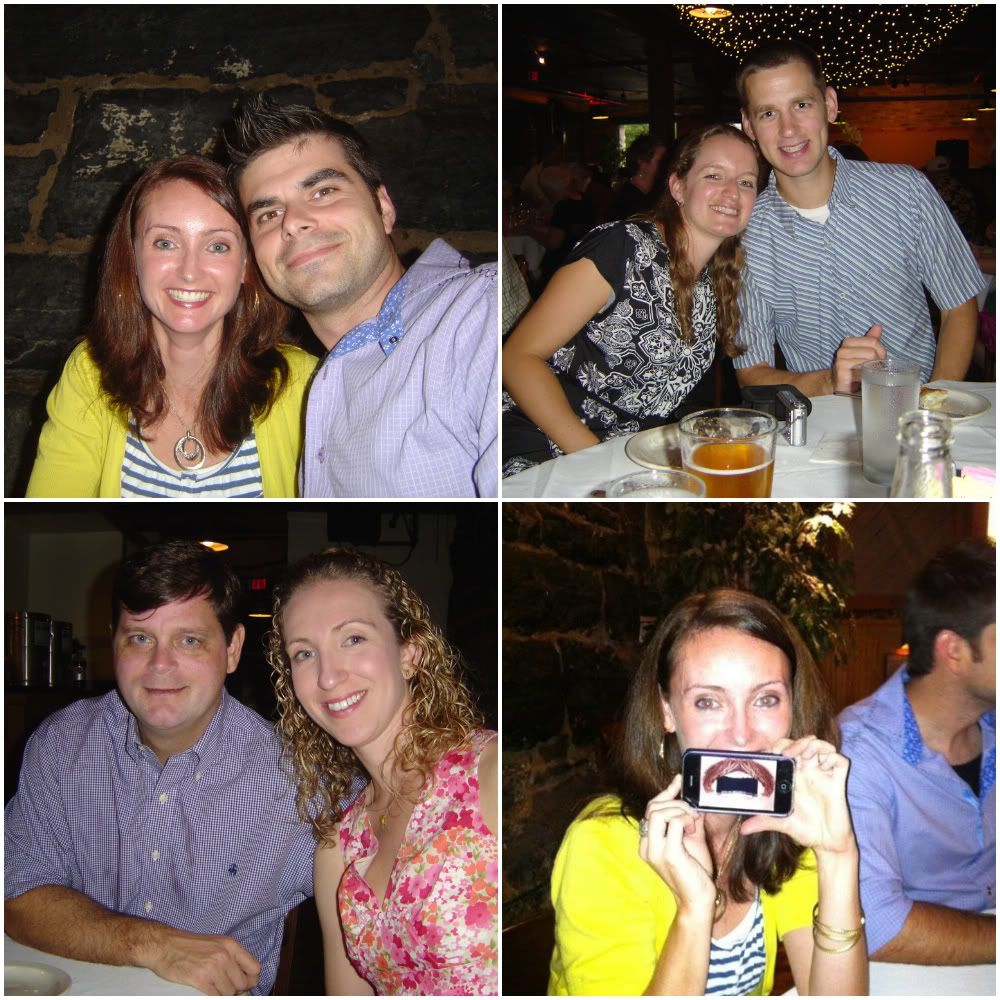 (clockwise from left) Me and Adam; Marianne and Chris; John and Courtney.
Plus, my awesome brostache (thanks for the tip on that app, Ariel. Hilarious!)
On Sunday morning, six of us woke up bright and early, grabbed some breakfast from Kathy's then went on a hike up the Riprap trail in the Shenandoah National Park. I'm by no means a hiker (evidenced by the fact that I didn't think to bring water or bug spray), so I have to admit I was a bit apprehensive about doing this instead of sleeping in (sorry Marianne and Courtney, no offense!) but I'm SO glad we did. Although I'm pretty sure we went longer than the 3 miles we originally intended, I'm a little bummed we didn't have time to do the whole thing which would have led us to a stream and watering hole, which other hikers said was beautiful. It was a great hike and the exercise made me feel much better about indulging at dinner. Not so fun fact: apparently I get carsick in the tiny 3rd row of cars on windy mountain roads. We had to pull over so I could get up front and recover before the hike. Yuck.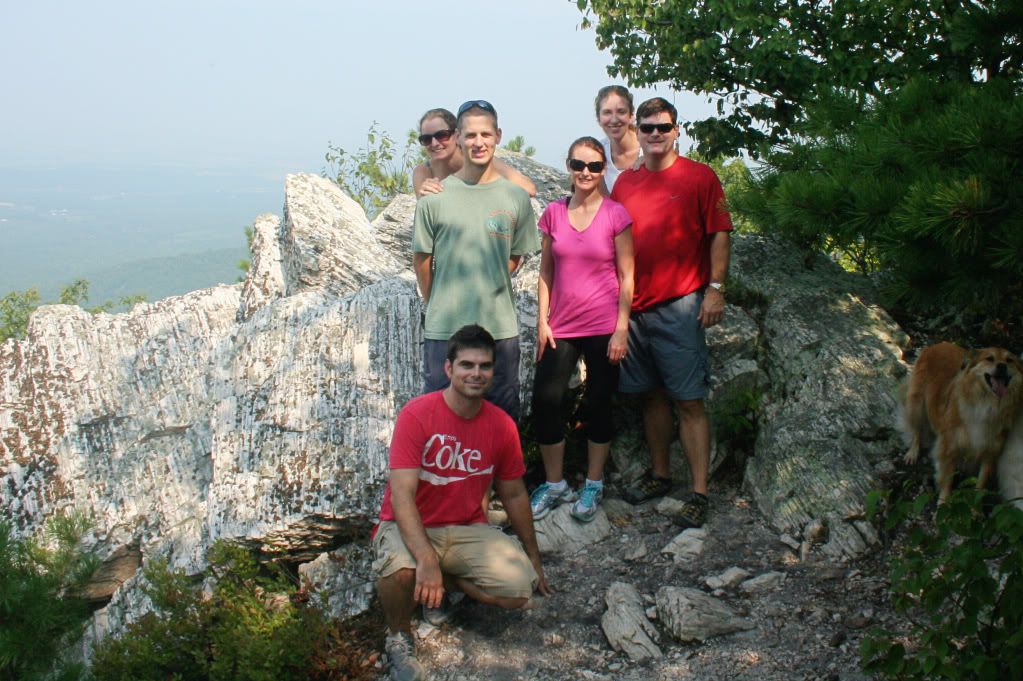 After the hike, we hit up the Veritas Vineyard and Winery for a tasting where we met up with almost all of the rest of our friends. The winery was gorgeous, but I didn't love the wines enough to buy them. Plus, Adam doesn't drink wine, so he gave me his glasses and I'd had my fill. Exercise + no water + no lunch + lots of wine=bad idea. We hurried back to the hotel so I could eat something (I practically inhaled my Five Guys burger I was so famished) and rest for a few minutes before getting ready for the wedding.
They had a beautiful ceremony and reception at Barren Ridge Vineyards where there was yummy wine, fantastic food (a mashed potato bar! shrimp and grits! cake balls!) and lots and LOTS of dancing. Plus a flash mob! I shouldn't have been surprised since they're born entertainers and she's a choreographer, but I totally didn't see that one coming. I was also shocked to see the only non-high school show choir friend in our group be a part of it (Marianne and Chris, that was awesome!). Another fun fact: Adam secretly wants to be a part of a flash mob (he laughs at
this commercial
every time it's on). I would have died if he had secretly been a part of it. (You hear that, Becky? If you ever decide to choreograph another one, Adam is your man, lol!)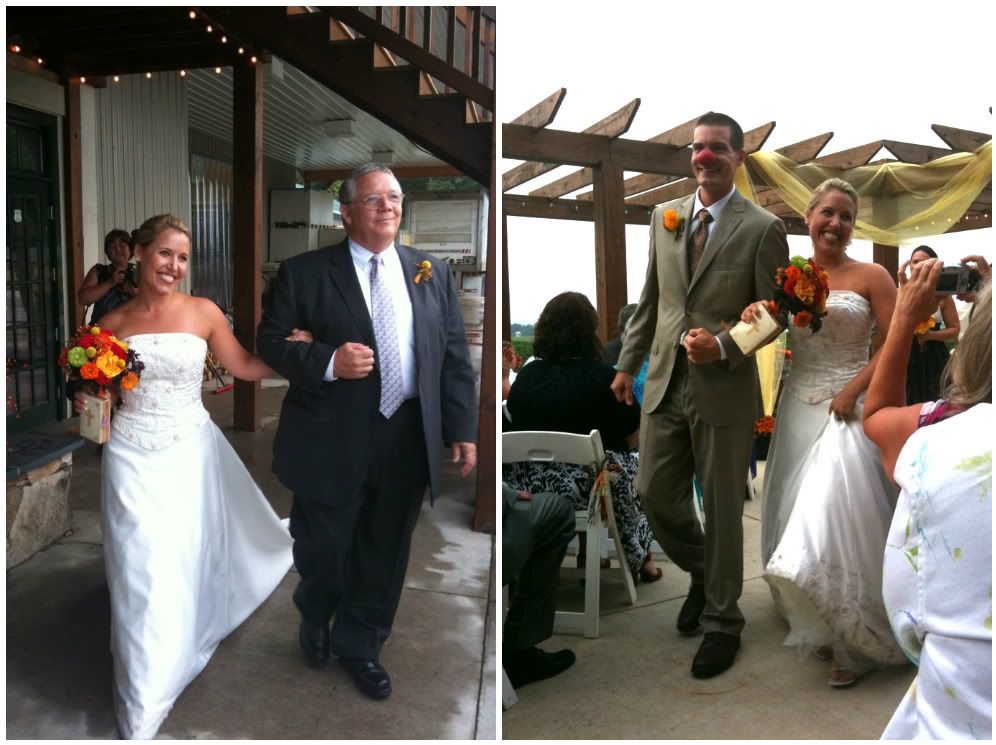 The beautiful bride and her dad (Mr. Rainbow looks so different without his clown costume!);
Check out the groom's nose!
handsome hubby; poor, aching feet after a long night of dancing
Adam and I seriously had such an amazing time and loved getting together with our friends! I was bummed when we had to leave, but I was definitely ready to get home to my babies. It was the first time I've ever left Lorelai and I was in serious baby withdrawal. I knew the boys would be fine and were having a blast, but dang I missed that sweet girl! My mom stayed with them and said they were all so wonderful, which made me feel better about us leaving them.
Bye bye friends. Bye bye Virginia. Hello sucky drive home in the rain.
Congrats to Kelly and Becky! You are a wonderful couple and we had a wonderful time. Thanks so much for having us!