I have a confession: I had my 2011 Shutterfly calendar up on my wall for more than half of 2012, turning the page each month, silently cursing myself that I was so lame (but glad I still had the pretty family pictures to look at).
I finally got embarrassed enough to take it down before people came over for Lorelai's birthday party in July (and after my mom got totally confused about a note for a birthday party we went to
last year
). I swear I had the best of intentions last year to do a new family calendar, but time got away from me, and then Target ran out of their dollar spot calendars...and then I just gave up.
So when Mailpix contacted me and asked if I'd be interested in trying them out, I knew exactly what I wanted to get. You guys, I finally have an updated calendar for 2013 with cute pictures of my cute kids. It's a miracle! :)
Because I'm a bit of a perfectionist when it comes to this type of thing, but also very indecisive on which pics to use (I wanted to include all of them!), it took a while for me to get everything just right. They've got lots of different calendar designs to choose from and tons of layout options (which was a blessing and a curse for this indecisive momma!). I even discovered a trick for making custom layout options. If you choose one of the layouts that includes a text box, it's super easy to delete the text box and add a new photo box or two. You can resize and move them around to get the perfect layout.
I loved how quick and easy it was to upload new pictures and drop them into my layout. If I didn't have the right picture already in my album, a simple click, drag and drop later, voila. No need to navigate out of your project just to upload more. And the upload time (for me, at least) was super quick!
You can also link to your Facebook and Instagram photos, which gives you even more photo options. I didn't try linking up with Facebook since I rarely post photos there anymore, but one limitation I noticed with Instagram is that they can only retrieve your 60 most recent photos. This really bummed me out until I realized that it also retrieves the most recent photos you've liked, so all I had to do was sort through my own Instagram photos and like the ones that were older. Sure, if anyone looked at my activity they may have thought I was crazy for liking my own photos, but it worked!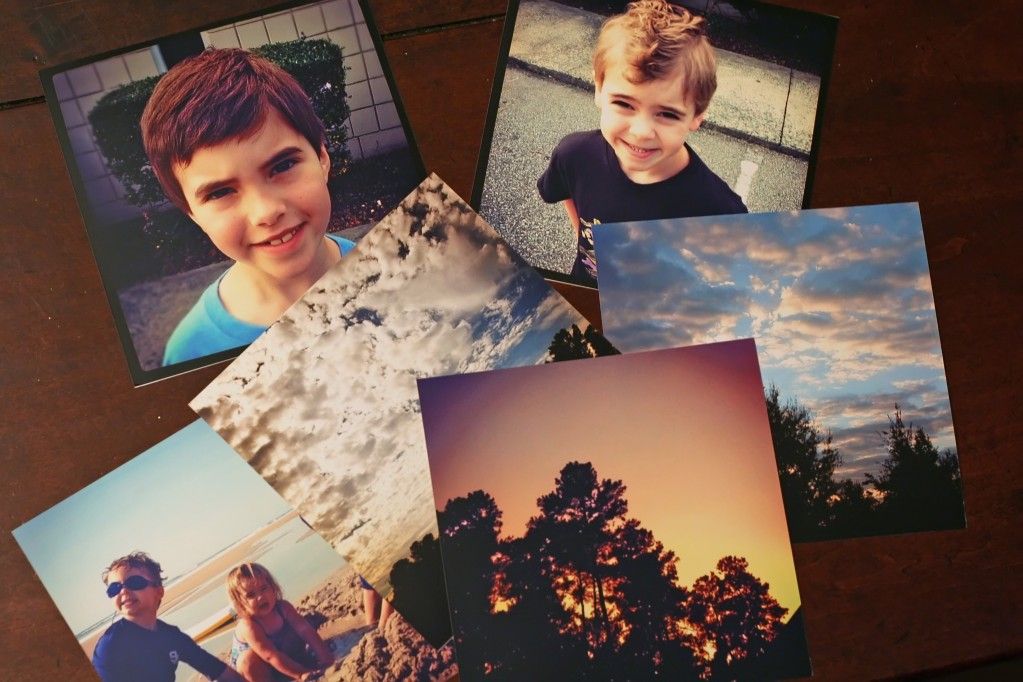 I now have some of my fave 5x5 Instagram prints on my kitchen gallery wall, with more I need to find frames and homes for. :) The pictures look great, with the exception of a couple I took with my front camera.
Tip: if they're a little grainy on a tiny iPhone screen, they're going to be a lot grainy blown up to 5x5!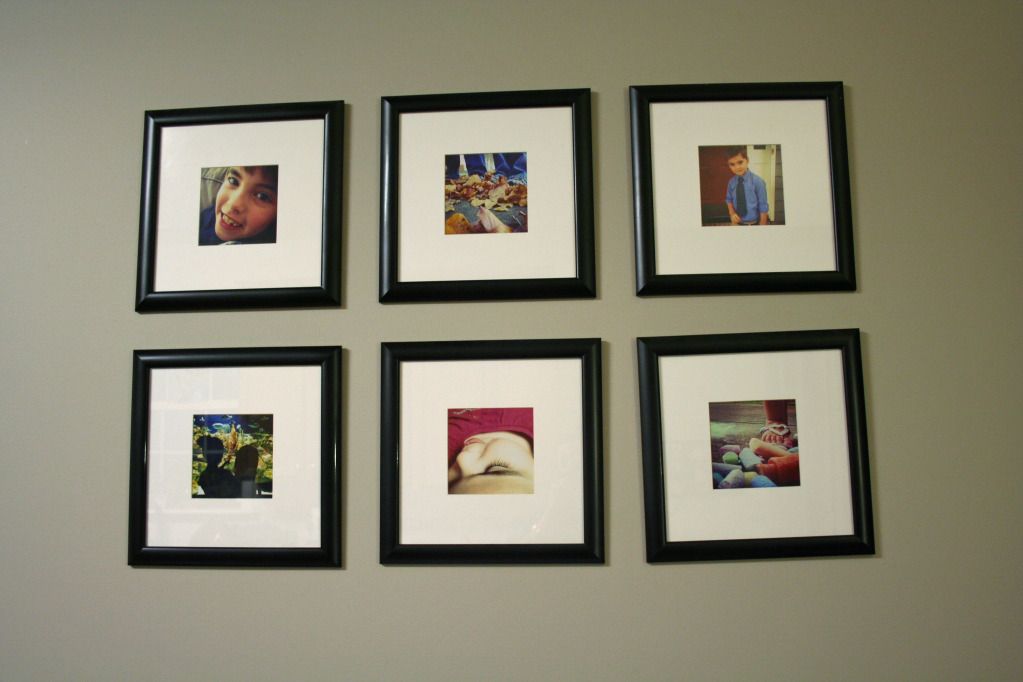 I only realized the pictures were crooked after I snapped this photo, oops!
I also took the opportunity to put together a photo book of my kids. I've been absolutely negligent in printing out any photos for actual photo albums for the past um...FOUR years...so this was an easy way to get them all compiled. Again, I used my trick for custom layouts so I could include all of the photos I wanted in the 20 pages that were included. And again, it was super easy to drop all of my pictures in place. I really wish there was a way to rearrange the pages as you're compiling the project (if there is a way, I have no idea how to do it), but overall I'm happy with the process and how it turned out.
I've only ever used Shutterfly for calendars and photo books before (pre-Tiny Prints merge, if that matters) so I don't have a lot to compare to Mailpix, but the quality is on par with anything I've gotten from Shutterfly, and I think the upload process is even quicker and easier. And I received my order less than a week after I placed it, woohoo! They've got unlimited storage and lots of options like ornament, keepsake boxes and canvas photos for ways to "turn your images into memories" as they say. Their prices are competitive, and it seems like they've always got
great deals
floating around. In fact, I might just be taking care of some of my Christmas shopping right now. ;)
The best part is that Mailpix has offered to give away a $40 credit to one of my readers! Just enter via the Rafflecopter widget below. I'll pick a winner next Friday, 12/21. Good luck!
For more information, check out Mailpix:
Website:
http://www.mailpix.com/
Facebook:
https://www.facebook.com/MailPix
Twitter:
http://twitter.com/mailpix
Blog:
http://www.mailpixblog.com/
Pinterest:
http://pinterest.com/mailpix/
a Rafflecopter giveaway
Disclosure: I was offered free products in exchange for this review, but all opinions are my own. I'd use Mailpix again in a heartbeat!